Closet and home organization showrooms are a must
By Angelia York
April 8, 2021 | 8:10 am CDT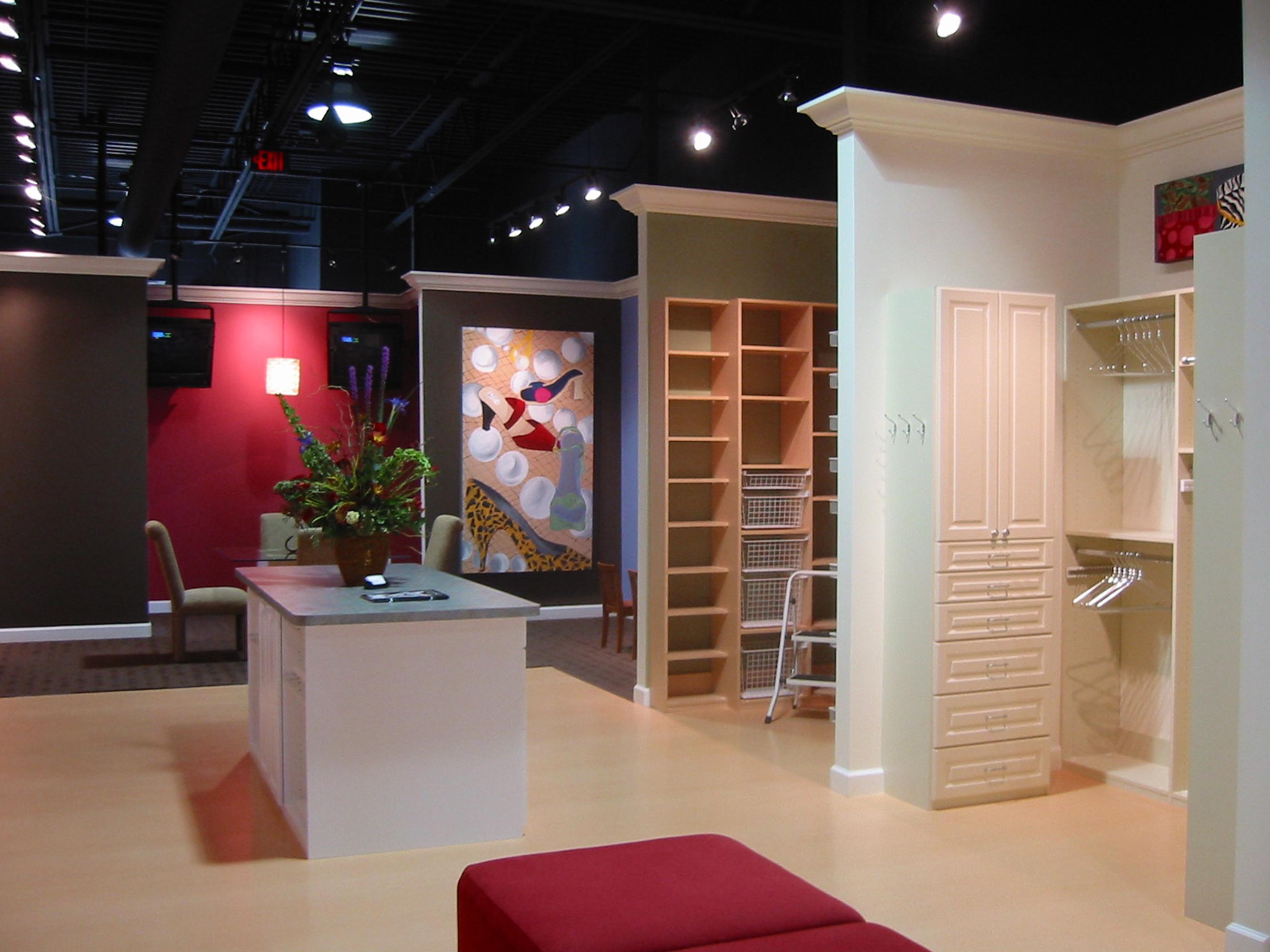 Photo By Saint Louis Closet Co.
My absolute favorite part of the design process is when my clients visit our showroom for the first time. All of a sudden, the designs we've worked on together come alive in their imaginations! They can start to see what the finished product will look like, and they get so much more excited and invested. Accessories and laminate finishes catch their eyes in a way that never happens from photos alone.
At Saint Louis Closet Co., we've always been committed to having a top-of-the-line showroom. I'd like to share some lessons I've learned along the way. Whether you're setting up a showroom for the first time or looking to upgrade your existing space, here are some things to keep in mind:
Display as much variety as possible! Don't fall into the trap of building three very similar reach-in closets to show off three different color finishes. Brainstorm about all the spaces your clients ask you to design and have a display for each. Build a pantry display with every accessory you offer for pantries, a laundry display with all of your laundry accessories, and a garage display with all your garage accessories. 
Get creative with your space! I'm lucky to have a large enough space to have a complete unit built in every single one of the finishes we offer. If you have less room, carefully evaluate your space. Consider breaking up long walls with partitions. It's better to have two small units showing different options than to take up a whole wall of valuable real estate with an oversized display. You should also reframe your thinking about what counts as a display. Build your front desk in a finish you don't have room to show elsewhere. Now it's a display! 
Put your best foot forward! So, you decided to use the front desk as a display. Now you have to keep it neat and organized. Your clients are coming to you for organization, so show off your organizational skills. Consider staging your displays. You want your displays to be mostly empty, so the focus is on your product, but a few well-placed items in each display can work wonders. Your clients will more easily understand how your organizational systems will fit into their lives and their homes.
Get clients to visit! The best showroom in the world will do nothing for you if no one ever comes in. I assure my clients that there's no wrong time to come by. If they visit the showroom before we've met in their home, they have a better idea of what they want. If they come to the showroom with my design in hand, they can more easily visualize their options. Often, the showroom inspires them to have me design a space they'd never considered before.
I am incredibly proud of the products we carry and the work that we do, and having a fabulous showroom lets me demonstrate our quality to everyone I work with. Create a space that you're proud to show off to your clients!
Angelia York is vice president of Saint Louis Closet Co.
Have something to say? Share your thoughts with us in the comments below.