Top kitchen cabinet trends: frameless, paint over stains, and soft close
February 27, 2018 | 9:37 am CST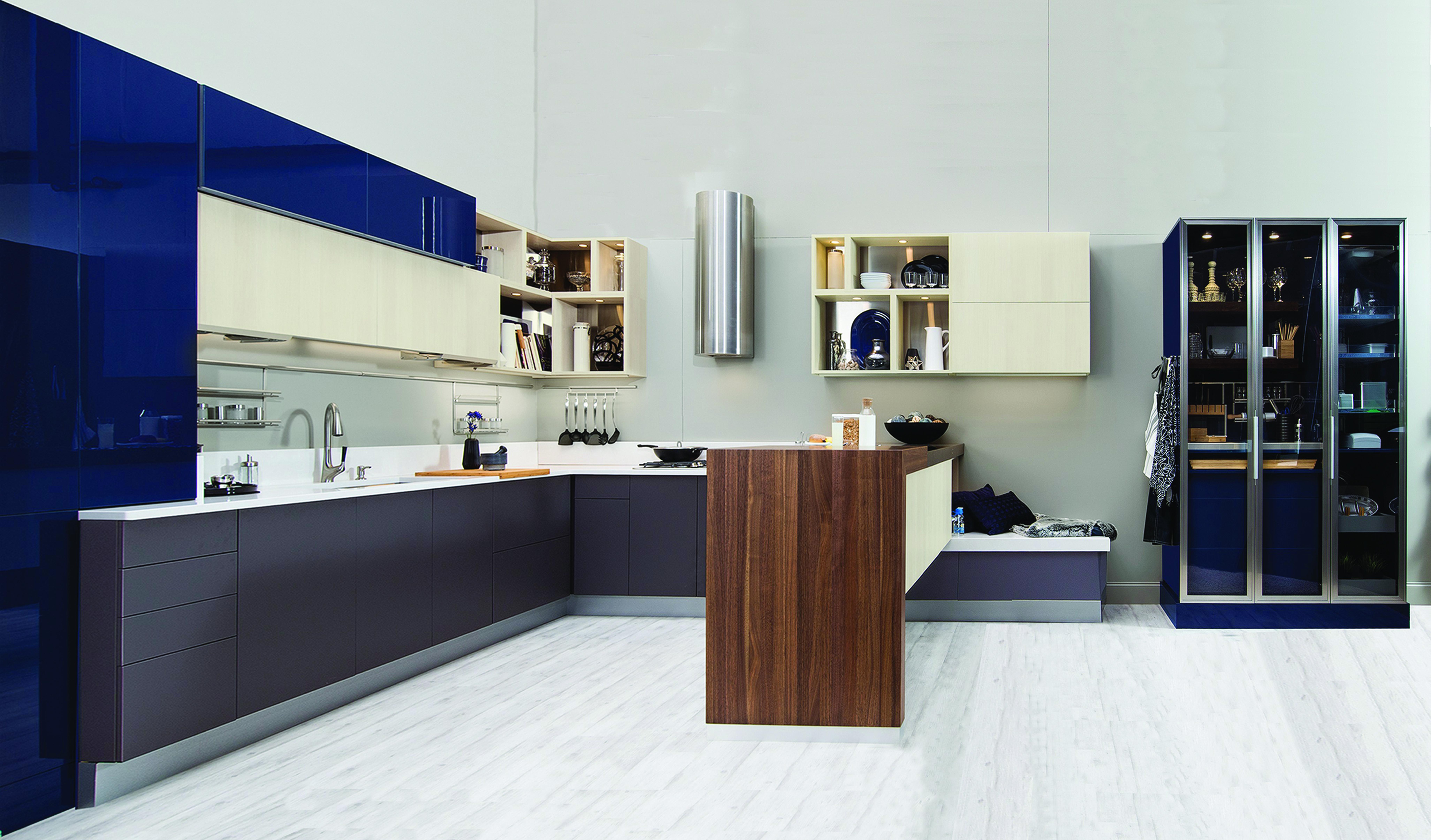 Is minimalism and urban chic taking over cabinets? Touring the combined Kitchen/Bath Industry Show and International Builder's Show in Orlando this year one might think so. Furthermore, data from our exclusive kitchen cabinet trends survey done at those events seems to confirm it.
The so-called urban chic trend, as it relates to cabinets, is a move toward more clean and simple looks, more European-style construction and finishes. The trend takes its name from today's millennials moving increasingly into more urban settings, often in smaller apartments, condominiums and town homes, where smaller, but design-savvy kitchens are common.
A Cabico kitchen displays the popular clean frameless, no hardware look in gray.
These trending kitchens are the polar opposite of the highly-ornamented, often Mediterranean-inspired kitchens that were so popular a few years ago. Those kitchens featured elaborate carving and mouldings, furniture features like bun feet, and often complex glaze finishes. Out of some three-dozen companies showing off more than 125 kitchen displays at this year's shows, less than a handful of displays included these once popular ostentatious kitchens.
Instead, booth after booth at the show emphasized frameless kitchens with slab or Shaker doors, often with low-key or even no visible knobs or pulls, reflecting minimalist design trends. Paint and laminates have replaced wood as the dominant materials, with a pallet of grays, whites, and blues in force. Rather than taking over a whole kitchen, wood is often relegated to the status of an accent, frequently with a dark stain to contrast bright white, high-gloss acrylic cabinet doors in the same kitchen.
That summarizes a common perception of the show, but it wasn't until I compiled the survey data that it became apparent how much a sea change this year's show represented.
Overhead doors, many with automated mechanisms, are increasingly popular.
Surveying trends
Trends are hard to track in advance, particularly in design-centric areas such as kitchen cabinets. Our solution for more than a dozen years has been to survey the displays shown by kitchen cabinet manufacturers at the KBIS and IBS shows. We meticulously tally what materials, finishes, construction and other features are included in each display and base our trend reports on the results along with anecdotal information from designers and other manufacturers' representatives at the show.
While hardly scientific, the survey works on the premise that manufacturers tend to display what they think will sell. Of course, not every manufacturer shows at these events. And this year, some major U.S. manufacturers, such as MasterBrand, opted out. This year, a surprising number of European manufacturers joined the show, although some of the big names from Europe that we have become accustom to see at these shows, such as Poggenpohl, also opted out this year.
Still, major players from here and abroad were on hand, and the survey results seem to confirm other trend reports we've gotten outside of the show.
Compact urban chic kitchens like this one from Wellborn are helping to drive design trends.
Frameless takes the lead
One of the most surprising changes in this year's survey is the strength of frameless construction. Often called European construction because it was developed in Europe after World War II, frameless construction has struggled to get a real foothold in the United States. But for the first time, frameless construction took the top spot in our cabinet trends survey, with 47 percent of all the kitchens on display using frameless construction. Right behind that was face-frame full-overlay construction at 44 percent, which is a kind of construction that outwardly can look like frameless. Traditional face-frame construction with less than full-overlay doors trailed at 8 percent, and kitchens with full inset doors accounted for just over 1 percent.
Many of the companies emphasizing frameless cabinets promoted them as "full-access" cabinets, highlighting the additional usable space inside frameless cabinets. Others featured the clean Euro look and said they were popular with millennials who find more traditional styles stodgy and out of date.
Wellborn, which launched its Aspire frameless line two years ago, reports good sales. "It's starting to move at very rapid speed," said Anglea O'Neill, director of marketing. Interestingly, she said the rise of frameless has presented an issue dealing with another trend: increased interior lighting. Lighting can easily be hidden behind face-frames, but other provisions, such as routed channels, are required for frameless cabinets.
Chad McGlaughlin at River Run described the trend this way: "Millennials want a cleaner, simpler look." His company was showing only frameless cabinets in its booth.
Where's the wood?
Another surprise from this year's survey is the lack of visible wood. Wood cabinets with clear or stain finishes use to dominate these displays, but no more. Paint, laminates, and ironically wood-like textured laminates have all pushed wood aside. Less than a third of cabinets on display used natural or stained wood for the doors and drawer fronts.
Of the wood that was on display, maple continues to dominate as the leading species, but it was only seen in about 21 percent of all the cabinets on display. Oak was in second place at about 3 percent, up from last year and reflecting what several people said is a trend to revive oak as a cabinet wood. Trailing were alder, hickory and other species such as walnut.
While wood was missing from the outside of cabinets, it was dominant in drawers (more on that later). Wood was also popular as an accent, showing up in countertops, islands and as a contrasting element in multi-tone kitchens. Dark stains (16 percent) were way ahead of medium and light stains, each at about 5 percent. "Our top stain numbers are in darker colors," said O'Neill.
Paint is popular
Painted finishes have simply taken over. About 40 percent of all of the cabinets on display used painted finishes. But that's actually conservative, according to finish experts and designers we talked to at the show. Sue Wadden, director of color marketing for Sherwin-Williams, said, "Three years ago, 70 percent of cabinets were stained. Now 70 percent are painted."
And the color choices aren't just shades of white. Certainly, white is still strong in kitchens, accounting for 17 percent of the displays. But shades of gray were almost as popular at 16 percent, and shades of blue led a growing field of other colors that are making their way into the kitchen.
"Consumers are ready to take on color again," said Wadden.
Mike McKinnon, a Canadian rep for Fabuwood, said the paint trend he sees is still grays. "Orders are coming in going away from stains and into paint," he said.
Another design trend that affects paint is the increasing frequency of mixing colors and finishes in the same kitchen. Ken House, a rep for Quebec-based cabinet manufacturer EBSU, says he is seeing lots more orders for different colors in the same room.
Laminates on the rise
While laminates seem to have been on a march to the bottom of the kitchen market, that seems to have changed. Led largely by the new sophisticated textured laminates that artfully mimic real wood, laminates are making a comeback. More than 40 percent of the kitchens on display featured some kind of laminate. Textured laminates accounted for about half of all the laminates shown.
"Textured melamine is really taking off," said House.
Other laminate choices included high-gloss acrylics and an updated pallet of laminate colors that included grays, blues, espresso, and even metallic colors.
Stained or natural wood may be less trendy for doors and drawer fronts, but when you open those drawers, odds are they are solid wood and almost certainly soft-close.
Drawer construction
Laminates might be big for cabinet carcases, doors, and drawer fronts, but wood is still the king for drawer boxes. Nearly two thirds of the kitchens on display featured solid wood drawers. Only about 3 percent had laminate drawers. But nearly a third of the drawers used metal boxes, typically as part of European drawer hardware systems from companies such as Blum or Grass.
One completely dominating trend is the soft-close drawer slide. More than 92 percent of all the drawers in kitchen displays at the shows had soft-close drawer slides, making conventional hardware not conventional at all. Soft close has clearly become an industry standard.
Door options
Besides whatever style of door might be featured in a kitchen, today's designers are more willing to mix and match. In the past, that might mean only adding glass in a wood door frame for an accent, and that is still the most popular alternate door style, representing nearly 30 percent of the alternate door styles shown. But today's kitchens have more to offer.
Again, following European trends, overhead doors were a very popular option, many with electronic opening systems and even remote controls. There were also sliding doors, co-planar doors, push latches, metal-glass combinations, and lots of high-gloss acrylic or glass fronts.
While soft close doors are not as popular as soft-close drawers, they are definitely trending up. About 44 percent of all the drawers on display had a soft-close feature.
While ostentatious ornamentation is out, special utility constructions, such as these wine bottle and glass racks in a J&K kitchen, are very trendy.
Accessories
While heavy ornaments and elaborate mouldings are definitely out, there is still room for lots of accessorizing. Crown moulding remains the most popular moulding choice. Built-in racks for glasses, wine bottles, and plates were common. And there are lots more interior utility hardware options, such as mixer lifts, pantry systems, corner cabinet access systems, recycling and waste centers, and pet feeding drawers.
Although, not categorized in our survey, the trend to minimalist knobs and pulls was mentioned by a number of people at the show. "Handleless kitchens are a trend," said Jonathan Rowland, a rep for Cabico, adding that mechanized or mechanical actuating is popular. Jessica McCoy, office manager at Noble Craft, echoed those sentiments. "Everybody is going to automated everything," she said.
Wellborn's O'Neill agreed, saying they see the no-hardware trend, too. Their solution is lots of push-to-open mechanisms.
Have something to say? Share your thoughts with us in the comments below.