Jared Patchin: 10 years of home remodeling, bookcases, desks and closets
January 11, 2016 | 9:11 am CST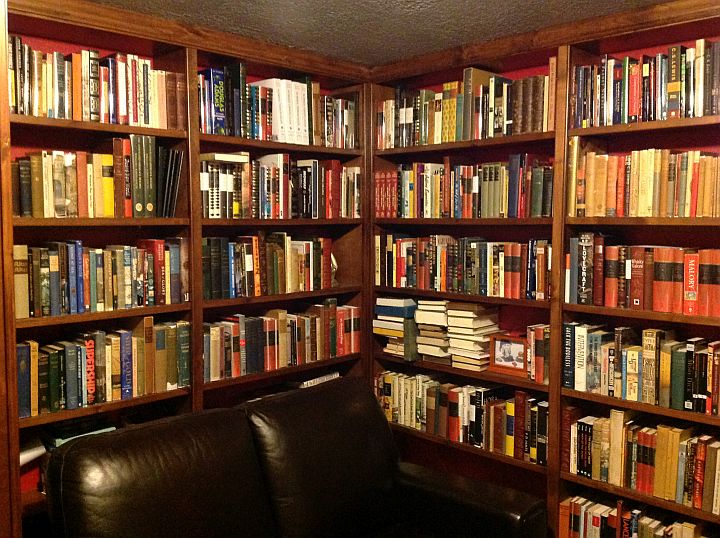 My wife and I just wrapped up a huge house remodel, and being a woodworker and an overall handy couple, we did almost all of the work ourselves. I wanted to blog about different aspects of the design and construction of the house remodel itself and about the dozens of little details that go along with a remodel that make a house uniquely yours. But, before I launched right into the latest phase of projects, I wanted to look back at what we have done during the previous 10 years.

In February of 2005, my wife and I bought a small house in an older neighborhood. Built in 1920, it was never a particularly impressive place. The original 600 square feet was built onto sometime in the 40's adding a bathroom, a second bedroom, and a finished attic. The addition was apparently built by someone without access to either a level or a plumb line. Certain walls are as much as an inch out of plumb!




I apologize for the incredibly poor picture, but a Google Street View screen shot was the only early photo I could find of the house.

We started the updating before ever moving in, by spending three weeks painting the walls and ripping out the old brown carpet in the front room. Under the carpet in the living room we found nasty glued down linoleum, and under that – many hours of glue removal later – we found the original fir flooring. We refinished the fir, staining it a warm brown, painted one wall red, the others desert fawn, and moved in.

Painting the exterior was also on our short list of items to tackle. Originally, it was painted a forest service green over the entire exterior. Describing it as dull and bland would be an insult to dull and bland colors everywhere. We chose a nice tan color for the body of the house and accented with black trim and a red door.

Three years later we decided it would be a good time to tackle the upstairs, which is a finished attic with a sloped ceiling that makes 40% of the floor space unusable for an adult. Once again, we ripped out the gross brown carpet and painted the walls. Since we were as close to being poor college kids as you could get without being in college, we were under a super tight budget. I was able to source 5″ rustic cherry hardwood flooring from Lumber Liquidators for $0.99 a square foot! Two weekends later we had brand new hardwood flooring upstairs! BTW, we did not use a standard floor finish because we didn't want to deal with the overpowering smell. Instead, we used the Polyx Oil, which is an oil-wax finish. It was not the easiest stuff to find, and it was not cheap, but we are very happy with it. It is very durable and still looks great on the cherry floor seven years later.

Fast forward to 2011. Our two sons were now old enough to safety climb stairs, so we moved them upstairs to the finished attic. Their old bedroom was next on the chopping block. Since my wife is a voracious reader and book collector, we had a desperate need for a library. Once again, we ripped out the old brown carpet, painted the walls, and installed new hardwood floor. This time though, we decided to install rustic maple hardwood flooring throughout the main level, beginning with the library and hallway. The lighter color would help to make our small house feel a bit larger, and it was the only cheap rustic hardwood flooring available from Lumber Liquidators that wasn't oak.




I apologize for the small photos, but as I mentioned earlier, our house is fairly small, so it is hard to get a photo that shows much perspective.

This first photo is what you see when you immediately walk into the library. My wife wanted this room to feel different from any other room in the house and pay homage to the "Old World" libraries she is so fond of, so we chose rich dark colors for the walls and the woodwork. The trim, bookshelves, and cabinetry are all constructed from Alder and finished with a reddish-brown stain.




This photo is more of the library, continuing in a counter-clockwise direction. We installed bookshelves on three walls of the room. All the shelves are fixed, since my wife knew exactly what height she would need for her books, and she wanted to maximize the storage capacity of the small library. In total, we have about 157 lineal feet of bookshelves, and we are still running out of room!




We chose to build the bookshelves without backs for two reasons. First was the fact that my wife really wanted the red wall color to be visible behind the books and secondly, as mentioned earlier, at this time we were still not swimming in money. Forgoing the backs allowed us to save a bunch of money on plywood. To save even more money, we built the carcass of the bookshelves out of Birch plywood instead of Alder plywood. Most of the plywood surface is hidden by books, so the untrained eye would be hard pressed to even see the difference. On the two visible sides, we did have to shade the stain so it would more evenly match the color of the alder trim. If I had to do it over again, I would bite the bullet and spend a bit more for the Alder plywood, and make everything out of the same material.




On the fourth wall of the library was the closet, which we ripped to install a built-in desk and upper cabinets. The design of the desk top was also a personal request from my wife. She had seen a penny desk on a design blog and loved it so much she wanted to make one for our house! I built a desk top with a 1/8″ recessed field, she glued down $22 worth of pennies with CA glue, and after we poured on $100 worth of bar top epoxy, we had ourselves a penny desk top! It was a fun "experimental" project and is one of our favorite things in the house.




Within a year of finishing the library we turned our attention to the master bedroom. If you couldn't already guess what we did first, I will give you a hint, it was brown, stained, and had to go. Yes, we ripped out the old carpet! We continued the rustic maple hardwood flooring from the library through the hall and into the bedroom. Since the room is so small, 11.5'x9.5′, we decided to get rid of our dressers and integrate them into a platform bed that I constructed from African Mahogany. Since the drawers started at the head of the bed, I also made new bedside tables that floated on the wall.

We also ripped out the built-in closet and doorway and opted for an open storage look instead. We added a huge storage cabinet to the left half of the closet and kept the right half completely open to give my wife plenty of full-height hanging space for her coats and dresses. In a year or so, we will probably re-do the closet with a fully enclosed built-in cabinet system, but for the past couple of years, this has served us well.

That pretty much sums up the first 8 years of life in our little home. Up next in the remodeling timeline was a complete gut job to our only bathroom/laundry room and a complete restoration to our patio and back yard.
Have something to say? Share your thoughts with us in the comments below.