High-end cabinetmaker with multi-pronged approach
November 1, 2023 | 9:20 am CDT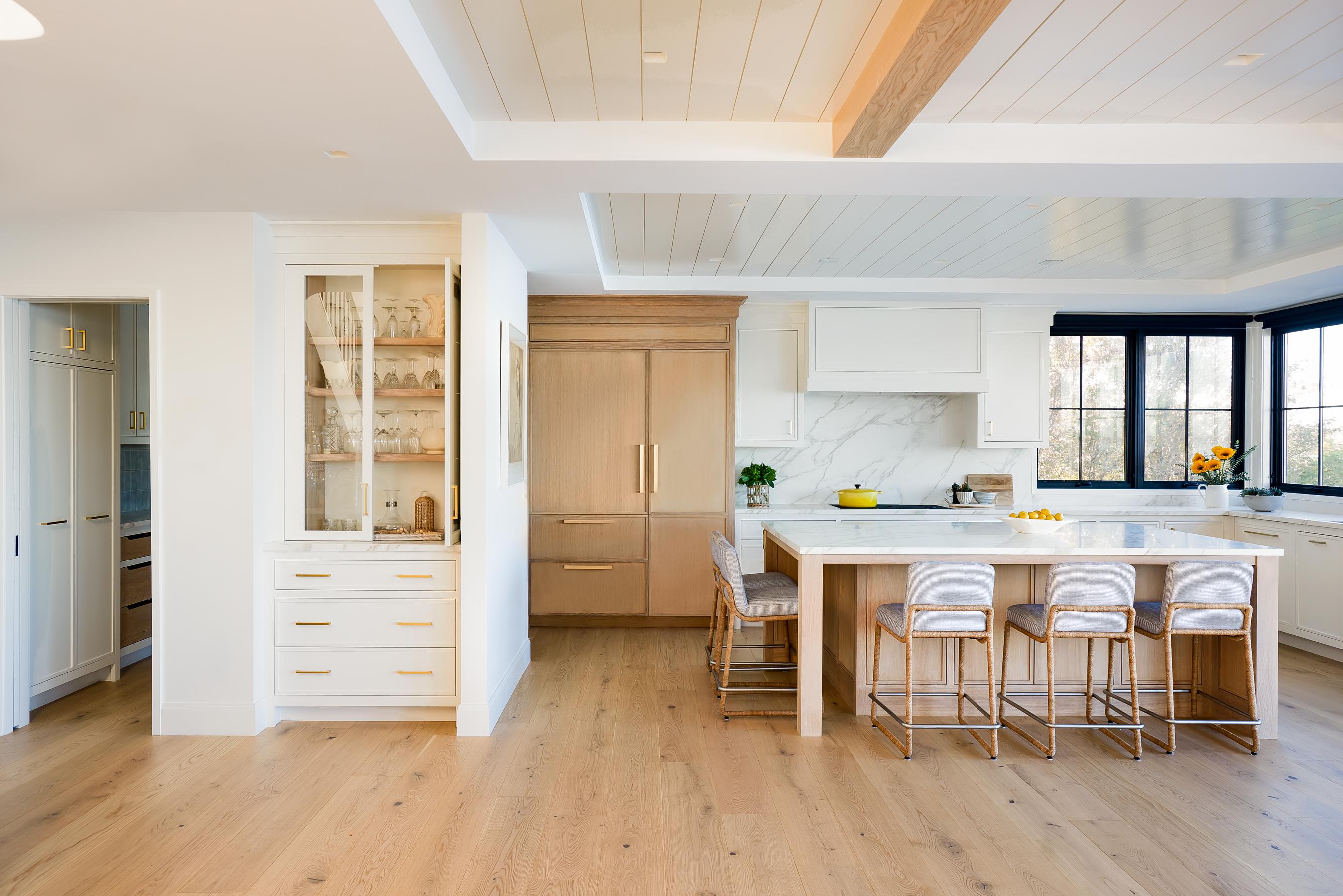 Photo By Sian Richards
From an unconventional name to a marriage of top craftsmanship with new technology and turning waste into fuel, Jewett Farms + Co. has built a strong niche in the affluent kitchen cabinet market.

Started as a one-man shop in 1999, the company has grown to nearly 30 employees in about 30,000 square feet in a semi-rural setting on 8 acres in York, Maine. The company combines CNC technology with traditional craftsmanship and all-custom designs to exceed expectations in a demanding marketplace.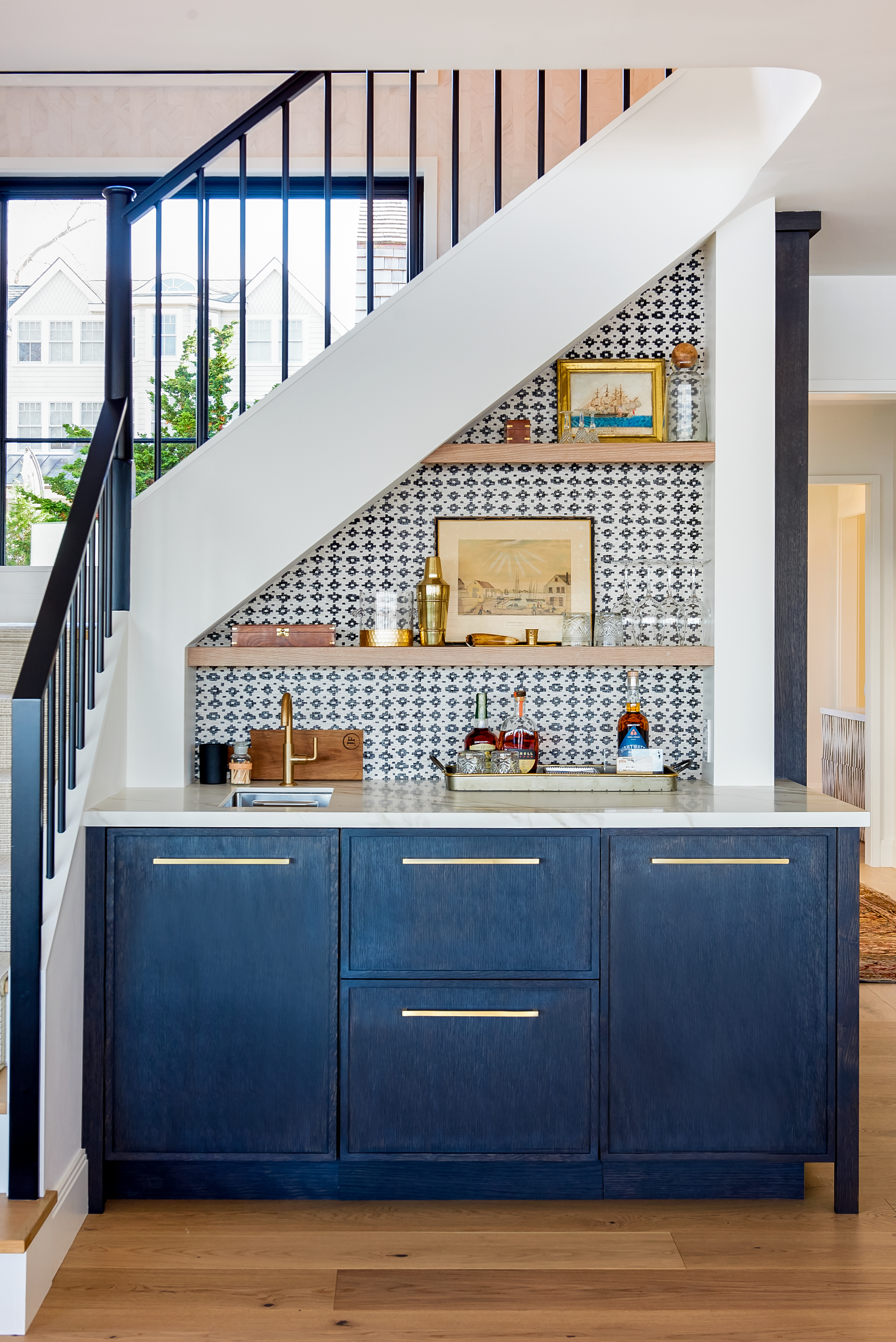 Tapping a market
So, how does a company off the beaten track in southern Maine find a high-end market? The answer in part is a high-visibility prestigious showroom in the Boston Design Center. The showroom features a variety of full kitchen displays designed to showcase the breadth of what the shop can do and at the same time inspire people to help them develop their dream kitchen.

But even before the showroom, the expectations were primed with the name of the company itself. "It was a big push to create a brand," said Matt Lord, owner. "It's not Matt's Woodshop." The company name came from the name of Jewett Farms Road near where Lord grew up in New Hampshire.

Olivia Lord, Matt's wife and the marketing director for the company, said the Boston showroom has been so successful that the company plans to open another showroom in New York. But their clients and projects are not just in the Northeast. A map on the wall near the entrance to the shop shows pins for projects as far away as Montana and Bermuda. The company outsources all installations.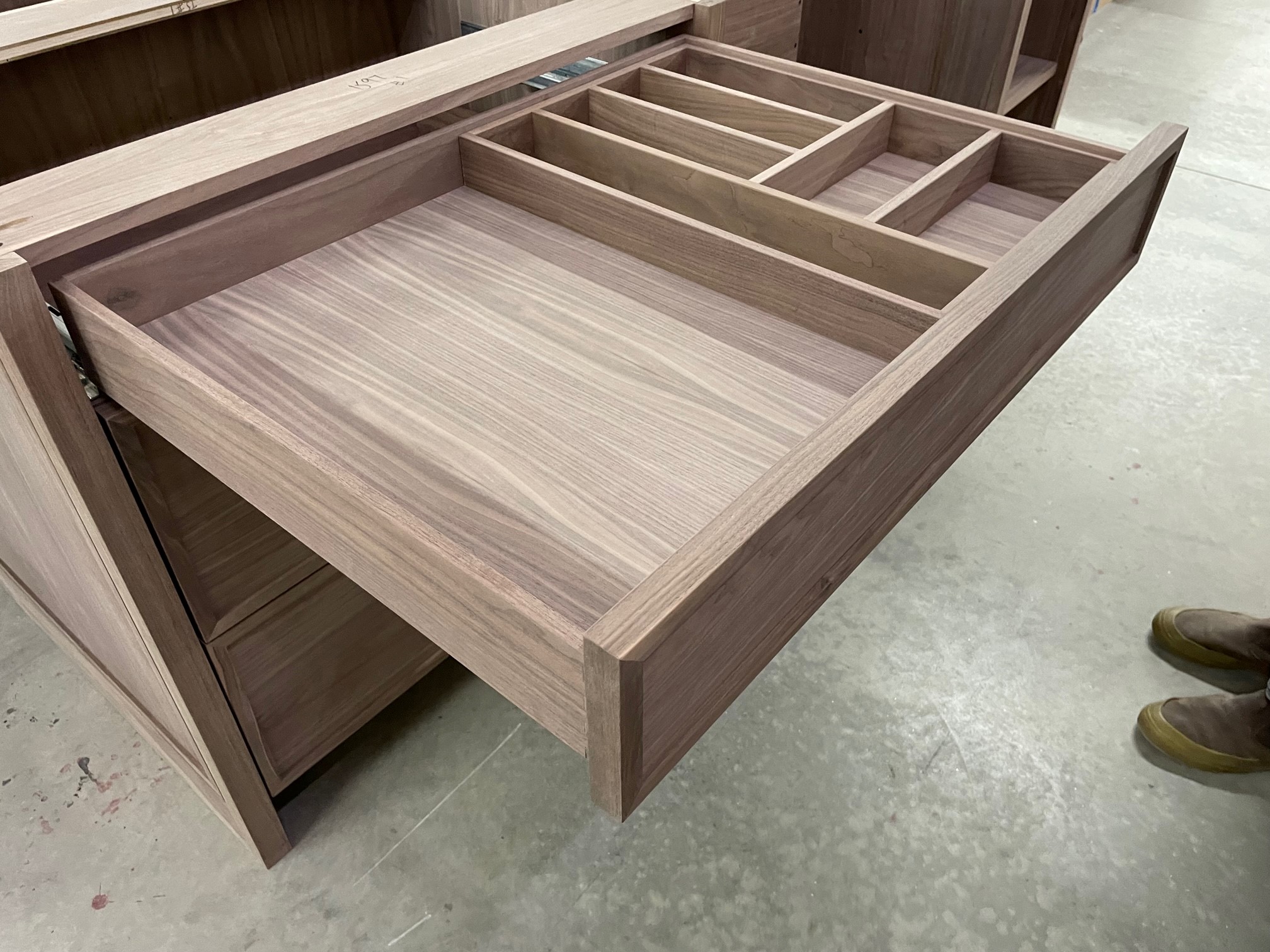 Foundation in craft
Craftsmanship in solid wood forms a foundation for much of what the company does. When I visited the shop, I was introduced to Matt Lord and production manager Jeff Tilton, who were busy giving final approvals to work ready to be shipped. Solid wood face frames, drawer boxes, and pullouts are featured prominently in most of the work.

Working with so much solid wood contributes to the company's ethos of craftsmanship, which naturally leads to the question of finding skilled workers. Tilton admits that can sometimes be challenging. They prefer to train people in house. "We hire for potential," he said. Workers train on one job at a time and move through the company, slowly becoming crosstrained. "The challenge is partly the size of the company," said Lord. "We're too large to be small and too small to be large. Everyone wears lots of hats."

Maple is most commonly used for painted face frames, while white oak and walnut are popular for stain or clear finished projects.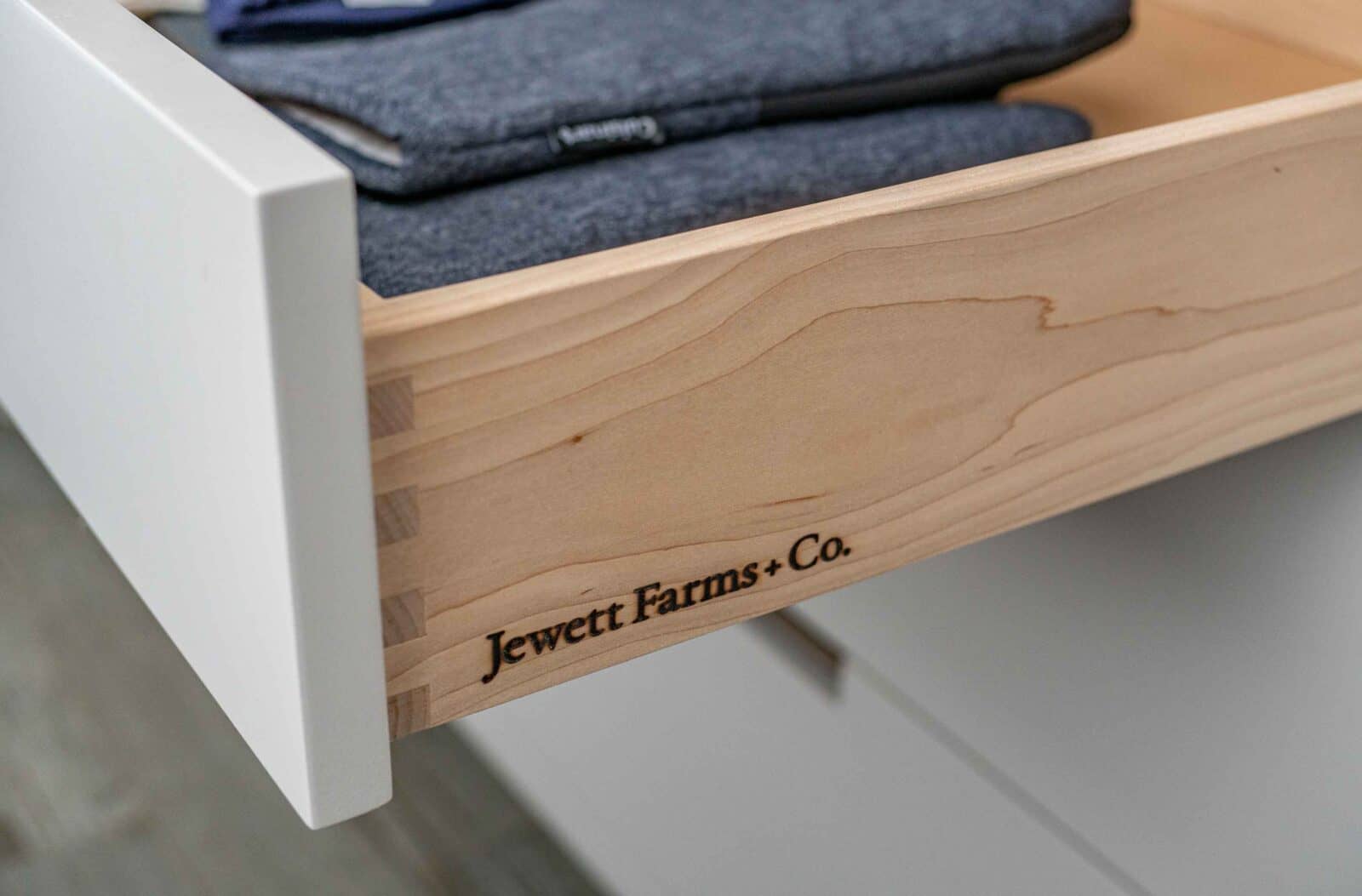 And just like the company name and branding, there's an unconventional approach to craftsmanship in the drawer boxes. They are built with a box joint rather than dovetails or other joinery. Lord said about 15 years ago they tried ordering out their drawers but were not happy with the results. Today, the box joints are cut on an Omec 750CN dovetail machine and proudly carry the Jewett Farms brand.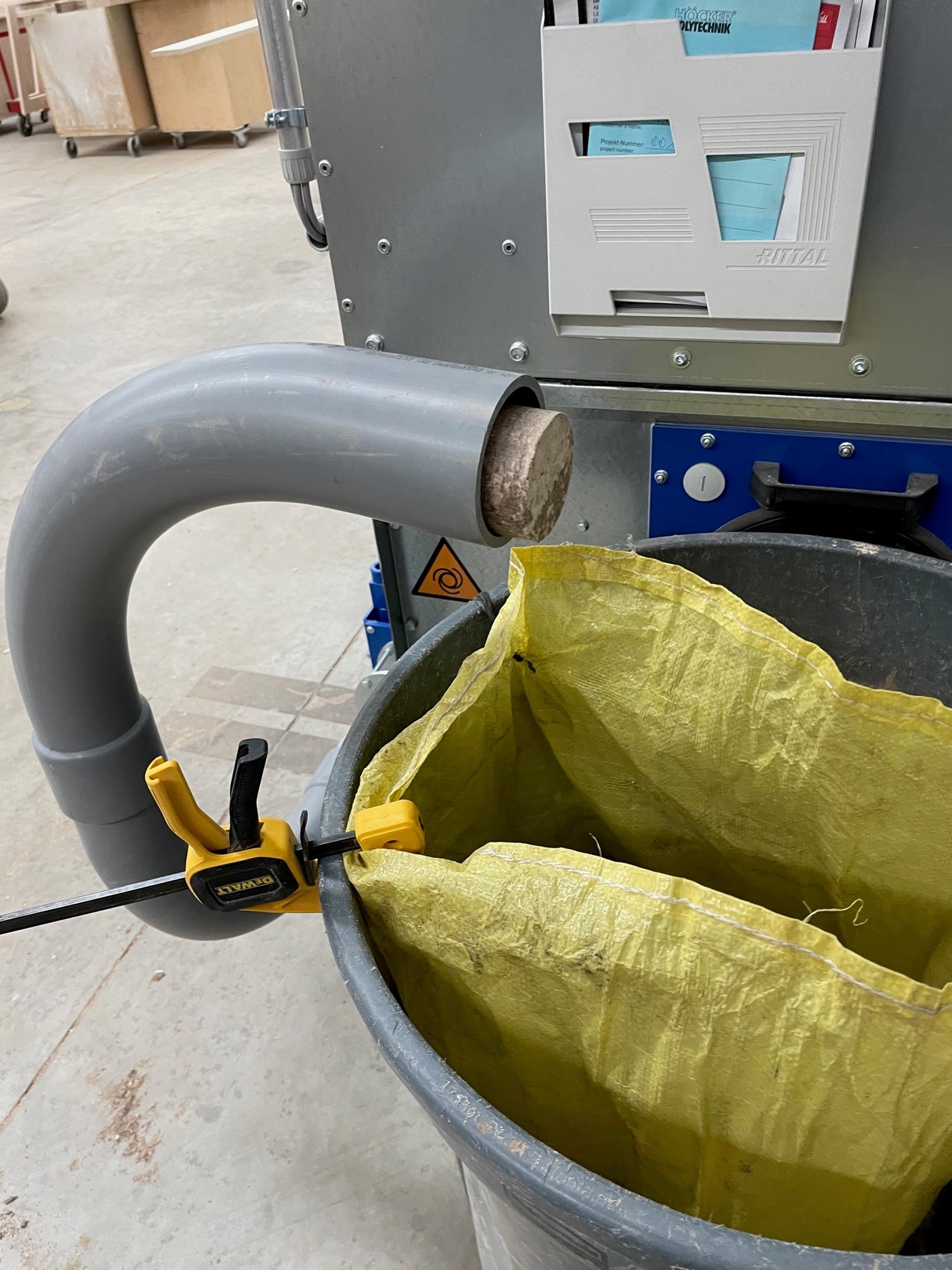 Solid wood to biofuel
Even for painted kitchens, Jewett Farms features exposed wood for interiors, drawers, and pullouts. And, there's solid maple under the paint in the face frames. So, that's a lot of solid wood to machine, prompting the company to emphasize a vibrant rough mill operation with a ripsaw, moulder, jointer, and planer. That means significant wood waste.

Lord was inspired by the efforts of Mark Richey Woodworking, which combines solar, wind, and biofuels from its own waste to power a massive architectural woodworking facility in Newburyport, Massachusetts. Lord wanted to make some efforts in that direction for Jewett Farms.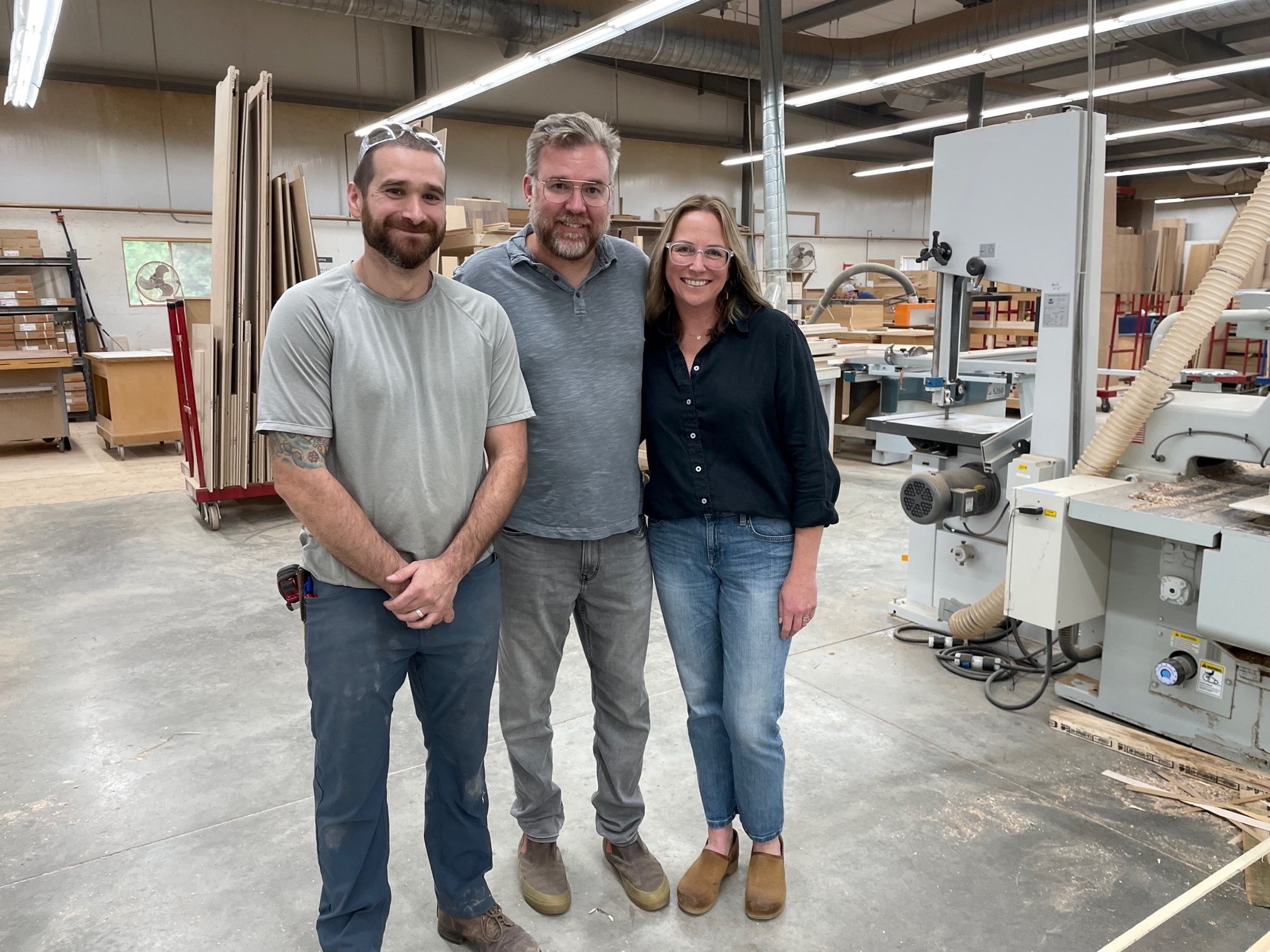 He started looking into it. "We'd like to be as sustainable as possible," he said. "But most of the equipment you can buy is tailored for much larger companies." He finally settled on a dust collection system by Hocker that pipes wood waste from eight machines to feed a Brikstar CS5 briquette maker, which uses heat and pressure to make cylinder-shaped bricks of the wood waste without any adhesives or chemicals added.

The next step for the company is to add a wood boiler that could use the briquettes to heat the shop, but in the meantime shop employees have been taking the briquettes home to use in their wood stoves.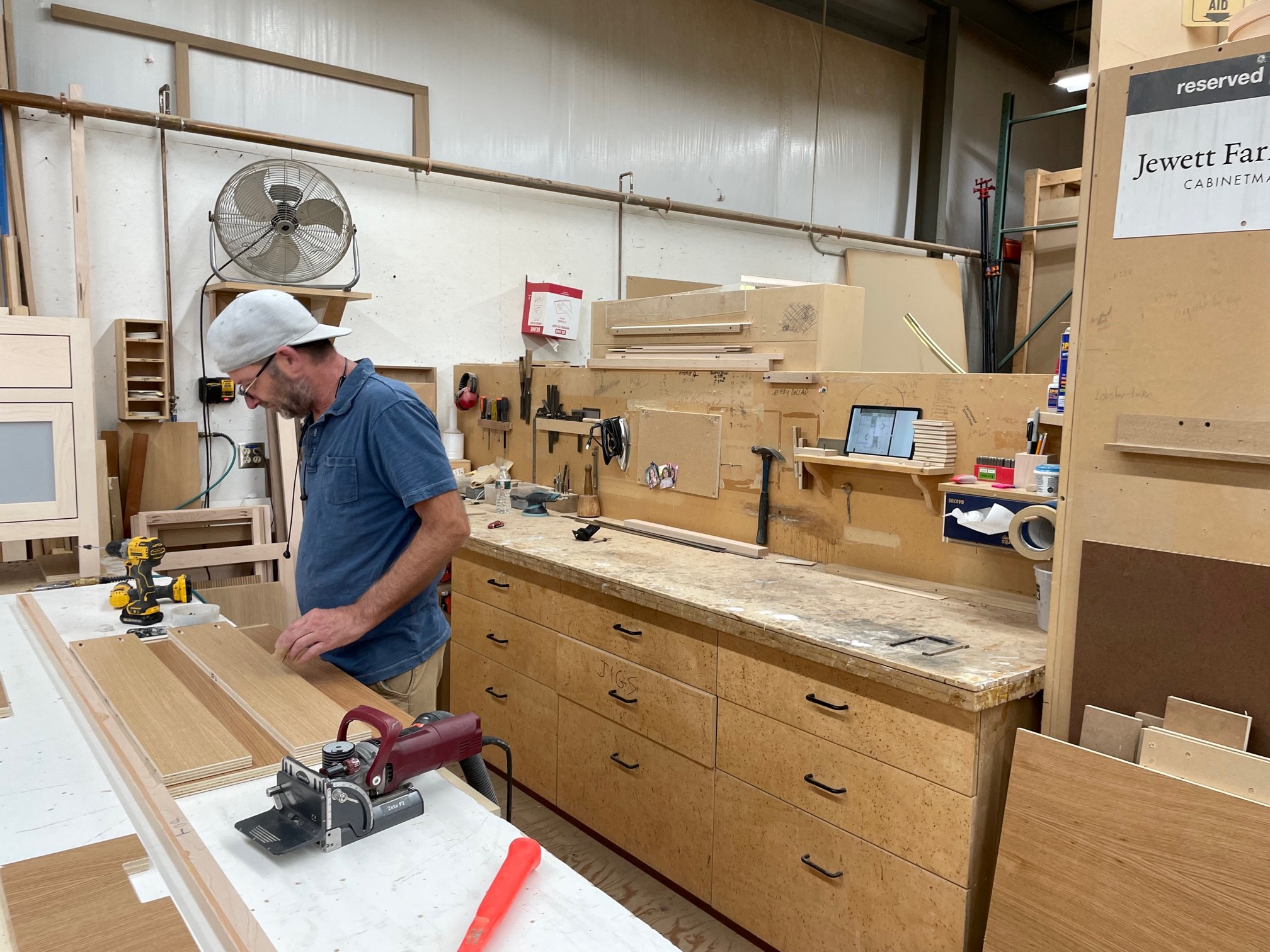 Going paperless
Another initiative in the shop has as much to do with efficiency as it does with environmental responsibility. The company has gone paperless in the shop. Workers have tablets at their stations with full access to all the design and construction drawings for every project. They can easily magnify details to answer questions without having to wrestle with paper drawings or go back to the design/engineering staff.

Most designs are worked up for the shop in Hexagon's Cabinet Vision, but the shop uses Sketchup for 3D renderings. "Client expectations are so high," said Olivia Lord, "that drawings and designs really need to be on point." 
"We want it to look like a piece of art," added Matt Lord.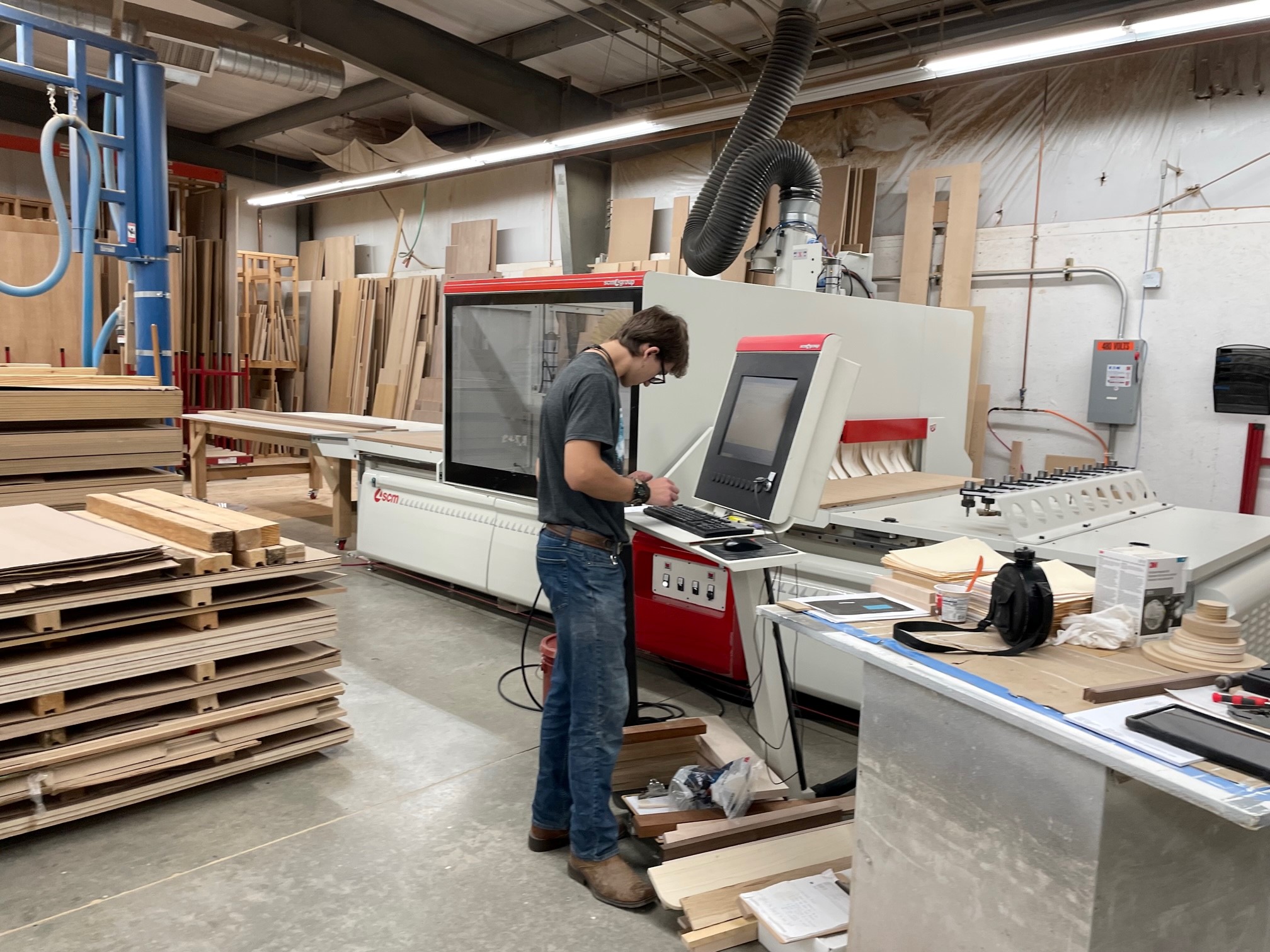 Manufacturing technology
Panel processing in the shop is mostly handled by an SCM CNC router and a Biesse edgebander. Face frames are affixed to cabinet boxes with Lamello joinery, and the face frames themselves feature a distinctive lock miter joint done on a LM116 machine from Circle T Manufacturing, which Tilton described as a "game changer."

There are typically two to three projects in progress in the shop, with a new project added every week. The shop is currently working with a lead time of 12 to 14 weeks, and the design process generally takes two to three months to work out all the details. Lord said the company's "sweet spot" is working with customers who need a kitchen in six months.

Finishing
Jewett Farms does all of its own finishing, combining an automated flat line finishing system with manual spray finishing depending on what is being finished. The flat line system is by Makor. Lord said most of the finishes used are Sirca waterborne finishes, which he said are more forgiving as well as being more environmentally friendly. 

Face frames are finished separately from the cabinet boxes, which makes the flat line finishing attractive. Lamello fasteners connect the face frames to the boxes after finishing.
Have something to say? Share your thoughts with us in the comments below.