The Cabinet Face launches custom IKEA cabinetry available to the trade
June 28, 2016 | 2:35 pm CDT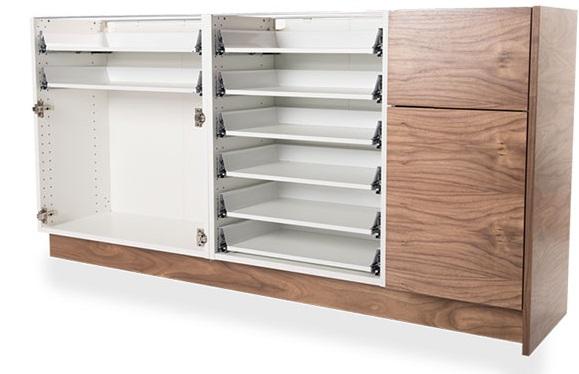 DENVER - Custom woodworker William Wolff and his partners have launched a new business line: customized IKEA kitchen cabinetry.
Also referred to by designers as "IKEA hacking," The Cabinet Face is selling an IKEA upgrade that takes the furniture retail giants' basic boxes, and wraps them in better looking veneers or laminates, along with new doors and drawers in a variety of wood species. Doors and drawers precisely match the IKEA cabinet line dimensions and drill patterns.
"We founded The Cabinet Face to bridge the gap between high-end design and mass production, and make custom furniture available to everyone," says Wolff. The company exhibited at the Denver Home Show in the spring.
Because consumers like the simplicity of the IKEA buying experience, a newly website was required, with online ordering and a easy-to-use contemporary styled retail shop. 
The Cabinet Face crew. William Wolff (right) and Kyle Kwiatkowski (left) also operate Colorado Wood Designs, a custom woodworking business.
The Colorado woodworkers, who also produce custom residential and short run commercial furnishings, and are marketing their latest offerings directly to consumers through a fresh-looking website,
www.thecabinetface.com
. In a twist from other cabinetry businesses in this category, he Cabinet Face operation targets trade buyers - building remodelers, designers, real estate investors, and even multi-unit residential.
"If  you're building or renovating a condo or apartment building, or working on a 'fix and flip', we can help you achieve a stunning high-end custom kitchen or bathroom, or a beautifully organized closet system, at a fraction of the usual cost," as the website portrays it. "Your customer or buyer will be delighted with the result, and you can make higher profits too. It's a true win-win." As their website details it:
We can offer any level of service, from build only right through to design, manufacture, and install.
We've partnered with an assembly and installation team that specializes in commercial applications, and we also have expert designers who can create a smart layout for any space.
Please sign-up up to qualify for our trade discounts to those in the trade profession. We just need to see your license or proof of standing (i.e. name on your website, scan of a business card, etc.) to confirm your status.
We can also offer special discounts on larger orders, for example if you're working on an entire condo or apartment building.We're a team of three designers, woodworkers, and furniture makers united by a love of intelligent design and beautiful custom furniture.
What inspires us? Bringing our passion into customers' lives, and making a real difference to the way they live. And doing it with social and environmental responsibility, with help from partners who share our values.To create beautiful doors for IKEA's cabinets, custom-built and delivered ready to install.
Clients get the durability and flexibility of IKEA combined with the quality and style of custom cabinets, at a price you won't believe.
It's easy to order online, and the installation process is exactly the same as for regular IKEA products. We'll even pay for your in-home IKEA kitchen design.
Have something to say? Share your thoughts with us in the comments below.