Bellmont Cabinet's high-production finishing line
January 8, 2016 | 1:04 pm CST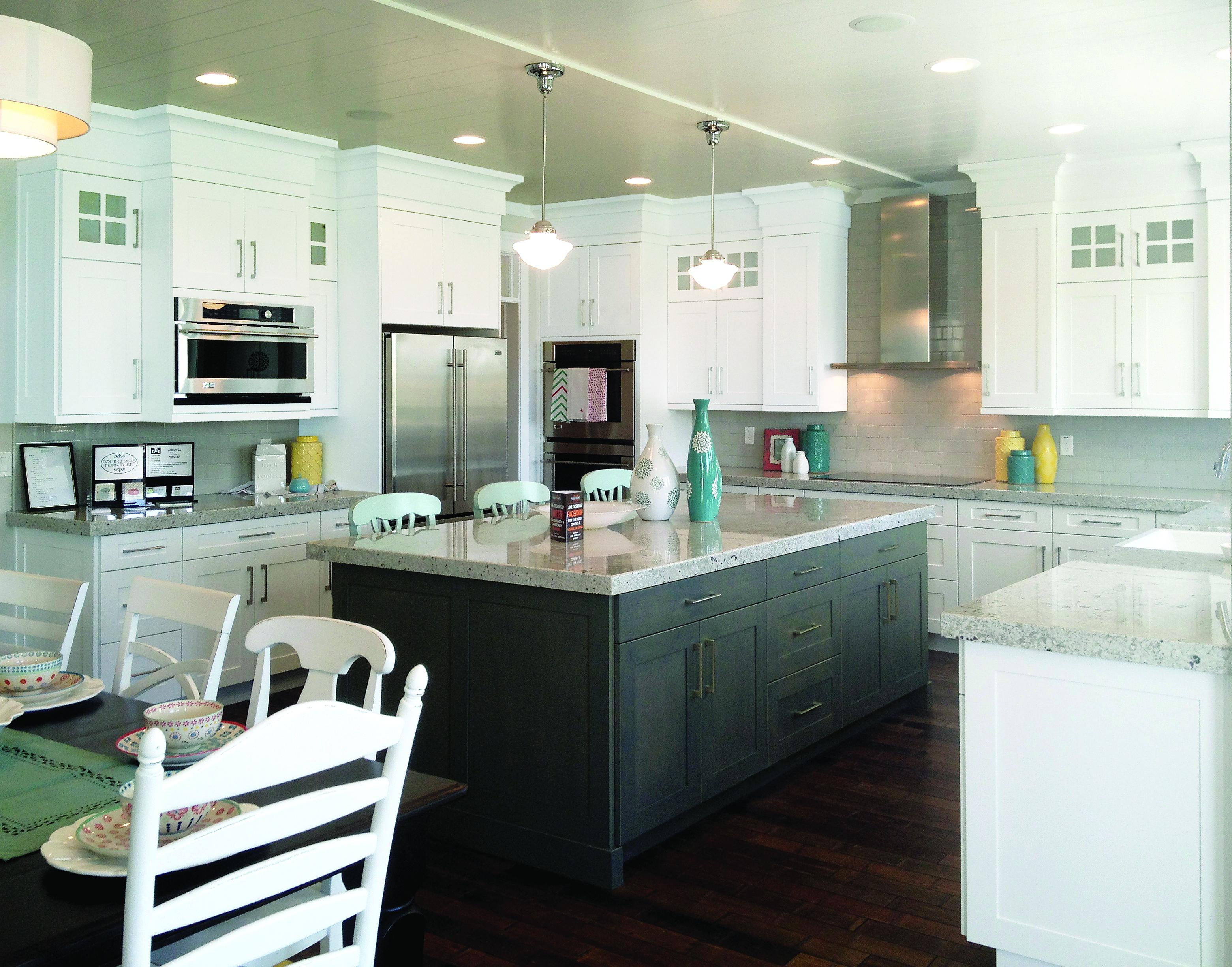 Bellmont Cabinet Co.'s web page tells part of the story: frameless cabinetmaker focused on product innovation, timeless and trend-setting styles, craftsmanship and functionality, with a dedication to "leaving the world a better place" by building responsibly, using holistic eco-sensitive manufacturing and sustainable materials when possible.
But there's more. Family owned and operated, Bellmont Cabinet Co. was founded by CEO Steve Bell some 30 years ago in his garage. Since then, it has grown steadily into a state-of-the-art, 185,000-square-foot facility, producing 500 frameless-style cabinets a day. Based in Sumner, WA, the company has 320 employees, including Steve's sons Casey, COO, and Tyler, vice president of sales and marketing.
"Building a contemporary frameless product is our niche and we believe we have a leg up on our competition because frameless is all we do," said Casey. Bellmont sells its contemporary, transitional cabinetry through a dealer network as well as Lowes. Product lines include the 1600, which is made from 16mm board and the 1900 line, made of 19mm. "Both have a variety of options but the 1900 is more semi-custom," he added.
The company has used Sherwin-Williams' finishing materials for more than 10 years. "We work with Sherwin-Williams for a variety of reasons, but at the top of the list is service. Finishing is an important step in the process. Getting the proper and ideal outcome in a finish depends on the sum of many variables, which include things like sanding, room temperature, humidity, the product itself – the list goes on. It is invaluable to be working with the type of company that helps you navigate all the variables," Bell said.
Bell is a fan of Sherwin-Williams' finishes, which he calls phenomenal. "We worked with them on our staining process for improved consistency of finish and development of difficult yet popular colors such as grays."
He added, "Grays have been very popular in both stains and paints and white paint continues to be a hit with customers. We are also seeing demand for darker stains on cherry and alder."
In addition to stains, Bellmont Cabinet uses Sherwin-Williams solvent-based primers, solvents and clearcoats. According to Keven King, finish equipment/hazmat supervisor, Bellmont's number one reason for using Sherwin-Williams is its customer service.
Darker stains continue to be popular for kitchen cabinetry. Bellmont Cabinet has been using Sherwin-Williams' finishes on its contemporary cabinetry since 2003.
"We started with them in 2003 and they have been quick to respond to our needs," King said. "That is crucial because we are in a fast-paced production situation. If we are changing colors, matching colors or doing custom colors, we need a quick turnaround in two-to-three days. We need a company with a willingness to jump in and help when we have questions, or are trying new things, or testing a process."
King added, "They have been quick to respond when we needed to resolve issues with color problems and reformulating stains. For instance, when a color didn't wipe well, they reworked it. They have also been very responsive to our low VOC requirements, formulating a clearcoat and topcoat for us that dries to our specifications."
In addition to working with Sherwin-Williams, Bellmont Cabinet also recently revamped its process engineering for white wood sanding, staining, painting and clear coating.
According to King, "All finishing process information is entered into a software program which includes process parameters and application training tools. Sherwin-Williams helped reformulate some stains to fit into those parameters.
On the equipment side, among the recent changes to Bellmont's finishing process is the addition of a Kremlin Cyclomix Micro 3 Plus two-component metering system and a Roba-Tech 1300 brush sander for wood doors.
"A lot of our doors are made by vendors but some are made in-house," King said.   "The Roba-Tech can take any white wood and produce a more consistent final sand before moving to the finishing process".
In another example of Sherwin-Williams' great customer service, King noted, the company helped Bellmont on a unique situation with its Cefla EZ 2000 reciprocating flatline sprayer.
"Most Cefla's are 20 to 25 feet longer than ours," King said. "We needed a shorter line because of space restrictions. We also needed a coating that dries faster. Sherwin-Williams developed a low-VOC coating especially tailored to our time needs. With the Sherwin-Williams fast-dry coating, scuff sanding can be achieved in 15 minutes."
Bellmont Cabinet's passion for making high-quality cabinetry is clearly evident. Bell is quick to add, "We are also passionate about our ethics, our employees, vendors, and customers.
"We are a fashion-forward company and we believe in growth that is a result of all that, plus our commitment to continually improving our processes and products. We believe that approach is essential to maintaining a healthy, vibrant business," he said.
Have something to say? Share your thoughts with us in the comments below.