Cabinet color trends: What's hot & what's not for 2016
January 5, 2016 | 9:40 am CST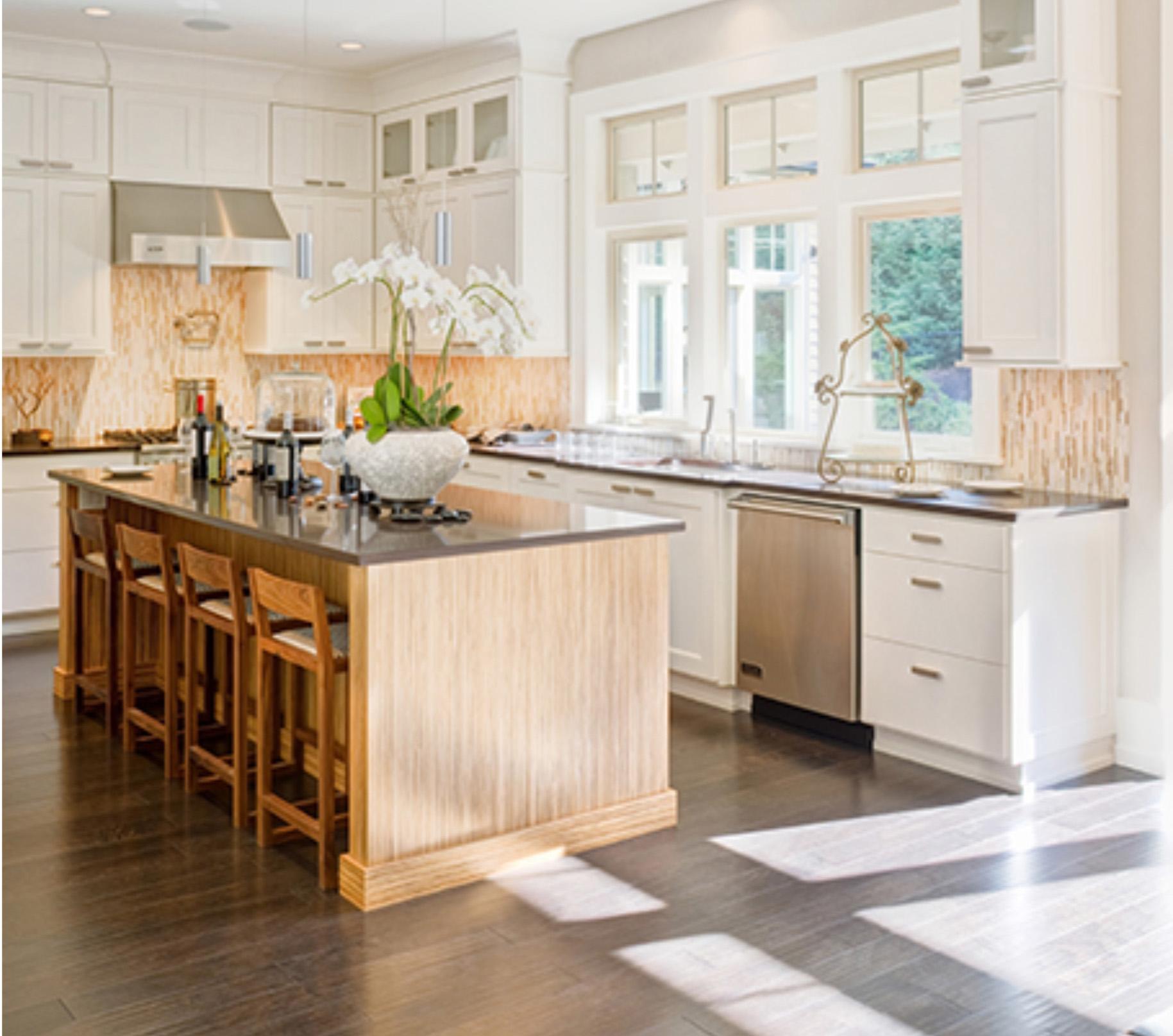 With almost all consumers basing their purchasing decisions on color and appearance, are your wood products on target to sell?
What's hot, what's not and other finishing trends were the topic of the recent webcast "Kitchen Cabinetry Trends: Finishes & Colors for 2016," sponsored by Sherwin-Williams and Timber Products Co. and available on-demand at WoodworkingNetwork.com (bit.ly/1NjuPHV). 
"Up to 90 percent of consumers' initial assessment of quality is related to color and appearance, so having the right color and the right finish is extremely important," said Angela Simone, director at Sherwin-Williams' Global Color Design Center.
Nouveau Narrative
Colors trending up
Each year, the center looks at global trends and their influences – social, technological, economic, environmental and political – and uses the information to determine color themes.  The 2016 Colormix of palettes includes:
Pura Vida: the soft, luxurious colors associated with natural materials like alabaster and marble. In addition to warmer grays, colors in this palette include khaki and blush neutrals with names like Doeskin, Wool Skein and Ramie. "These can be used as the main or accent color," she said.
Mas Amor Por Favor:  The Latin influence is apparent in the dashing greens, cheeky pinks and other bold colors, Simone said, but with a vintage feel, making this palette perfect for multi-generational homes. Colors like Tansy Green and Different Gold are paired with Memorable Rose and Charming Pink, for interior and exterior use.
Nouveau Narrative: There are no white or light beiges here, Simone said. Instead you'll find deep, rich "industrial" colors, including Roycroft Pewter, Naval blue, Crabby Apple red and Urban Putty. "A key piece in this collection is the rebirth of brass" in hardware and fixtures, in true-end designs.
Trajectory: A modern, wild and space-age collection of colors Simone described, found on the coasts and in larger cities. This includes "icy blues, definitely silvers and pewters, deep purple and plums, and in contrast to some of the other collections where the gloss would have been very matte to non-existent, this is full gloss, shiny," she said.

What colors are fading & staying
Simone noted a decline in popularity for the country/rustic look for kitchen cabinetry and stains on glaze for kitchen cabinets "is definitely fading as a trend." Palette put downs also include finishes with "too many effects at once" and colors with strong red undertones.
Grays, however, "continue to be the 'new neutral,' although they are moving to a warmer undertone. Also any neutral undertones continue to be popular."
It's also very important that the finish and the style are consistent, she said. "You don't want a high gloss finish on a country-type cabinet." Also still popular are clear, visible wood grain. "In many cases, the stains are almost transparent and the topcoats are almost sheen-less, so basically it looks like a natural piece of wood."


Mixing and matching
Additional color and style trends were noted by Doug Clark, national accounts sales manager at Timber Products. "We're seeing mix and match now in a lot of kitchens, where maybe the island will be natural wood and the perimeter cabinets will be either painted or some sort of another surface," Clark said. In other instances, the lower cabinets might have the natural wood look and the upper cabinetry is painted.
"Something that we've [also] seen from our customers in the Midwest is a plank-matched look. We manufacture hardwood plywood, and to get the look of lumber, a lot of our customers are switching to plank matched," he added. Walnut and hickory are among the popular species for this look.
Other regional trends include the use of alder and rustic cherry in the Mountain states region, while urban areas, such as Chicago, Boston and Los Angeles, as well as areas along the Northeast, Northwest and Southeast coasts that are heavily influenced by European design trends, have a propensity for frameless. "We think it's something that's going to continue," Clark continued.
Clark also noted a growing popularity for wood interiors on cabinetry, as opposed to laminates. Also discussed were cabinet construction options, plus a brief look at popular panel cores including Pro-Core, an engineered veneer core with thin MDF or particleboard crossbands on the face and back, MDF and particleboard core panels.
Listen to the free webcast, "Kitchen Cabinetry Trends: Finishes & Colors for 2016," on demand at WoodworkingNetwork.com/webcasts.
 
Have something to say? Share your thoughts with us in the comments below.