Northwest Hardwoods and 3D Source in design collaboration at AWFS Fair
July 12, 2017 | 9:17 am CDT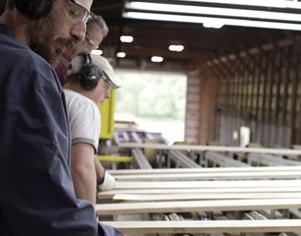 Photo By Northwest Hardwoods
LAS VEGAS -- Northwest Hardwoods, Inc. and 3D source will start a new design collaboration at AWFS Fair July 19-22.
Northwest Hardwoods is a manufacturer of high quality hardwood lumber in North America. 3D Source is a provider of 3D interactive, animation, modeling and print services. The collaboration is aimed at helping homeowners see, through instant, photo-realistic design tools, natural wood grain in their design projects.
Even with all the websites, photo libraries and design tools available today, it's difficult for homeowners to visualize how various elements, especially hardwoods with subtle patterning and color variations, will come together in a realistic way.
"Even though homeowners want to use wood for its sustainability and benefits for a healthy home environment, many are afraid to because they can't visualize it," says Mark Hayes, certification/market development for Northwest Hardwoods. "With dynamic design tools from 3D Source, homeowners will 'see' instantly how different wood species, stains and finishes will look. Many more people will be inspired to use hardwoods when they can see how well all of their design elements will work together."
Integrating photo realistic images of the homeowners' space with 3D modeling and animation, 3D Source design tools allow interior designers to create configured spaces in real-time, changing design elements and scene views.
"With our 3D modeling, designs come to life vibrantly and instantly, helping customers make decisions more easily and confidently," explains Tom Connard, co-founder/VP business development of 3D Source. "There's tremendous potential for these tools to excite and support designers, architects and others who frequently work with wood products."
The collaboration will come to life at AWFS Fair, Booth #4832. Against the backdrop of the lumber company's display filled with American hardwoods, exotics, plywood and decking, two 48-inch touchscreens will entice visitors to the Northwest Hardwoods booth where a 3D Source representative will be on hand to help them point, click and customize virtual rooms using the 3D digital design tool. See http://www.northwesthardwoods.com, http://3dsource.com.
Have something to say? Share your thoughts with us in the comments below.