Fresh Wood design winner inspired by both music and wood
July 28, 2017 | 5:00 pm CDT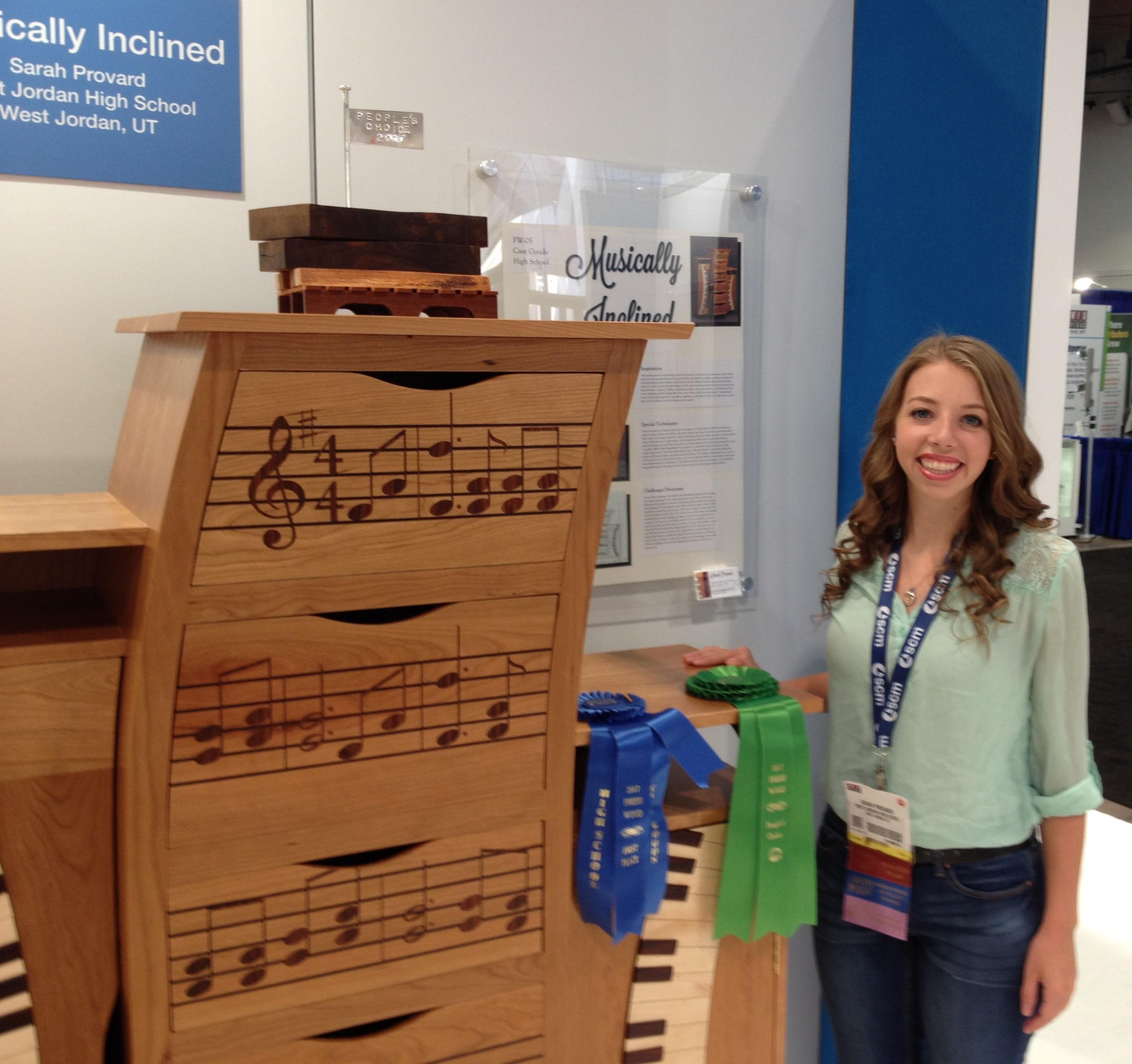 WEST JORDAN, Utah – Sarah Provard's love for music inspired her award-winning furniture design.
AWFS Fair attendees awarded the Fresh Wood People's Choice Award, sponsored by Wagner Meters, and a $750 prize to Provard, of West Jordan High School, Utah, for her Musically Inclined cabinet with themed inlay. It also won first place in the High School Case Goods category."There were many inspirations that I had in order to design this wonderful piece," Provard said. "My primary reason for this design is my love for music.
"As long as I can remember I have heard music in my home and all around me and I fell in love with it. It made me calm and relaxed in stressful situations and it helped my life become better.
"When I was older and in high school I found the love for woodworking and I am the only one in my family who has this love. So when I was trying to figure out a senior project I decided that I had to do something with the things that I love most in this world: wood and music. I realized that music and woodworking don't typically go together so I decided to throw in a little curve to show that I can be different and love both things and be myself."
The best of woodworking's next generation was celebrated at the Fresh Wood student woodworking competition at AWFS Fair. Outstanding construction and design achievements by students from leading high school and post-secondary woodworking programs in North America were shown at the show, and winners were announced at an Award Ceremony at the Fresh Wood display.
Provard said the piece is unique and has little surprises around every turn, down to the way that she have figured the curve and to tie the entire project together.
"Each part of this project shows a different part of who I am as a person and what skills I have to complete this project," she said. "As stated, the music is part of who I am and is one of my talents and passions. The curve shows that I am not an ordinary human. I am different and that's okay because I can solve problems just like I have had to do on this project many times. The piano is how I started my love for music and each individual drawer pull and door pull tells that I invite people in no matter who they are."
The process of making Musically Inclined took both time and creativity.
"For example, this year I found out what bendy board material is," Provard said. "I figured that because it is so flexible, I could make a mold and bend it to a certain curve and it would stay. It made the entire project come together. I (also) used the CNC (machine) and a laser. These two machines were very important when making the piano keys in the doors and also the notes on the drawer fronts. I had many hours of programming and figuring. The laser allowed me to be able to inlay all of those designs and truly show that love of mine.
"Another process that I had to learn was how to make the curved drawers and have them match the curve perfectly. This was a lot of hand work on the project. In the end, after many hours of spokeshaving and planing and sanding, it finally would slide in perfectly."
Challenges she had while building the project including bending the pieces, figuring out the connection between the CNC and the laser machines and figuring out the angles for the keys, and making all of the detail in the project look stunning.
Bending the wood was fun but hard. Provard used a material called bendy board ply, made a mold and clamped the ply onto the mold in a vacuum bag. The bending was only a little setback because at first Provard didn't know how to bend the wood and it was a difficult to figure out and make the mold the wood was bent on. The CNC and the laser were the main complicated machines that were used in making my project, and Provard had to connect the two programs.
"This was not as easy as I thought due to the fact that the laser uses Corel Draw and the CNC uses Enroute (software) and for some reason they just didn't want to connect," she said. "To solve that problem I had to go through AutoCAD and transfer the design from the CNC to the laser and not the other way around. But even though navigating the programs and learning them for the first time was hard, I still found a way to figure them out and design my entire inlay designs especially the piano keys because each key is different and you could not replace one key with another due to the angles. Along with all of those challenges my very first challenge was what type of wood I was going to use."
Cherry was the primary wood used in Musically Inclined. Accent woods included hard maple, poplar, aromatic red cedar, cocobolo, Caesalpinia ebano, rosewood veneer, and Madagascar rosewood.
Hard maple was used for the white keys in the piano keys on the doors. Poplar was used for the side of the drawers. Aromatic red cedar is most commonly used in projects to keep the bugs and little critters out of wood furniture and it was used as the backs of the drawers and also the shelves in both side cabinets. Cocobolo was used for the black keys in the piano on the doors. Caesalpinia ebano was used as the feet and the side top shelf supports, Rosewood veneer was used for the musical notes on the fronts of the drawers.
The Madagascar rosewood was used for the staff lines on the front of the drawers. As Provard was determining the types of wood that to use on the project, she was given a piece of Madagascar rosewood from one of her friends. There was a family in her friend's neighborhood who had a son serving an LDS church mission in Madagascar. One day when he was shipping something home he realized that the crates that he was using were made out of very dark and beautiful wood. When he got home a couple of months later, he realized that it was rosewood. He couldn't find a use for the wood so he gave it to Provard's friend who kept it in his garage for a very long time just waiting for the right thing to build out of it. Thirty years went by. When he heard about her project, he gave Provard a board to use.
In addition to the laser, Provard used small tools such as a compass spokeshave, planer and a card scraper.
"The compass spokeshave was a very new tool for me but it was fun to learn how to use it and make the handles on my drawers and doors smooth to welcome your hand into it," she said. "The other tool I used was the card scraper. It was definitely tiring while using it, but it gave me the very nice curve in my face frame, and my cabinet."
The only manufactured parts in the project are the solid brass hinges and some screws from Woodcraft Supply. No other manufactured parts were used in the project.
Provard's future plans are to go to Utah Valley University in Orem, Utah, receive schooling there and transfer to Pittsburg State University in Pittsburg, Kansas, next fall.
"I don't know if I will make it but I really hope I can," she said. "I want to become a woodworker. I want to design and make specialized furniture." 
Have something to say? Share your thoughts with us in the comments below.