Closet pros: Head to AWFS to join the amazing race
June 24, 2021 | 1:59 pm CDT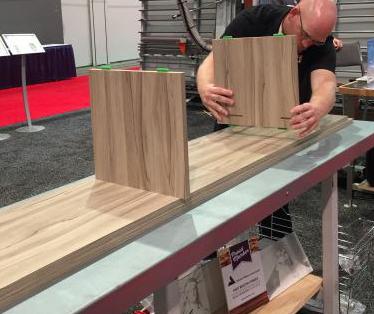 NORTH LIBERTY, Iowa – The Great Closets Challenge (Booth #4451) is coming to AWFS 2021, July 20-22. As part of the Closets Pavilion, sponsored by The Association of Woodworking & Furnishings Suppliers (AWFS) and Closets & Organized Storage Magazine, attendees will have the chance to show off their skills and compete for prizes.
The competition features three parts: a designer challenge featuring a custom reach-in closet designed by Eric Marshall, Kitchens & Closets by DEA, Tempe, Arizona; the Fabricator challenge sponsored by Weinig/Holz-Her, Hafele America, and Closet Pro Software; and the Installer/Assembler Challenge, which will have attendees competing to assemble and install the closet in booth 4451.
Weinig/Holz-Her, the official machinery sponsor of The Great Closets Challenge, will provide the pre-fabricated components needed for the custom-designed storage space. Hafele America is the official hardware sponsor and will provide hardware, slides, Rafix fasteners, and closet accessories. Closet Pro Software, the official software sponsor, will provide cultists for machining the parts, and  Drawer Connection will supply the drawer boxes for the challenge and tools will be provided by Festool.
Installer/Assembler Challenge
Competing against their peers, this is a timed competition allowing attendees to try their hand at rapid assembly with the chance to win an Apple Watch. The competition is scheduled for Tuesday, July 20 – Thursday, July 22 at 11 am and 2 pm. Enter at booth 4451 to be one of 12 competitors chosen by lottery each day. One watch will be awarded at the end of the second challenge each day. 
The challenge will be filmed, and competitors must sign a waiver giving Woodworking Network/Closets & Organized Storage (Booth 4447) permission to use the video in conjunction with AWFS show coverage.  
 
We are excited to partner with AWFS for the introduction of The Great Closet Challenge. This competition is the perfect vehicle to showcase the level of experience, creativity, and skill within the closets and home storage and organization industry.
Both exhibitors and attendees will be able to participate in this unique event. From fabrication to installation, industry professionals and AWFS Fair attendees will have the opportunity to compete against their peers in a one-of-a-kind immersive contest. Not only will the competition be fun and exciting, but attendees will have the opportunity to win valuable prizes as well.
The Pavilion is complemented by the full-day Closets & Organized Storage Symposium taking place on Monday, July 19.
For more information on the challenge, visit woodworkingnetwork.com/closets-challenge. 
 
Have something to say? Share your thoughts with us in the comments below.