The Great Closets Challenge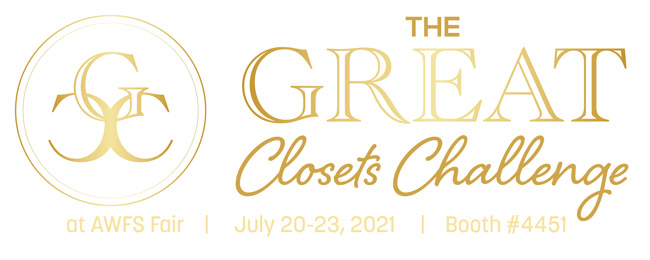 | | | |
| --- | --- | --- |
| | Sponsored by | |
Join us at AWFS 2021 for The Great Closets Challenge. As part of the Closets Pavilion, sponsored by The Association of Woodworking & Furnishings Suppliers (AWFS) and Closets & Organized Storage Magazine, attendees will have the chance to show off their skills and compete for an Apple Watch.
The competition features a Fabricator and an Installer/Assembler Challenge that will have attendees competing to assemble and install a custom reach-in closet designed by Eric Marshall, Kitchens & Closets by DEA and president of the Association of Closet & Storage Professionals (ACSP), who will also MC the challenge on the floor of the Closets Pavilion. 

Fight to beat the clock and try your hand at rapid assembly of a custom reach-in closet with the chance to win an Apple Watch!
The Assembler/Installer Challenge Schedule
Tuesday  |  11am & 2pm
Wednesday  |  11 am & 2 pm
Thursday  |  11 am & 2pm
How to enter
Stop by Booth #4451 each day of the challenge to drop your business card for a chance to compete. Then stop back and join us 10 minutes before each challenge daily, when we will randomly select the assemblers/installers who will participate* (must be present for drawing.)  At 3:30 each day, one lucky participant will be awarded an Apple Watch. Be sure to stop back at Booth #4451 to see if you win!
Showcase your experience, creativity, and skill and join in the fun! Stop by Booth #4451 to enter!

*Installers selected to perform in the challenge will be required to dismantle the unit after they have completed their installation.