Kornerking Cabinets Updates the Lazy Susan
August 16, 2013 | 8:49 am CDT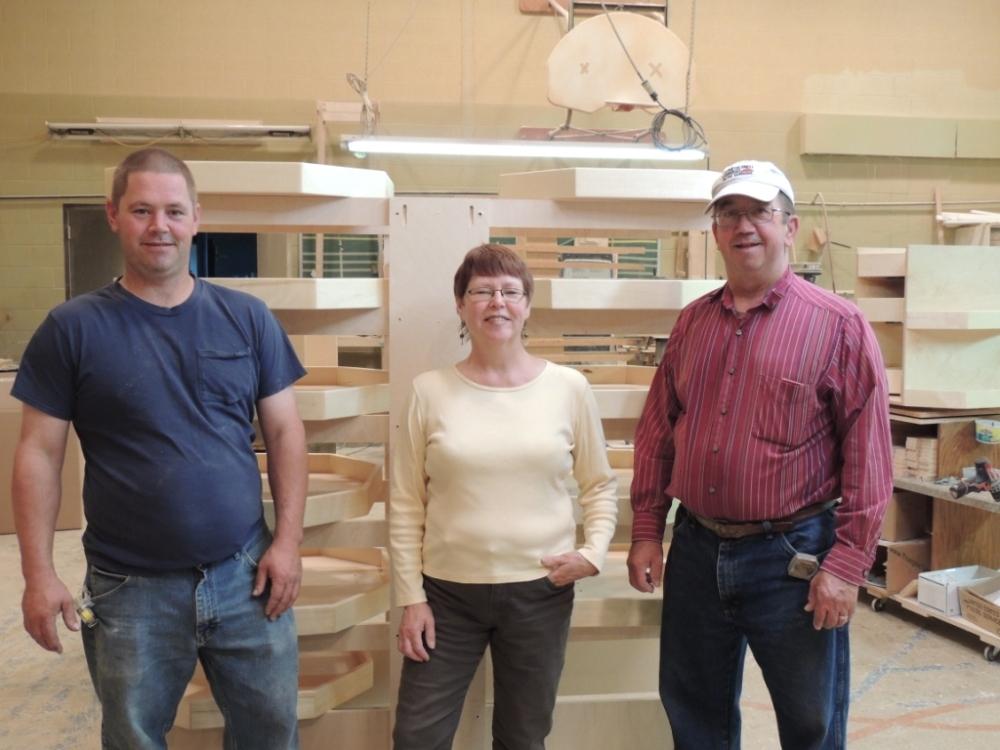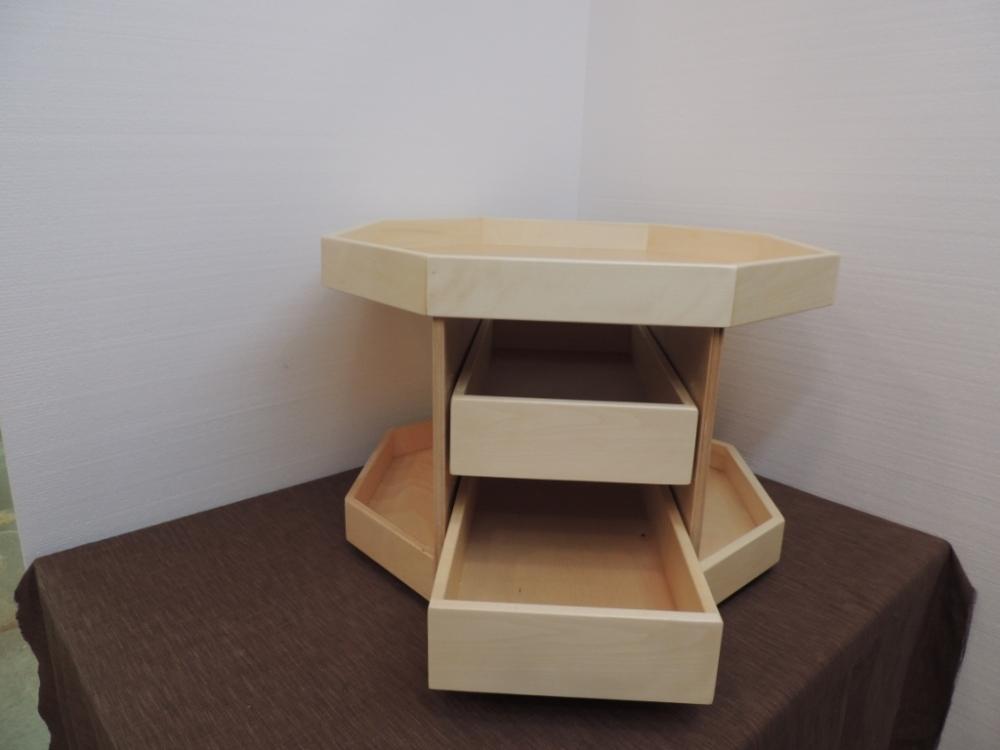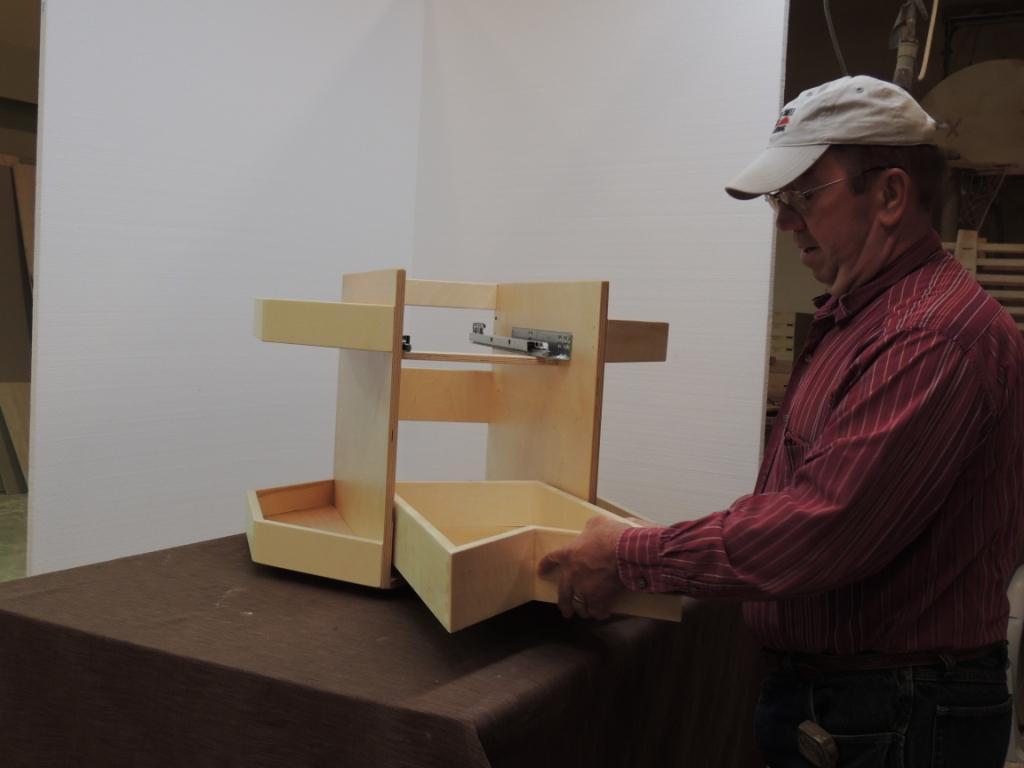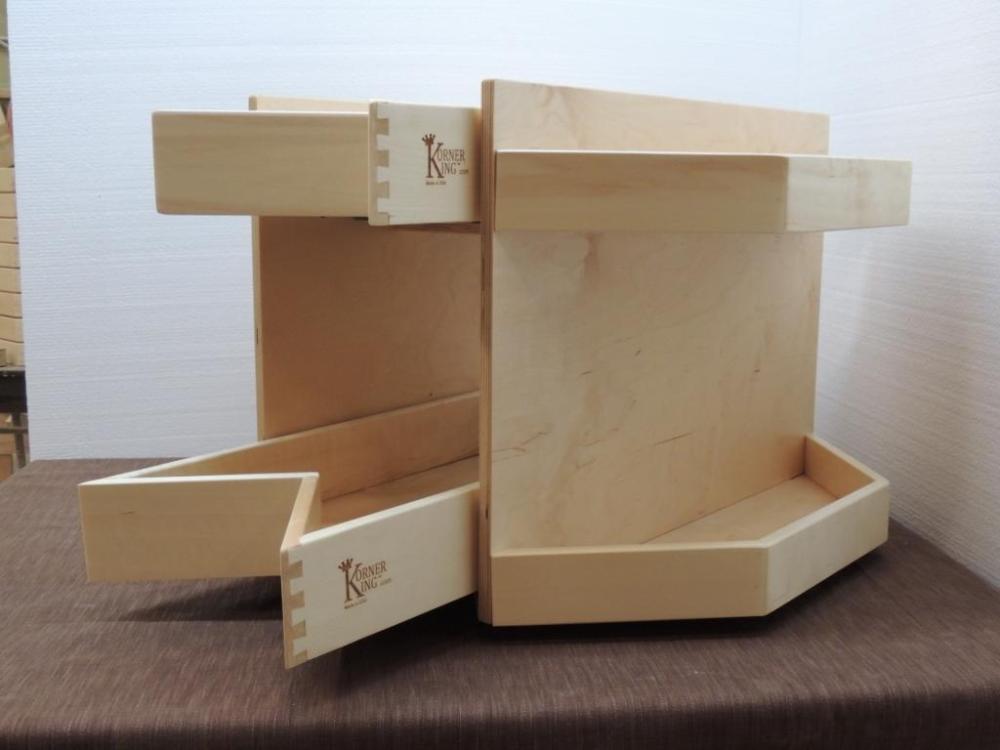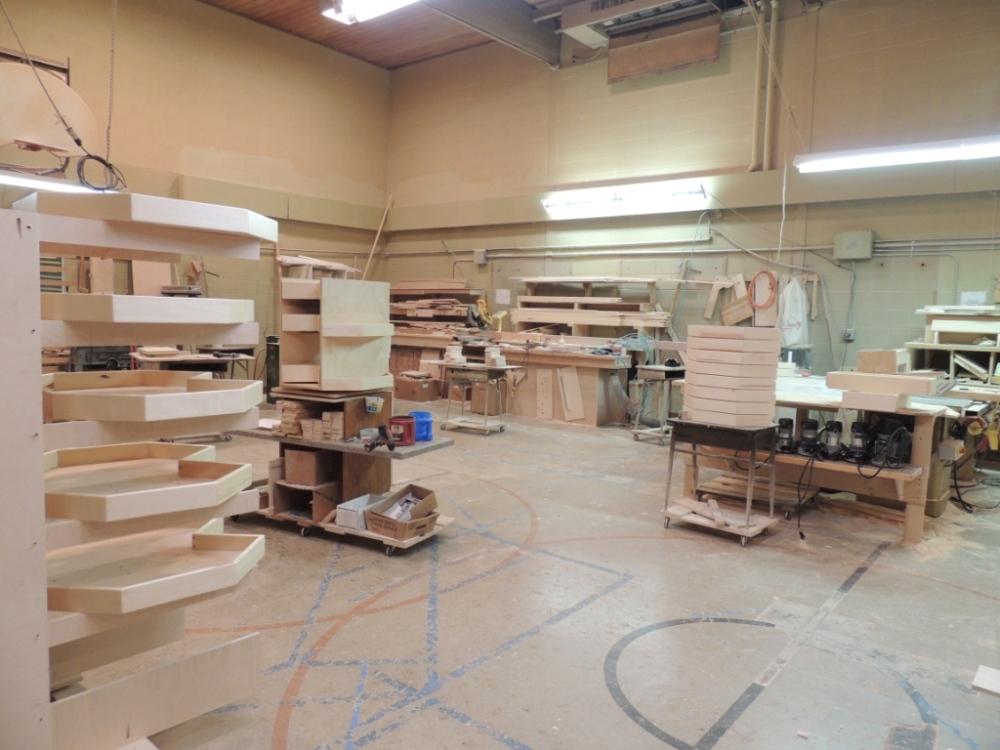 After building over 500 customs kitchens one thing became very apparent to me: homeowners hate lazy Susans. They are hard to organize, things fall off and they wear out way too soon. A partial solution was corner drawers. These too had limitations in customers minds over the triangle of dead space left in the corner.
While doing the North Dakota State Fair in the summer of 2009 and showing both, these complaints were heard often, in a short period of time. I had that light bulb moment and decided to combine the 2 elements. The access of drawers with the side storage of a lazy Susan. With a full cabinet shop at my disposal a prototype was developed and the Kornerking was born.
Creating a short video from the prototype, I showed it to the first 2 customers that week. They both ordered it in their kitchen. The issue was to now take it from prototype to a completed product. I had been using an all wood turntable so I designed it in 2 sections. One to go on the bottom and 1 to go on a shelf. It worked like a charm, as long as the countertop was not on.
2009 and 2010 coincided with the downturn in the construction industry. The decision was made to promote it to other cabinet makers throughout the US and Canada. The feedback from these shops led to many modifications, so as to make it more universal. Going from the 1 piece design, a retrofit version was created. This allowed for easy insertion into existing cabinets, or cabinets that had a solid top. It also allowed for an expansion in size, from a single and double drawer module to a triple module that filled the entire cabinet.
Kornerking is a natural solution for those quality shops that want to offer their customers a great option in their corner cabinet. With 3 diameters and 38 unique items, there is a solution for most needs. Installation is a breeze, generally taking less than 10 minutes.
Equipment and layout.
Total shop size—15,000 sq ft.
Kornerking room—2500 sqft
Powermatic tablesaw with Tigerstop
Dewalt miter saw with tigerstop.
Kremlin spray system
Woodmaster planer and gang rip.
Many Delta shapers
We are at the point of seriously looking at cnc to produce our components.
Our dovetailed drawers are outsourced.
Clear coat finish: Danspeed by Chemcraft
Slides: Blum self-close full extension
5/8 Baltic birch for main unit.
During the last few years many cabinet shops have added refacing as an option to their business. Having the Kornerking system has helped them stand apart from their competition.
A key element in the continued expansion of the Kornerking product line has been the input provided by my wife, Shelley. Along with maintaining her own kitchen, Shelley, in her role as office manager, is in constant discussions with homeowners and cabinetmakers. This has allowed her to find out their needs and led to the development of additional versions of Kornerking.
Sensing a need for storage of larger items, she suggested the cookware module. This is a 2 drawer version with a large platform on top to hold the bulky pots and pans as well as segmented storage below for small kitchen appliances.
Shelley was also the inspiration for the upper corner module. Being only 5 Ft. tall, it was a struggle for her to reach items stored in the upper corner. The cabinet became a catch all for seldom used dishes. With the upper module, as well as rotating, each side slides out of the cabinet for easy reach.
Kornerking is an easy to install product and can be installed at the jobsite in about 10 minutes. Since corner cabinets are bulky, they become awkward to move into a kitchen. Not having the module in place, reduces the weight.
Coming from years of doing custom cabinetry, it was decided early on to put the quality into the product. The drawers use Blum self-close slidesand are dovetailed. A 12 inch bearing, with a 1000lb rating, provides stability for the module when loaded up. A durable catalyzed finish is applied on all of the products. Main construction is 5/8 Baltic birch and gives a pleasing appearance, matching maple dovetail drawers, used by many cabinetmakers.
Marketing of the Kornerking product line has mainly been done via the internet and word of mouth. Currently about 200 cabinetmakers in the U.S. and Canada install Kornerking as their corner cabinet solution. Many of these shops found out about the product when their clients insisted on having Kornerking. Kornerking maintains a strong, well ranked website, as well as a YouTube channel and using Google + and Facebook.
In the competitive world of manufacturing, efficiency is critical. Day to day production is managed by my son, Tony. With 16 years of active duty building and installing cabinets, he has learned to maximize raw material usage. Working with sheet goods he has reduced waste to a scant 6-7%.
One of the largest challenges to be overcome by Kornerking was the distribution. All wood corner cabient Lazy Susans and related products are shipped by FedEx and incur some rough handling. Heavy duty boxing and 1" Styrofoam protect the modules during transit.
Have something to say? Share your thoughts with us in the comments below.