Face-Frame Jig Expedites Cabinet and Door Assembly
July 7, 2014 | 1:08 pm CDT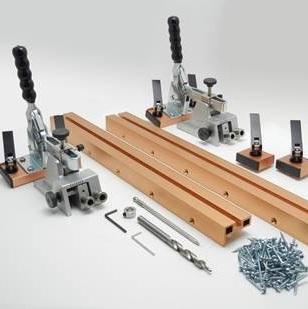 General Tools & Instruments has developed a quick and precise jig system for the fabrication and assembly of cabinet face frames and doors. The company says the system saves time and increases productivity by eliminating unnecessary steps in clamping, aligning, drilling and assembling.
Once the jig is set up, wood frame and door components can be aligned, bored for pocket holes and screwed together in a single clamping operation.
The jig works with boards from 1 1/4" - 2 1/2" wide and 3/4" -  1" thick. Pocket holes can also be spaced between 3/4" - 1 1/2" to increase joint strength.
The company will demonstrate the professional face-frame jig system at IWF 2014 on August 20 - 23 in Booth 5972. More than 850 exhibitors will also be showcasing new developments in woodworking tools, machinery, software and safety systems.
Have something to say? Share your thoughts with us in the comments below.