DeWalt Previews Cordless Sliding Miter Saw
June 3, 2015 | 4:17 am CDT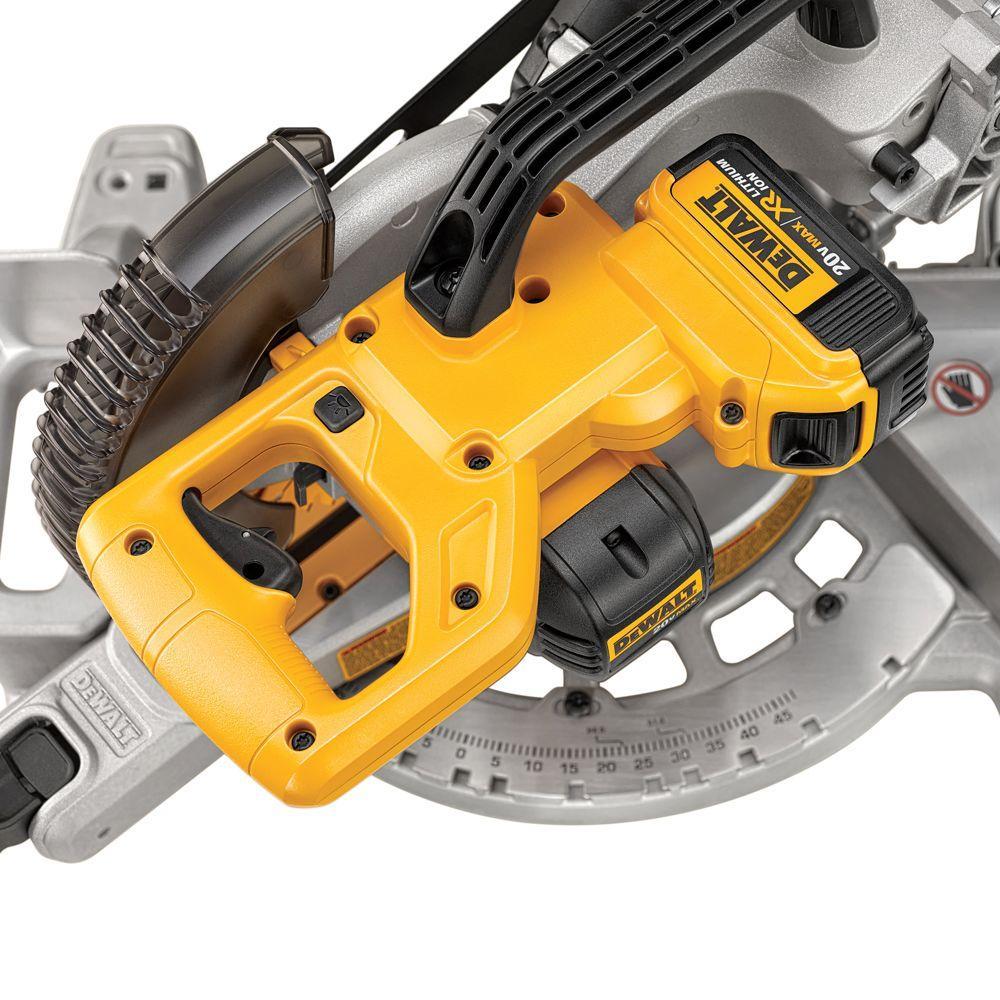 DeWalt has officially released information about the 20V MAX cordless miter saw expected to hit the market at the end of June. The Dewalt DCS361 is a single-bevel, 7-1/4″ sliding miter saw capable of making 183 cuts in 2″x4″ pine on a single 4.0 Ah battery charge. The saw is fairly feature-rich, boasting a blade light, a stainless steel miter detent, 10 positive stops, a fast and easy cam lock, and rubber feet. There is no word in the press release as to the total weight of the saw, but one would hope it will be fairly light to capitalize on the portability dimension of a cordless tool. You can read the full press release below, and we will getting hands-on time soon for more coverage about this saw before it's release date.
Towson, MD – DEWALT announces the new, cordless 20V MAX* Lithium Ion 7 1/4 Inch Sliding Miter Saw (DCS361). The DCS361 offers portability and convenience, optimized for general contractors and remodelers for various applications including trim installation, flooring work, and cutting 2x material.
The 7 1/4 Inch Sliding Miter Saw (DCS361) features a single left bevel which ranges from -3° to 48° left. With a 3 1/2 inch maximum vertical, 3 5/8 inch crown nested, and 2×8 inch horizontal cut capacity, the DCS361 will handle most of the common cuts needed. The DCS361 spins at 3750 RPM and makes, on average 183 cuts of 2×4 pine or 275 cuts of 3-1/4 inch pine base molding on a single battery charge (DCB204 4.0Ah battery). The DCS361 with a battery is lightweight at 31.6lbs and with the integrated cast-in side handles it's easy to carry around the jobsite.
Key ease-of-use features of the DCS361 include an integrated XPS™ blade light which casts a shadow showing where the blade will cut. A stainless steel miter detent plate makes it easy to adjust the saw. Other features include the saw's 10 positive miter stops, a fast and easy cam lock, and rubber feet for no-slip and no-scratch grip. A high visibility bevel scale, adjustable bevel overrides, and a miter pointer on the left side of the table provides maximum visibility and versatility.
Whether the DCS361 is used for flooring, small crown work, toe molding, back splashes, base, chair rail, door or window casting, or any other woodworking application, it's a convenient option for the professional. The DCS361 will be available as a bare unit (DCS361B) in retail for approximately $319 or as a kit (DCS361M1) for $399 in late June where DEWALT products are sold. Both units come equipped with a dust bag, hold-down clamp, and a 40 tooth blade. For the bare unit, battery and charger are sold separately.
* Maximum initial battery voltage (measured without a workload) is 20 volts. Nominal voltage is 18.
Have something to say? Share your thoughts with us in the comments below.