Waddell wood components diversifies with Artis Wall Kickstarter campaign
March 12, 2016 | 3:28 pm CST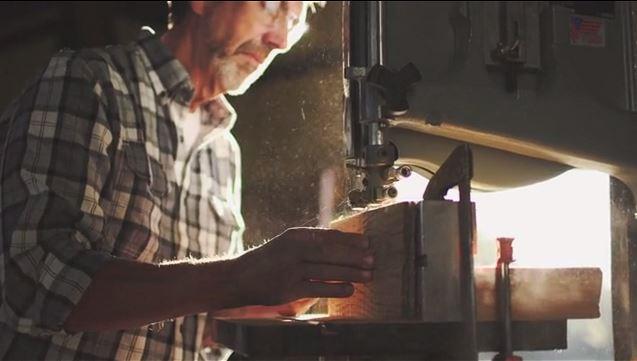 STOW, Ohio - Waddell Manufacturing, an Ohio wood component supplier in business over 100 years, launched a Kickstarter campaign to promote its Artis Wall reclaimed wood paneling strips. The campaign raises funds and sells product, reaching more than double its goal by raising $40,000 with four days to go.
Waddell Manufacturing is headed by Bill Kimmerle, a serial entrepreneur who runs the parent firm,
Baker McMillen Company
, based in Stow, and is CEO of NSI, a Portland, Oregon supplier of chemical to high tech industries.
Kimmerle purchased Baker McMillen hardwood products in 1999, and it operates a sawmill (The Crook Miller Co.) in Hicksville, OH; an OEM Manufacturing division (Baker McMillen Co.) and Waddell Mfg. (wood components). The Waddell division sells through Lowe's, The Home Depot and other retailers.
The Artis Wall product initiative is lead by Will Kimmerle, director of operations, and Patrick Cartellone, who launched the Kickstarter campaign to market the product. Made of wood planks reclaimed from old buildings and barns in the United States.
The patent pending installation method allows for an easy and quick installation of the planks. So easy, one person can install a wall in minutes rather than days. Also, the planks can be removed without damaging the wall.
"The best part about Artis Wall is the fact it can be reused time and time again in different rooms without damaging any walls," says Will Kimmerle.
The thin planks make each piece lightweight enough and easy to work with for consumers. Like flooring, planks come in random lengths, and so create one-of-a-kind patterns. They can be cut to size using a utility knife and straightedge. Artis Wall comes in two color options, traditional and whitewash. The have a lot in common with
Stikwood, though that offering has more species also offers patterns.
Kickstarter prices for Artis Wood start at $215 for 20 square feet.  
Have something to say? Share your thoughts with us in the comments below.