Gronlund's Commitment to Quality and Service - Success in Action
October 14, 2005 | 5:07 pm CDT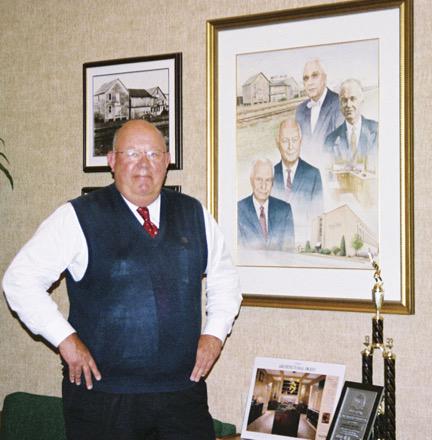 Bob Gronlund's hands-on management style and commitment to customer and community service help make Wood-Mode one of the top cabinet companies in North America - and earn him the third annual Jerry Metz Achievement Award.
Owners of multi-million-dollar companies typically do not make drastic changes to their product lines or manufacturing methods. After all, if it ain't broke, why fix it?
Why indeed.
Just ask Robert Gronlund, chairman and CEO of Kreamer, PA-based Wood-Mode Inc. Gronlund took a successful company and made it even better, increasing sales almost 30-fold during his 31-year tenure as CEO to more than $225 million, while at the same time adding new products, streamlining production and improving quality management.
Under Gronlund's 31 years of leadership, the vertically integrated cabinet company:
1.) Became one of the first large U.S. manufacturers to commit to frameless style cabinetry;
2.) Implemented a policy to remain loyal to its network of independent dealers and not sell its cabinetry through big box retailers;
3.) Invested hundreds of thousands of dollars on upgrades throughout the plant, most recently in the lumber processing and rough mill areas;
4.) initiated a TQM (total quality management) program to improve, among other items, customer service and supplier relationships;
5.) Began a decades-long commitment to the community through scholarships, charitable contributions and other volunteer services.
In recognition of his many years of service to his company and to the industry, Gronlund has been named the 2005 winner of the Jerry Metz Award. The award recognizes leadership in quality, safety, productivity and training, the four cornerstones preached by furniture manufacturer Jerry Metz, who capped a 70-year career in woodworking as a columnist for Wood & Wood Products.
"Every time I got the chance, I would read this fellow," Gronlund says of Metz. "His advice was so practical, so fundamental, that once you had the four cornerstones in place, you could build upon them. Productivity comes with training, and with safety and productivity comes quality."
Productivity in Action
Wood-Mode produces an estimated 2,000 units per day of kitchen and bath cabinets, as well as cabinetry for other rooms. Products are sold under the Wood-Mode (custom cabinetry) and Brookhaven (semi-custom cabinetry) names. The company runs 11?2 shifts and has more than 2,100 employees.
Where Wood-Mode differs from many of its competitors is in its hands-on management philosophy. Unlike other multi-million-dollar companies, at Wood-Mode, the sight of the CEO on the plant floor is a familiar one.
"I've always been fascinated by the [machining] process and I've learned by being on the floor for every part. I had excellent mentors and a keen interest," Gronlund says of his quest to learn all aspects of the woodworking operation, from the kiln drying and rough mill processing to finishing.
"Everyone always thinks of this company as it is today, a $225-million-plus company. But back then [in 1974, when Gronlund took charge], it was $6 million to $7 million. I knew that if I wanted it to grow, I would have to learn about these things and get 'out of the box,'" he adds.
Gronlund continues to expand his knowledge by attending trade shows, technology tours and other industry events, as well as by talking to employees and customers on a regular basis. His efforts have helped Wood-Mode garner a longstanding reputation as a leading-edge company.
Since 2001, when Gronlund became the sole owner, advancements at the 1.3-million-square-foot facility have continued on a fast track. Earlier this summer, the company revamped its rough mill processing system, installing a new Weinig Group line, including Raimann and Dimter saws, to optimize, sort and perform defect cutting to various lengths. The new rough mill line uses LuxScan scanning technology and runs between 300 and 700 feet per minute. The processing line works in conjunction with a Newman Whitney planer, running at 300 feet per minute.
The revamping of the rough mill plant follows on the heels of improvements made to Wood-Mode's highly-integrated lumber processing area. That upgrade, which began in 2002, involved adding a 160-foot-long Mellott System grading line and sorting system equipped with an electronic eye, an Automated Lumber Handling system for sorting by grade and length, and seven American Wood Dryer CNC dry kilns, which can be monitored from remote locations for 24-hour observation.
"[With these upgrades,] we've been able to rebuild the infrastructure and capacity to be 50 percent more, with the same footprint," Gronlund says.
"My dad is continually looking for opportunities to modernize and upgrade the company's infrastructure and is extremely active in researching future machinery and equipment needs for the company," says Brooks Gronlund, vice president of operations. "He is tremendously aware of industry trends and equipment capabilities and is not reluctant to make significant CAPEX investments.
"My dad has also played a direct and active role in the development and administration of the company's strategic plan," he adds. "Specifically, he identified the need to establish special emphasis teams to oversee the next phase of development in the areas of customer service, training, standard operating procedures (SOPs) and reject reduction at Wood-Mode. In each of these areas, he set aggressive, yet achievable objectives that have led to significant improvements in operational productivity, product quality and employee morale."
Total Quality Management
With the advent of his sole ownership in 2001, Bob Gronlund says, "Things changed. I had to refocus our direction and strategic planning."
One of the things he did was to hire Cal Chasteen, president of Accordant Solutions, to assist the company with total quality management training. Special focus was given to customer service, employee and vendor relations, and improving self-esteem.
It is an ongoing process. Employees take part in role playing and real-world problem-solving techniques, "and everyone has been given immersion in what it means to provide good customer service," Chasteen says.
"It was a major wake-up call for us," Gronlund adds. In addition to improving customer relations, "I had several people mention how the training has affected their personal life as well, in dealing with other relationships," he adds.
"Bob's main role is that he has been the advocate, the backer and the champion of these efforts in the organization," Chasteen says. "He works hard to make things right."
Meeting Consumers' Needs
Since the beginning, Gronlund says, Wood-Mode's success has been tied directly to the owners' hands-on approach to management and their willingness to respond to customers needs. It's a trend that Gronlund continues today.
"We've managed to sustain success over time. From the beginning, every one of the owners has had a distinct interest in the business. It's been hands-on from the get go," Gronlund says. "We've also been able to take what the consumers want and impart that [to manufacturing]."
A perfect example, Gronlund says, was Wood-Mode's entry into frameless cabinetry in the early 1980s. "Contemporary had come and gone twice, so we decided to test market frameless from a design standpoint," Gronlund explains. However, he adds, "We had to make a conscious decision on how we wanted to compete. At the time, one-third of our sales reps had already taken on a high-end European frameless line. So we did more research and decided that if we wanted to tap dance in this arena, [we had] to make sure we weren't standing on quicksand."
Wood-Mode worked with European hardware manufacturer Grass to overcome its first hurdle: designing a fully concealed hinge that would work with its doors. Re-engineering the cabinets and converting a manufacturing line to the 32mm process needed for frameless became the next hurdle. That dilemma was solved in 1983 when Gronlund retained renowned engineer Hermann Lechner for the job. Just one year later, Wood-Mode launched its Design Group 84 frameless line.
"It was the 'sideward' way of getting into frameless," jokes Gronlund.
All joking aside, he says, the company has made it a policy to quickly respond to design trends from Europe as well as from the color groups. Dealer input also is invaluable, Gronlund adds.
Wood-Mode's respect for its dealers is what helped set the corporate policy against marketing in the big box retailers - and what continues to distinguish the company from many of its competitors.
"We did some market surveys regionally and some key pricing research, and felt the majority of people buying at the big boxes were not really our market," Gronlund says. "We decided to stay with what got us here, and rededicated ourselves to those dealers."
Commitment & Service
Loyalty and service - to dealers, customers, employees and the community - have become hallmarks of Wood-Mode.
It starts with Gronlund, who calls Wood-Mode a family business in the truest sense of the word. "We have seven fourth-generation families working here. One of the nicest compliments I got was when I overheard someone refer to [Wood-Mode] as the 'family business.'
"Approximately 63 percent of Wood-Mode employees have been with the company 10 or more years, and almost 40 percent have been with the company 20 or more years. That also makes a statement in itself," Gronlund adds.
Also noteworthy is Wood-Mode's commitment to the community. The company makes available scholarships and internships to area college students. Charities also benefit from Wood-Mode's generosity. Last year, Wood-Mode and its employees contributed $75,930 to the United Way. Just recently, they "passed the can" and collected a combined total of $10,000 for victims of Hurricane Katrina.
It doesn't stop there. Gronlund is very active in the community. He has volunteered his time and effort to numerous organizations including: the Susquehanna University's Board of Directors; Federal Reserve Bank of Philadelphia Business Council; Pennsylvania Workforce Investment Board; Evangelical Community Hospital Board of Directors; Capital Blue Cross Board of Directors; and Highmark Blue Cross/Blue Shield.
"Without it being too much of a cliche, you get what you give. I've learned that [by becoming involved] you can make a difference," Gronlund says.
The Making of a Dynasty
It started with a sales call - and the course of a company was changed forever.
It was the 1940s and World War II was in full force. R.E. Nellis, one of the founders of steel cabinet manufacturer Wood-Metal was on sales calls in Pennsylvania when he ran into a local rep. The conversation turned to the ongoing steel ration and its effect on the company.
The rep asked: "So why not make the casework out of wood?"
And the rest is history. Nellis, along with Wood-Metal co-founders T.O. Gronlund and C.G. Wall, purchased two sawmills that were for sale, "but they always thought they would return to steel cabinetry after the war," says current CEO and Chairman Robert Gronlund.
It was not to happen. By 1956, the popularity of the wood frames led the company to market the cabinets under the Wood-Mode name. It wasn't until 1990, however, that the corporate name officially changed from Wood-Metal to Wood-Mode Inc.
In 1998, the company came under the sole ownership of the Gronlund family, when Bob, who joined the company in 1965 and became CEO in 1974, and his brother Ted purchased the remaining shares from Wall's descendants (Nellis had sold his shares in 1958). In 2001, Bob Gronlund purchased his brother's shares and became the sole owner.
Today, the 63-year-old company manufactures full lines of customized factory-produced frame and frameless cabinetry under the Wood-Mode (custom) and Brookhaven (semi-custom) names. The Kreamer, PA-based firm is expected to post sales in excess of $225 million this year.
In addition to being one of the largest, privately-owned cabinet companies in North America, Wood-Mode holds the distinction of being the last remaining charter member of the Kitchen Cabinet Manufacturers Assn.
All About Bob
"Bob has long been recognized as an outstanding business leader in our region, as well as a civic and philanthropic leader. He has always made sure Wood-Mode's philanthropy benefited the people of this region. Susquehanna was very grateful when Bob chose to include the university among his priorities. Wood-Mode has been a contributor of gifts to Susquehanna, including support for a major renovation of science facilities in the early 1990s and, more recently, support for scholarship awards for students in our region. In addition, Wood-Mode has hosted site visits for students from our Sigmund Weis School of Business, providing them exposure to and information about the company's manufacturing operation."
L. Jay Lemons
President, Susquehanna University
"One of the most unique things about Wood-Mode is the sense of 'family' you get when you're here. I will always be amazed at how many people my dad knows by their first name, or even nickname. A good measure of how people like working at Wood-Mode is reflected in the number of second-, third- or even fourth-generation employees on the payroll, including myself. Given his role and level of responsibility, it would be very easy for my dad to isolate himself in the world of corporate governance and bureaucracy. Instead, a wonderful relationship has been cultivated over the years between, and this rapport and level of mutual respect is one of the primary reasons Wood-Mode is as successful as it is today."
Brooks Gronlund
Vice President - Operations, Wood-Mode
"[Bob] is very much hands-on, from involvement in the Annual Service Club Banquet, the company picnic and United Way campaign, etc., to being very knowledgeable and close to the day-to- day operations, and also to the long-term strategic goals, planning and direction of Wood-Mode Inc. He is at work early, typically makes a drive-around inspection of the campus and facility and [his] is always one of the last vehicles remaining in the parking lot. You also will find him at Wood-Mode on most weekends.
"Naturally, he is most interested in continuing to grow the business and keeping Wood-Mode profitable and financially sound, and does so by listening to our representatives and dealers, and remaining fair and sensitive to delivering their needs. Above all, however, is his genuine and sincere interest in the health and well-being of his employees, and Wood-Mode's overall contributions and impact to supporting and improving the quality of life in the local community. I consider myself most fortunate to have worked with Robert Gronlund and the Wood-Mode organization and [to be a part of] its work ethics, its fairness in treatment of individuals and the Wood-Mode way of conducting business."
Larry "Bud" Arbogast
Vice President - Sales, Wood-Mode
The Metz Award
The Jerry Metz Achievement Award was inaugurated two years ago by Wood & Wood Products in memory of woodworking legend and treasured W&WP columnist Jerry Metz.
Metz passed away in February 2003 at the age of 93 after having served the wood products industry for more than 70 years.
Metz enjoyed nearly a 40-year career with the J.L. Metz Furniture Co. of Hammond, IN. Under his leadership, Metz Furniture won the National Association of Furniture Manufacturers' Safety Award more than a dozen years in a row. Metz Furniture had the well-earned reputation of being "the safest in its field." The company's dining room furniture also won numerous design awards.
Upon selling Metz Furniture in 1970, Metz became a consultant and contributing editor to W&WP. His immensely popular column, "Consult Jerry Metz," repeatedly touched on the four cornerstones upon which the Metz Award is founded: safety, training, quality and productivity.
Previous Metz Award winners were Paul Wellborn, president of Wellborn Cabinets (2004), and Joseph Cannon Jr., president of CAS America (2003). The fourth annual Jerry Metz Achievement Award will be featured in the October 2006 issue of Wood & Wood Products.
Have something to say? Share your thoughts with us in the comments below.