Want more customers? 17 strategies to improve service: WOOD 100
October 17, 2016 | 12:03 pm CDT
Good customer service is key when it comes to retaining, as well as obtaining, customers. Today's wood products manufacturers must also work harder, smarter and faster than their competitors. What follows are some of the customer service strategies put in place by manufacturers of wood components, cabinetry, architectural woodwork and furniture.
Read all the 2016 WOOD 100: Strategies for Success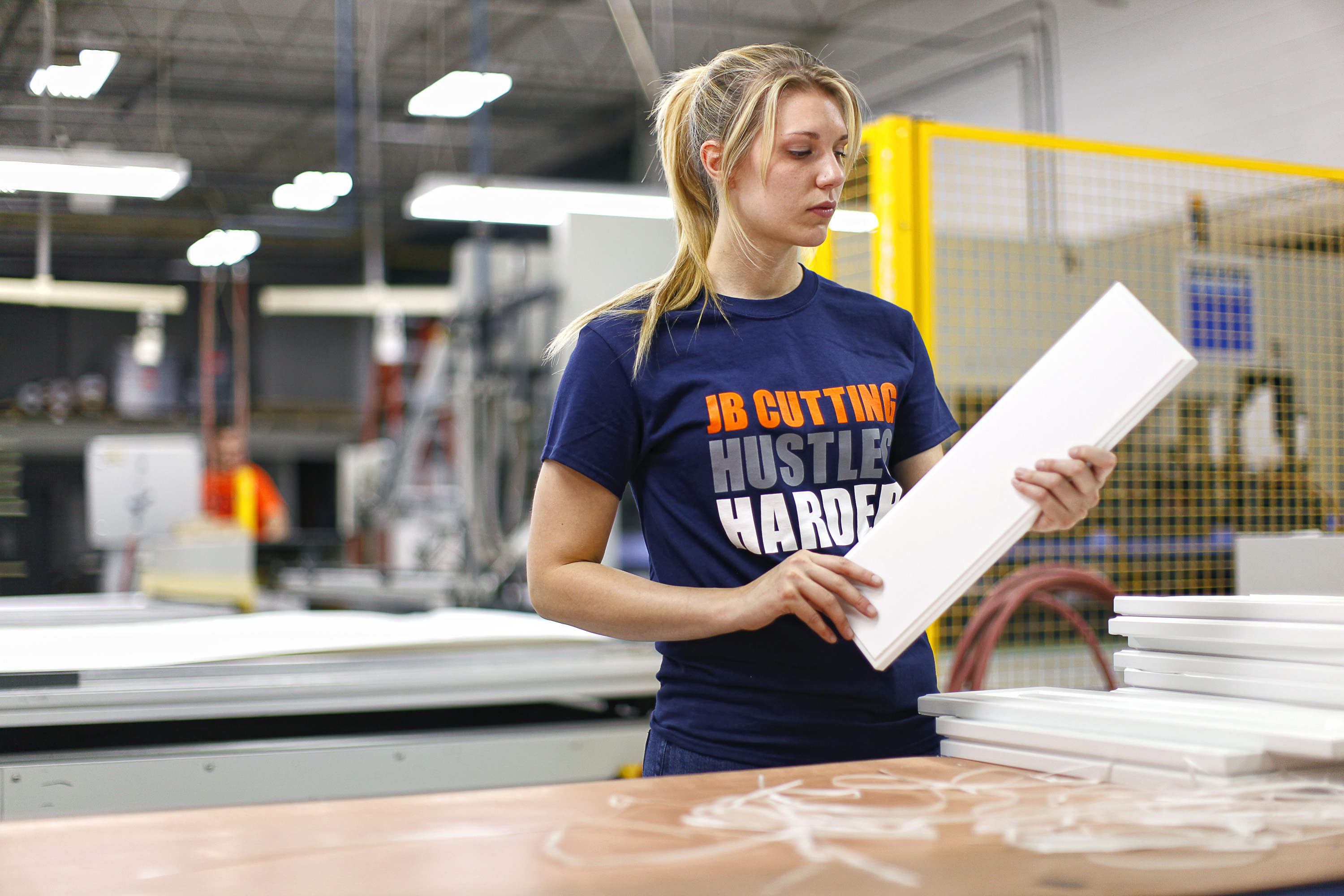 JB Cutting Inc., Mt. Clemens, MI —  "Our quick turnaround and excellent customer service have always been our number one priority" said Christina Relyea, sales & marketing manager of the component manufacturer's success.
A  full-service manufacturer, JB Cutting specializes in custom doors, drawers and other finished components for cabinetry, store fixtures, healthcare furnishing and home organization.
"In the interest of making production run more smoothly and sales soar while increasing employee engagement and satisfaction, we've been working with a Certified Business Advisor," she added.
"We also strengthened our partnerships with several TFL suppliers while promoting our new line of five-piece doors, the Artisan and Craftsman Series."
Concepts in Millwork, Colorado Springs, CO —  A fixture in the architectural woodwork industry, Concepts in Millwork has been recognized throughout its history not only for the high-profile projects, such as Denver's DU Academic Commons (pictured), but also for its capabilities and service.
The company's skill set – including design, project management and the ability to combine unlike materials to create unique projects – has helped distinguish it from its competitors, said Scott Robinson, company president. That material mix could include acrylics, glass, wood, laminates and more. "We're often providing much more than [traditional] architectural millwork" he said.
Concepts in Millwork is premium-grade certified for fabrication and installation through the Architectural Woodwork Institute. And because many of its projects require compliance for obtaining LEED certification, the company uses only NAUF (no-added urea formaldehyde) panels and sustainably certified woods for all its jobs. "It became easier for us to standardize and go to one type of material," Robinson added.
Hudec Woodworking Corp., Griffith, IN —  Business is heating up for this architectural millwork firm, which specializes in high-end restaurant work.
"Serving the client is at the top of our agenda with any project, big or small," said Gary Hulen, general manager. "Most of our business is repetitive and by referral, so keeping that client relationship is very important.
Developing the capabilities to be a one-stop source for the architects, designers and general contractor has also helped the company obtain and retain business throughout the nation. "They're coming to only one place for a turnkey product, and we get control of the job and the ability to oversee the quality," he added.
The company recently added a Biesse CNC router to upgrade in its capabilities.
Here are some more customer service strategies:
Meeting & exceeding deadlines
Interior & Exterior Designs Inc., La Habra, CA
Owner & designer Leon Williams attributes "Top 10" work and marketing for helping drive up 2015 sales 2.9% for the custom cabinet firm. "Just continuing to give our best, 100% effort, integrity, precision, meeting lead times, not playing games during or at the end of a job – we live for the referrals of each job," he said.
Rynone Mfg. Corp., Sayre, PA
A manufacturer of casegoods, countertops and cabinets for the multi-family, housing, institutional, healthcare and commercial industries, the firm keeps a continued emphasis on quality, price and the timeliness of delivery, said Richard Rynone, president. "Rynone delivers these every day."
Juan Pampanas Designs Inc., Miami, FL
"The key steps we took, that lead to our company's overall success, were in assuring the delivery of our cabinetry in a timely fashion with the utmost quality," said Daniel Pampanas, associate director at the contemporary cabinet and furniture firm. "In doing so we made sure our clients were always satisfied which continuously lead to referrals and repeat business.
Pleus Cabinets, Jefferson City, MO
"Timelines are the main reason for our success," said Alan Pleus, president of the commercial and residential cabinet firm. Sales for the company grew 27.7% last year, and look to be even better for 2016, Pleus added.
Enhanced capabilities & offerings
High Country Cabinets, Banner Elk, NC
"Our company motto is 'Exceeding Customer Expectation' and we do that from the design, to our presentation, product, installation," said President John Page. "Our whole company has bought into that philosophy." A full-service firm, it designs and manufactures cabinetry and furniture. 2015 sales were up 6.7%, and look to be even stronger this year.
Monarch Custom Plywood Inc., Vaughan, ON
The architectural plywood and panel firm has increased its production capabilities to service its growing customer base, said Ted Turvey, sales, marketing & media. Among the new equipment is an automated trim line and double panel press.
Parenti & Rafaelli Ltd., Mt. Prospect, IL
The architectural woodwork firm is a full-service manufacturer, from estimating and project management, to manufacturing and finishing, through installation. It also offers touch-up and repair services to clients, as well as restoration work.
The personal touch
Amish Cabinet Doors, Appleton, WI
The cabinet door manufacturer offers online ordering. However, personal service is "just a phone call away,"  stressed Robert Cook, treasurer. "Since 2013 we have put great effort in having a live, knowledgeable voice answer the telephone. Many of our customers are first-time buyers and need help understanding terminology and how to measure correctly." Sales have grown steadily since, including a 15.6% jump in 2015.
Boland Woodworking Inc., Philadelphia, PA
"Maintaining good solid relationships, and being more proactive rather than reactive," while servicing customers in a timely matter are among the service strategies used by the custom furniture and casework firm to keep clients satisfied, said Brian Boland, president. The strategy is obviously working, with 2015 sales up 9.2%, and 2016 projected to be even better.
Red Star Cabinet Co., Farmingdale, NY
A family-owned cabinet manufacturer specializing in multi-family and luxury condos, the company pays special attention to the details. "Our quick turnaround and repeat customer base show we excel in customer satisfaction and loyalty," said Robert Edelbach, president.  "We have also spent time researching and sourcing the proper suppliers who are willing to work with us and help offer our clients full customization  of products." The firm recently expanded its product line to include LED mirror panels and medicine chests which it fabricates to customer specification. 2015 sales were up 3.0%.
Signature Custom Cabinetry Inc., Ephrata, PA
The custom residential cabinetry firm attributes good customer service for much of its success. "[We have] a keen focus on understanding customers in our niche and serving them," said Kent Martin, president and CEO. 2015 sales at the multi-million dollar firm rose 7.3%, and should continue.
Closet America, Lanham, MD
The award-winning closets firm excels at customer service. In addition to having its company-trained installers and vans, it has provided designers with tablets and software to create 3-D renderings for clients.
Premium Woods LLC, Lincoln, NE
Bob Long, president of the wood and laminate casework and tops firm, said "Over communicating with our customers and responding to matters in a timely matter," have helped the company maintain and obtain customers. "Delivering a quality product in a timely matter," is another secret to the company's success.
Cabinets 2000, Norwalk, CA
"We pride ourselves in giving the customer what they want" said Sherwood Prusso, president. He referenced the cabinet firm's pigmented UV finish program, which has helped grow sales.
Read more 2016 WOOD 100: Strategies for Success

Marketing Initiatives
Go-to-Market Strategies
Business Strategies
Productivity Enhancements
Technology Integration
Product Innovations
Customer Service
Return to WOOD 100 Main Page
Read the special Leadership Edition of FDMC online
 
Have something to say? Share your thoughts with us in the comments below.