WMS 2023 preview videos: Mirka abrasives family
September 17, 2023 | 5:03 pm CDT
MISSISSAUGA, Ontario – Mirka will display its full range of abrasives, including NET abrasives, at the Woodworking Machinery & Supply Conference & Expo, Nov. 2-4 at the International Centre.
Product applications span from random orbital sanding through widebelt sanding. 
Galaxy is a multipurpose product ideal for sanding both soft and hard materials and substrates. The blue ceramic grains are engineered to stay sharp by forming new abrasive edges when the grains break down during sanding. Mirka says Galaxy abrasive combines effectiveness with long life thanks to a self-sharpening ceramic grain, a clog-resistant coating, and the new Multifit hole configuration. Watch video.
Iridium cuts faster with fewer steps from rough to smooth surface finish. Mirka says its new precision coating provides longer abrasive life because it "practically repels dust, so the grains stay sharp longer." Watch video.
Mirlon Total was developed using Mirka's Total Coating Technology, Mirlon Total is more aggressive than Mirlon and produces a dense scratch pattern and rapid result. Suitable for use in wet and dry modes, Mirlon features an open and flexible structure and strengthened fibers which make it strong and long-lasting.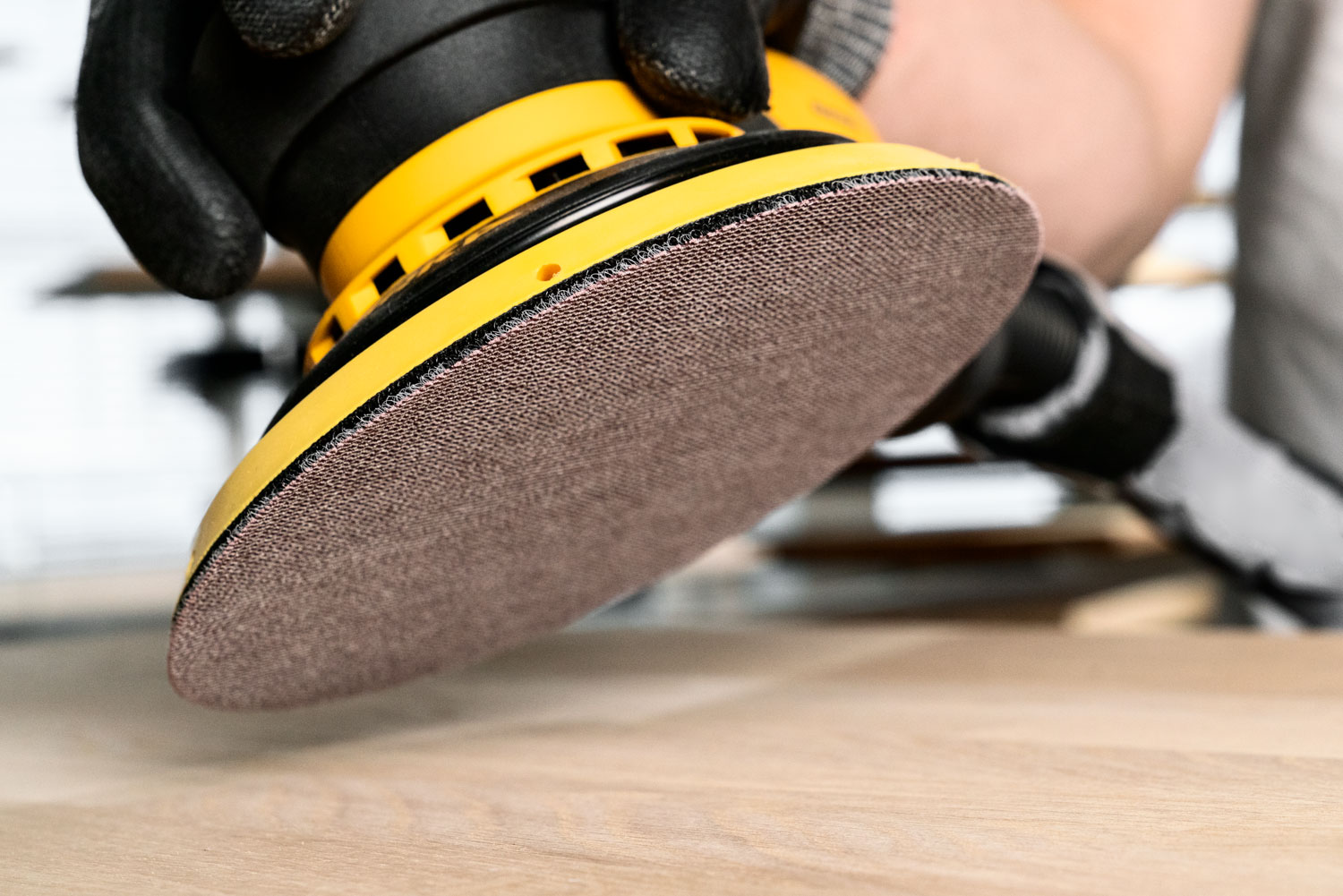 Multifunctional Abranet is especially developed for sanding putty, primers, lacquers, composite materials, and a wide range of other materials for industrial use. Mirka says Abranet combines high performance and a longer lifespan than traditional abrasives, making it a cost-effective solution. Designed for dry sanding by machine or by hand, its true dust-free sanding characteristics result in a cleaner work environment, as well as a better surface finish. Watch video.

Abranet Ace was developed to tackle challenging surface conditioning and repair applications. Because of its optimized net construction and ceramic grains, Mirka says Abranet Ace offers superior cut and performance for hardwoods, such as beech and oak; fast cutting on various solid surface materials, and cleaning of different industrial rollers. Abranet Ace is also well suited for primer sanding applications.
Abranet Ace HD for dust-free sanding features durable and tough ceramic grains. The strong net structure resists high wear and tear making it well suited for heavy-duty applications. The improved woven mesh backing increases the lifetime of the abrasive and makes the sanding process faster.
Abralon J3 is a unique multifunctional abrasive for an ultrafine surface, according to Mirka. This abrasive has a higher density foam layer that is 3mm thick. Abralon J3 is recommended for high-gloss applications because it leaves a smooth surface prior to polish. Abralon J3 is suitable for all kinds of material, both smooth and profiled surfaces. The flexible weave allows water and air to pass freely and makes it applicable for both dry and wet sanding.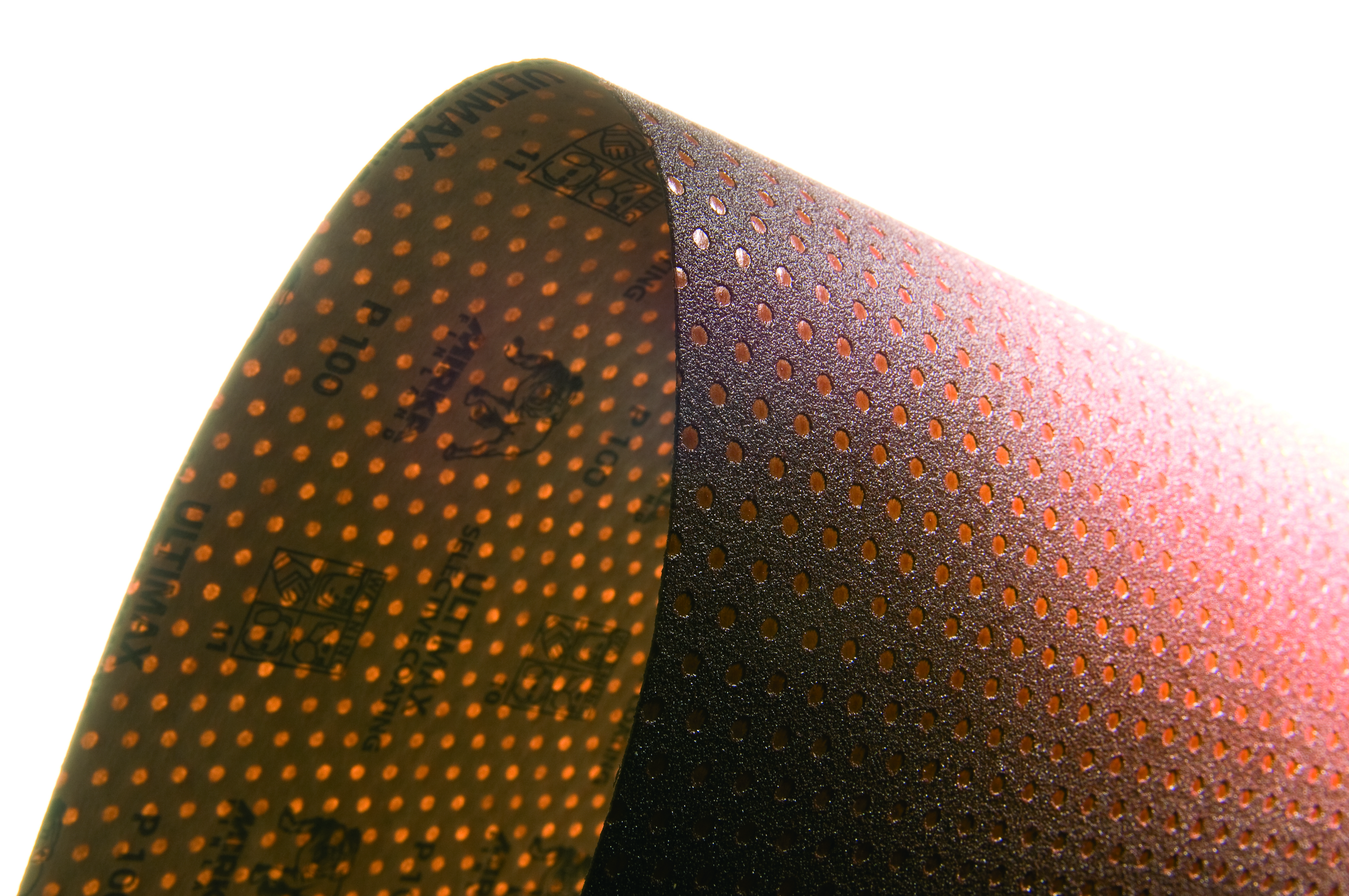 Ultimax is manufactured using a production process called "Selective Coating Technology." Ultimax features a series of tiny cavities designed into the abrasive material which work to prevent clogging. This innovative technology, along with special abrasive grains, produces aggressive performance and excellent edge wear resistance while keeping the sanding surface cool. Together these features provide a longer lifespan and reduced material usage per job.

Jepuflex Antistatic abrasives cover a wide application area. The focus of the optimization work has been the sanding of hardwoods such as beech, birch, and oak. Jepuflex's full resin bonding and aluminum oxide grain provide durability. Silicon carbide grain used in the coarsest grit gives extra strength to the product. Jepuflex Antistatic also works well on metal, plastic, and lacquer.
Hiolit abrasives are targeted to wood and metal sanding applications. The flexible cloth backing makes it optimal for profile sanding, seams, edges, and other applications where a flexible abrasive with high-edge wear is needed.
See demonstrations of Mirka products at booth #1620. Learn more at mirka.com.
About the Wood Machinery & Supply Conference & Expo (WMS)
WMS is world-renowned as Canada's preeminent industrial woodworking event. For more than four decades, WMS has connected Canada's woodworking professionals with the world's most prominent machinery manufacturers and suppliers. Last held four years ago due to the Covid-19 pandemic, WMS 2019 attracted attendees from nine Canadian provinces and two territories.
In addition, WMS 2019 featured 75,000 square feet of exhibit space and more than 175 exhibitors. 
For information about exhibiting and sponsorship opportunities, contact Gavin McAuliffe of Corcoran Expositions at 312-265-9649 or  [email protected][email protected].
For general inquiries, contact Harry Urban, show manager at [email protected]. 

More Woodworking Network events
Executive Briefing Conference, Sept. 26-28, 2023, The Broadmoor, Colorado Springs, Colo.

Wood Pro Expo Lancaster, Oct. 12-13, 2023, Spooky Nook Sports / Warehouse at the Nook, Manheim, Pa.

Closets Conference & Expo / Wood Pro Expo Illinois, April 17-19, 2024, Schaumburg Convention Center, Schaumburg, Ill.

Salon Industriel du Bois Ouvré (SIBO Expo), Oct. 24-26, 2024, Centrexpo Cogeco, Drummondville, Quebec.
Have something to say? Share your thoughts with us in the comments below.