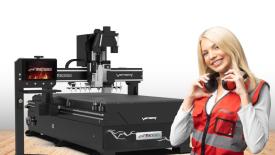 MANHEIM, Pa. – CNC Factory says its Viper XP CNC machining center packs "mammoth capabilities" into a "tiny footprint."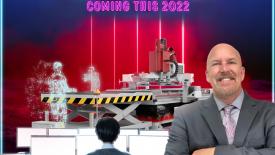 After spending years learning electronics, mechanics, and becoming ISO-9001 certified, Chris started his first cabinet shop in 1995 building residential and commercial cabinetry and ultimately built his first CNC machine.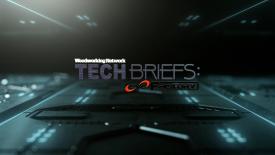 CNC factory will be displaying their full line-up of machines at AWFS, from CNC routers to dowel insertion machines to edgebanders to RTF presses.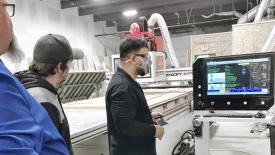 When Paul Lucas decided to grow his cabinet business by increasing his output and investing in CNC equipment he consulted his Würth Louis and Company representative, Kyle Ward.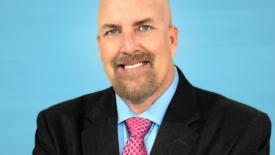 Chris Corrales, owner of CNC Factory, will teach how to 'Shorten the Learning Curve - CNC Shop & Software Essentials in 30 Minutes' at IWF Connect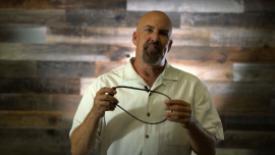 Rubber belts get loose over time and can cause backlash and inaccurate cutting.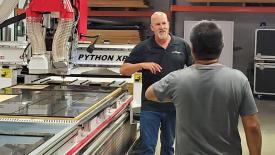 Chris Corrales, founder of CNC Factory, left, said the Covid-19 pandemic didn't set the course for woodworking shops to function tighter, with fewer employees, less square footage and more automation, but it did speed it up.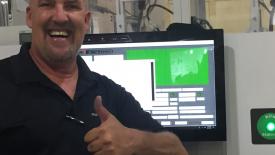 Chris Corrales, the owner of CNC Factory, will address the Cabinet Makers Association at breakfast October 16, one day before the Wood Pro Expo Lancaster event Oct 17-18.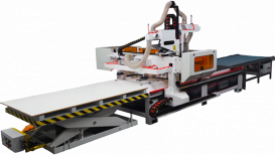 CNC Factory's new 2019 "driverless" Python XPR has been named one of 24 Visionary Award finalists.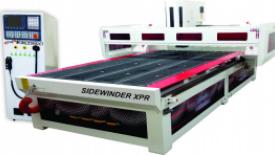 SANTA ANA, Calif. - CNC Factory says its latest router technology, the XPR series, includes a patent pending robotic CNC innovation that the company says it has entered in the IWF 2016 Challengers Award program.
The robotics allow XPR-enabled models to complete jobs in record time, and XPRs, avaiable in Sidewinder or Viper versions, are also upgradeable as the business grows. 
 "A big challenge for companies prospecting a new CNC Machine purchase is the ability to adapt the machine to grow with their business," says Chris Corra