Smart factory is today's reality
October 18, 2017 | 8:33 am CDT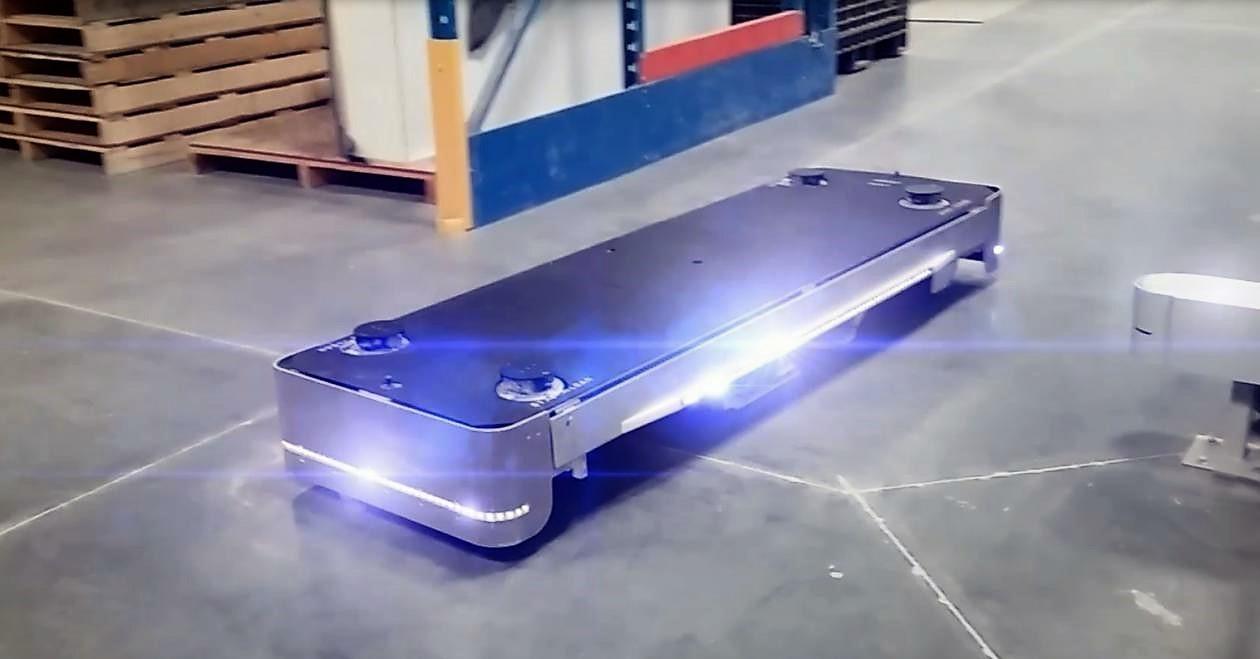 Envision a cabinet plant where robots move most of the parts, including a self-guided parts trolley that rolls all around the shop floor by itself. Envision a computer tracking system that knows where every single part is at every moment, from manufacture to loading on the truck for shipping.
If that sounds like the so-called "smart factory" of some futurist's dream, you'd be wrong. That's just the routine way they make cabinets at Muskoka Cabinet Company in Ottawa, Ontario, Canada.
---
Luke Elias, president of Muskoka, has given presentations on his innovative approach to cabinet manufacturing at WMS in Canada (he'll be speaking again at WMS 2017 in November) and the Woodworking Industry Conference in the U.S., but the reaction of many in the industry still borders on incredulity. Many still believe these kinds of technology leaps are out of reach for most shops.
From business, not wood
Perhaps one reason Elias and his brother Eric, who joined him in the business, have had such success is that they have no preconceived notions of how to do things. Neither came from a woodworking industry background. When Luke Elias bought the business in 1989 he came from a business background, and his brother, who joined the company in 1992, came out of the banking industry.
They became early adopters of new technology, starting with design and manufacturing software, nested based CNC manufacturing, and then onto enterprise resource planning (ERP) software and eventually robotics and radio-frequency identification (RFID) systems.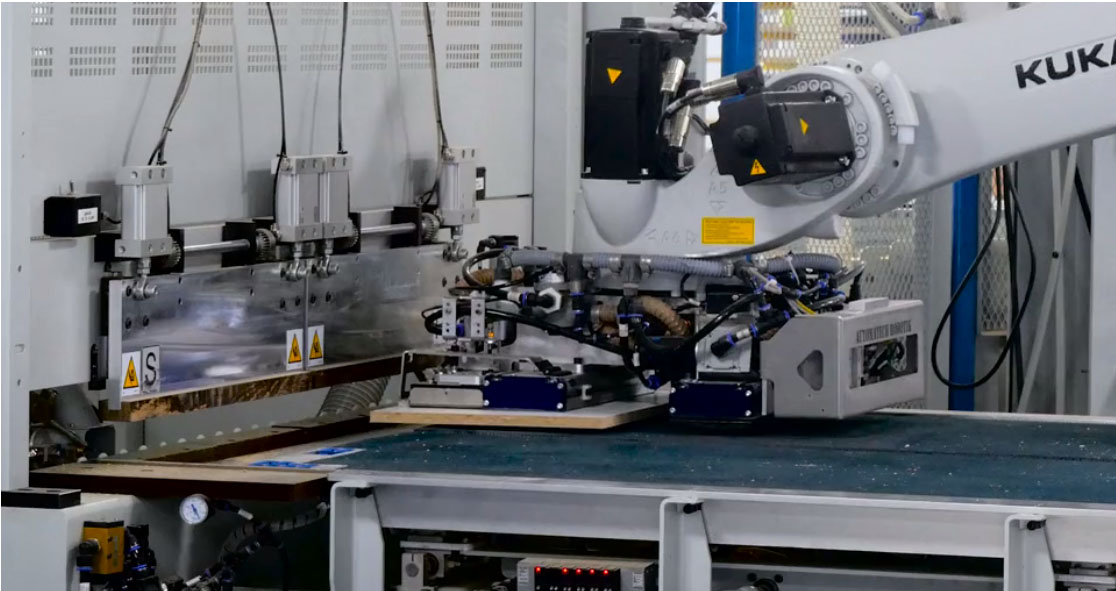 Robot in use at Muskoka Cabinet Co.
All these advances have helped the shop compete with much bigger operations in both plant size and numbers of employees. Of the 75 employees at Muskoka, only about 25 are in factory production. Most of the rest are in administration, engineering, design and sales, including staffing a downtown showroom. Manufacturing, warehouse, and assembly facilities account for about 16,000 square feet.
The brothers also capitalized on on-going help from a Canadian National Research Council program that aided them in adopting the latest technology beginning about five years ago. Muskoka received a federal grant of $70,000 through the Eastern Ontario Development Program (EODP) to assist the cabinet manufacturer with costs related to developing its new robot applications to improve the process and speed of loading and unloading CNC machines. Contrary to the usual perception of robots replacing jobs, this particular project was designed to help create up to 10 new jobs.
Embracing robotics
The most striking difference between Muskoka Cabinet Company and typical cabinet manufacturers is how it moves material, especially with robots. Luke Elias said he worked closely with AutomaTech Robotik in Quebec.
Under the system, robots handle loading sheets onto the CNC router, unloading cut parts, and diverting appropriate parts to horizontal boring and dowel insertion. The robots also handle applying RFID labels to prefinished parts and inserting RFID tags to parts that require additional finishing. It isn't until edgebanding that there is any need for manual handling of the parts.
Elias told attendees at the Woodworking Industry Conference, that using robots this way also required thinking differently about laying out machinery. Instead of the square, right-angle machine layouts most factories use, Muskoka has machines arrayed more like spokes on a wheel with the robot at the hub.
One of Muskoka's AGVs is a low platform that can maneuver all around the plant by itself and then slide under a SMART parts cart to pick it up and move it where it needs to go.
Automated guided vehicles
You've probably heard of all the hubbub about self-guided, driverless cars. Well, Muskoka uses a similar technology to move parts around the shop. The company developed automated guided vehicles (AGVs) tailored specifically to their factory's needs.
One of the vehicles is a low platform that can maneuver all around the plant by itself and then slide under a parts cart to pick it up and move it where it needs to go. Flashing lights on the AGV alert people to its presence as it travels around the plant. Much like the new driverless cars, the AGVs use infrared and LIDAR technology to find their way around, navigating through narrow passageways.
Automated material handling like this frees up Elias' employees to do more skilled tasks in the manufacturing process. He said he was amazed at the amount of savings to be had by automating material handling like this, including, "reducing the time spent loading, unloading and remaking parts that were damaged as they were pushed around the factory floor."
Elias has developed another company, SMART MRP Inc., to promote and develop some of these advances to other shops.
Muskoka's RFID system is fully integrated with its SMART parts carts and the company's ERP software to track where parts are in the plant at all times. Lighted indicators on the carts show where parts are.
Keeping track with RFID
So, with robots and AGVs moving all the parts around, how do the humans in the plant keep track of where the parts are? The answer is a sophisticated RFID system that gives real-time control.
RFID tags on all the parts are tied to a variety of different scanning systems. When a part is first labeled, an operator runs the part by a scanner, which activates an indicator light on a SMART parts cart, showing the operator, exactly where on the cart to put the part. If a part needs to be located for further work, the operator can use a tablet console to identify the part, and the lights on the SMART cart show him exactly where the part is.
Muskoka uses RFID tags in the form of visible labels and some that are hidden in parts, like this one that goes on the edge of a door panel before assembly and finishing. Overhead scanners can read the RFID tags and identify the parts.
RFID tags can be in applied labels, inserted in the sides of parts, or even applied to the edge of a door panel before the stiles and rails are assembled. Overhead scanners automatically monitor the RFID tags in doors as they come out of the finishing process even though the tags are hidden from view.
Finally, when assembled parts are ready to be shipped, scanners in the loading dock, confirm what parts were put on the truck. And all the information is easily accessible through the company's ERP software.
When parts are finally ready to leave the plant, RFID scanners in the loading dock confirm that the parts are on the truck and ready to go.
Green finishing line
Besides pioneering shop automation, Muskoka also was an early leader in the move to automated, environmentally safe finishes. Their automated finishing line applies all water-based, UV-cured finishes. That enabled the company to launch its Breathe Easy line of cabinetry in 2006.
The Breathe Easy cabinet range features cabinets and doors made with environmentally harvested wood products, with no formaldehyde or other toxic elements in the materials, glues or finishes used. The line has helped set Muskoka apart from other competitors and attracted attention from customers concerned about off-gassing and toxic chemicals in home furnishings.
Elias' session at WMS, Keys to Advanced Cabinet Manufacturing, will cover the implementation of AGVs , as well as automated part processing, sorting and tracking using robotics, RFID and ERP systems. Elias' presentation is at 1:20 p.m. on Thursday, November 2. Register for WMS conference sessions and tracks here>>
Have something to say? Share your thoughts with us in the comments below.