Robotic lean cell demonstrated at Muskoka Cabinet Company
December 20, 2016 | 3:04 pm CST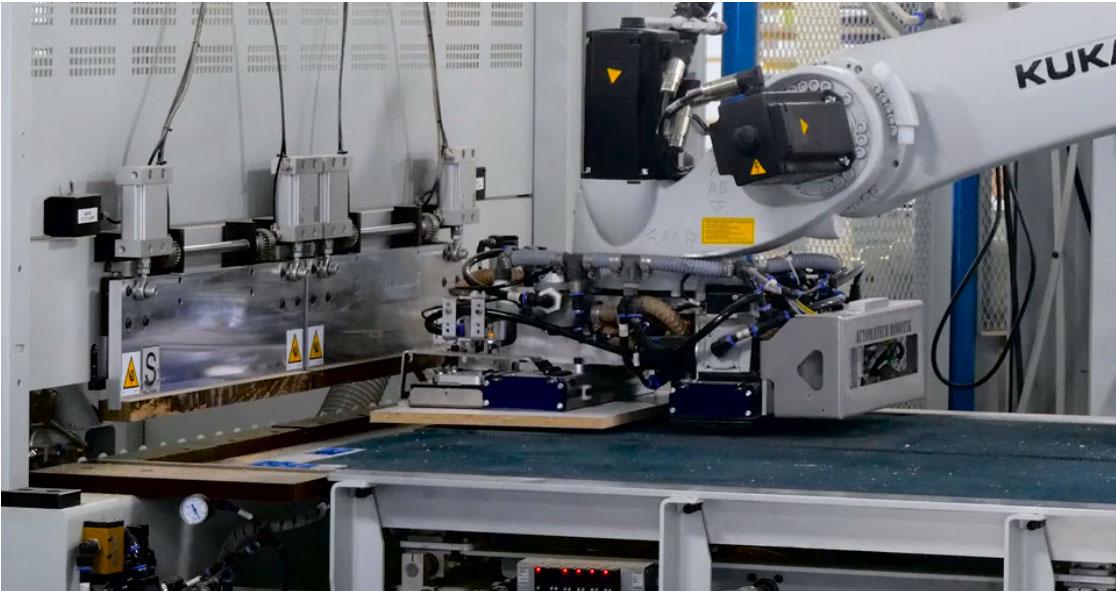 ALFRED, Ontario – A robotic automated lean panel processing center was demonstrated recently at Muskoka Cabinet Co. The eastern Ontario cabinet manufacturer hosted an open house event showing a robotic system by AutomaTech Robotik that could process 80 to 100 cabinets per shift with no programming and only one operator required.
AutomaTech Robotik wanted to demonstrate the efficiency of the robotic Ernest cell that has been integrated at Muskoka. AutomaTech also wanted to promote the Smart tracking RFID system and the SMART Cart (AGV cart), according to Tommy Gagnon of AutomaTech Robotik
The robotic system and the RFID tracking system were demonstrated at the event. The AGV system will be demonstrate in January in another open house.
At Muskoka, the system reportedly can be set up with existing equipment automation, can be done with seamless integration and RFID production tracking.
Gagnon said the robotic processing center at Muskoka Cabinet integrates the complete machining process from cutting to storage and retrieval system with their smart cart. The Robot loads and unloads the CNC routers and the horizontal boring machine. It puts the part on an exit conveyor where the part is label with a RFID tag and goes to the edgebander operator, who is the operator of the complete cell.
Equipment used in the processing center includes Homag BOF, Homag edgebander, Omal dowel inserter. AutomaTech technology combines with a Kuka robot. For more information, contact AutomaTech Robotik in St. Appollinaire, Quebec, at http://automatechrobotik.com. Also see www.woodworkingrobot.com.
Have something to say? Share your thoughts with us in the comments below.