Don't forget the chainsaw (mill)
March 6, 2019 | 11:38 am CST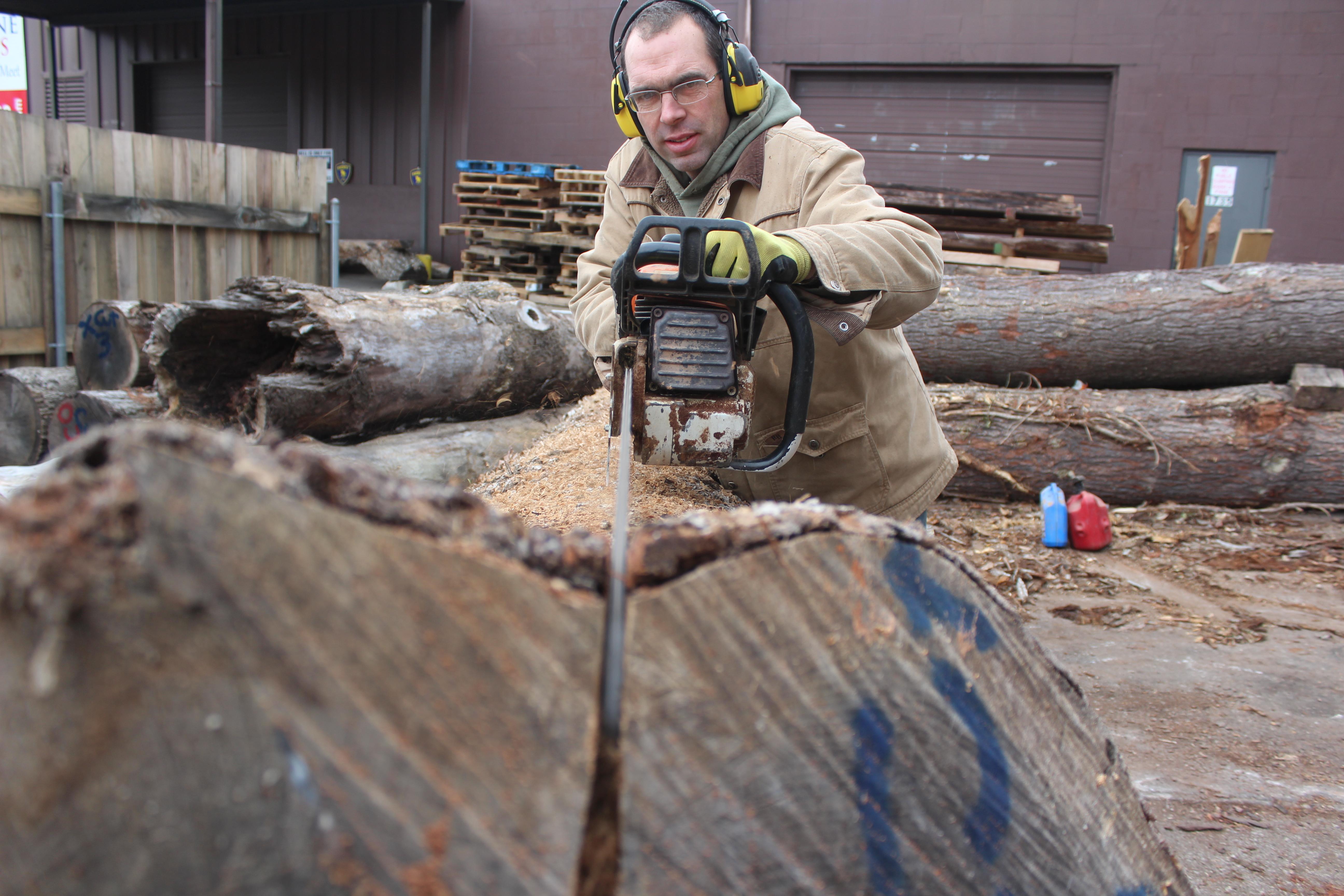 I started milling lumber about 25 years ago with a chainsaw mill, which is just a chainsaw with an attachment to control the depth of cut. The simple device allowed me to consistently cut accurate lumber with a minimal arsenal of equipment. It was a great way for a guy who knew nothing about trees or logs or sawmilling to learn about producing lumber. And, even today, I still use a chainsaw mill (Lucas mill) to cut the live edge slabs which we sell at WunderWoods.
Customers are regularly impressed with the quality of the cut from the chainsaw mill, imagining that the chainsaw will necessarily make a terrible cut with a nasty surface finish, which it does not. As a matter of fact, the quality of the cut from a chainsaw mill is better than the bandsaw – it's very flat and absent of dips and doodles (scientific term) associated with thin bandsaw blades. Don't get me wrong, bandsaws can and do, cut just as well, but when they start to get dull or otherwise less than perfect, they will cut anything but flat. A chainsaw cut will remain flat as the chain dulls, it will just cut slower.
A chainsaw mill is commonly referred to as an "Alaskan mill" because of the brand name "Alaskan mill" attachment made by Grandberg International, the same way you might call any facial tissue a Kleenex, but it doesn't need to be this exact type. As far as I am concerned, any mill which uses a chainsaw chain and bar is a chainsaw mill, no matter the setup.
This photo from Grandberg International shows their Alaskan mill attachment.
The Alaskan mill is a simple metal frame, which attaches to the chainsaw bar and can be adjusted to change the depth of cut. It is so simple, in fact, that you could easily build one yourself. They have never been too expensive, so I think most people just opt to buy one. You have to set up two rails (many use a ladder) on top of the log to guide the first cut, but after that the Alaskan mill just rides on the previous cut. I am a fan of the Alaskan mill for its simplicity, and I have a warm place in my heart because it was my first mill. If you didn't own a chainsaw and decided that you wanted to cut some lumber, you could be making your own lumber for about $500, for a small chainsaw and the Alaskan mill attachment.
I started with the Alaskan mill after reading an article about a father and son using one to cut logs in the woods. I thought it would be cool to cut my own lumber with a chainsaw, and I didn't want to invest too much in the beginning because I didn't have a source of logs. Plus, I didn't own any land, wasn't friends with any tree service guys and really had never even used a chainsaw before, so I wasn't sure if it would take. The Alaskan mill promised me the ability to cut lumber anywhere and be able to do it with no heavy equipment – a small pickup truck was more than enough to get milling.
The Alaskan mill works just as advertised, but understand that it is not a production machine. The operator is the sole source of power, and as such, it isn't an easy row to hoe. It would take me most of the day, by myself, to load up equipment, travel, set-up, mill one 20″ diameter x 8′ log, clean-up, load up equipment and lumber, and travel back home. That was fine with me at the time because I was young and I was tickled to end the day with more than 100 board feet of hardwood lumber. Using my simple logic, my equipment would be paid for in just a couple of logs.
Needless to say, this milling thing did take, and I kept on finding more logs and milling them. It didn't take long for me to feel like I needed more production, so I moved up to a Lucas mill, but funny enough, not with a chainsaw slabbing attachment. I bought it only with the circular saw setup, which appeared to cut much faster. I then moved onto a bandsaw mill, then to a large circular mill, then back to a bandsaw mill, and only then back to the chainsaw mill attachment for the Lucas mill.
Scott Wunder (a long time ago) with his new Lucas mill, just getting it set up for the first time.
I always liked the Lucas mill and once wide, live-edge slabs started coming into style, it just made sense to use the Lucas with the chainsaw slabbing attachment to cut big logs. The mill I use now (a bigger Lucas mill) is a major upgrade to pushing a chainsaw through a log and really makes the process more enjoyable. I still have the noise of the engine and need to sharpen the saw quite often, but the sawdust and fumes aren't directly in my face and I don't have to work so hard to push the saw through the cut. The hardest part now is moving the slabs out of the way, since the Lucas mill can cut up to 60″ wide and they get quite heavy.
This Siberian elm slab maxed out the Lucas mill.
Most white pine logs are not as wide as this one, which was also cut on the Lucas mill.
This sycamore log is a perfect candidate for the Lucas chainsaw mill.
I was prompted to write this because even though I have upgraded to the Lucas mill for my sawmilling, I still do a lot of work with a chainsaw, and I want to remind or encourage everyone to not forget about their chainsaw as a means of milling. Don't think that you need a "sawmill" to produce high-quality lumber or that if you have a "sawmill" that you no longer need your chainsaw. You won't get dazzling production numbers, but you can still be milling at almost any time with just a chainsaw. I am reminded of this all of the time when I see posts from others of the big and beautiful wood they have cut, just by taking their chainsaw mill to the tree.
Even if I am not using it for the actual milling, there are plenty of times where the chainsaw still comes into play, whether freehand or on some type of mill, and I am still amazed by the simplicity of it all. I use the chainsaw to rough mill mantels which we haul out of tough locations by hand and to cut large logs into quarters for further processing on the sawmill.
These white oak quarters are now ready to be milled into quartersawn lumber after being cut lengthwise with a chainsaw by hand.
I also use a chainsaw by hand to rough mill logs in tough spots, like this soon-to-be elm mantel.
Every time I do some sort of work with the chainsaw, especially if it is part of the milling process, I always think back to my early days and appreciate what it can do. I think I really like the idea of knowing that if I needed to, maybe if I was stranded on an island full of large trees (and plenty of gas), I could mill everything I needed with just a chainsaw – maybe one with an attachment, but still, just a chainsaw.
Feel free to send me a photo of your chainsaw milling, and I will be glad to post it here with a link. I am sure everyone would love to see what is possible with a chainsaw/chainsaw mill.
Have something to say? Share your thoughts with us in the comments below.