Loggers call for pandemic relief for industry
By Carolina Loggers Association
September 28, 2020 | 1:38 pm CDT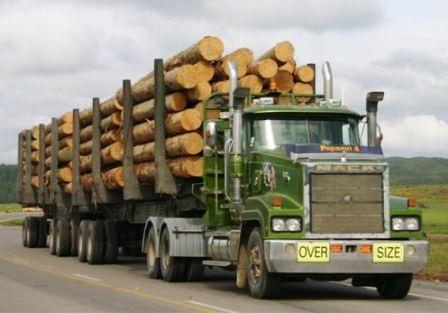 The Carolina Loggers Association (CLA) and Professional Logging Contractors of Maine (PLC) have released video statements from stars of the American Loggers and Swamp Loggers reality television series' calling for action from Congress and the Trump administration to provide pandemic relief to the nation's struggling loggers and timber haulers.
Eldon and Rudy Pelletier of Maine, stars of American Loggers, and Bobby Goodson of North Carolina, star of Swamp Loggers, recorded the statements in late August following months of market declines and job losses in the nation's logging industry due to the ongoing COVID-19 pandemic.
A recent analysis generated for the American Loggers Council (ALC) shows that this year's decrease in raw wood material consumption has led to a $1.83 billion reduction in the value of logger/trucker-delivered wood.  The report, conducted by the analytics firm Forests2Market, found that raw wood material consumption between January-July 2020 was 6.7 percent less than the same period in 2019 – dropping 21.4 million tons of material.  This resulted in a 13 percent reduction ($1.83 billion) in value of the delivered wood.
Loggers across the U.S. have been crippled by the effects of the pandemic, and though separated by hundreds of miles, the Pelletiers and Goodson describe similar scenarios of job losses, revenue losses and unprecedented challenges. They also agree that while loggers never ask for help and have never received any, they need help now like that already provided to farmers and fishermen by Congress and the Trump Administration.
"Logging is farming," Goodson said, "Loggers in North Carolina, we're hurting right now, and we need some help. We are farmers, and we've never asked for help before, but this is a time that we need it."
"We're not asking for handouts but we know the government has helped the maple syrup people, and we feel that being in the logging and the woods industry that maybe there would be something there that could be given to us to help us," Eldon Pelletier said. "Any help we can get would be a big plus...we've never needed it more than now."
"Loggers are hard workers, we've never asked for anything, but I think right now is time that we really need a hand to keep our businesses and our workers going," Rudy Pelletier said.
 View Bobby Goodson's video message:
https://www.youtube.com/watch?v=OHSjmQwr2Y8&feature=youtu.be
View the Pelletier's joint message:
https://www.youtube.com/watch?v=MqMDlQsX8dQ&feature=youtu.be
While Congress and the United States Department of Agriculture (USDA) have provided relief funding for numerous agricultural categories, they have not yet classified timber within the category that qualifies for Covid-19 assistance.  
The USDA's Coronavirus Food Assistance Program (CFAP) received $16 billion to provide direct support to certain agricultural producers based on actual losses where prices and market supply chains have been affected.  The program will assist producers with additional adjustments and changes in marketing costs that result from oversaturated markets and lack of demand for the 2020 marketing year as a result of Covid-19. Maple syrup producers have been granted eligibility for the program, as have producers of wool, cut flowers, aloe leaves, and upland cotton.
Elsewhere, Congress has yet to act on bipartisan Logger Relief bills introduced in the Senate (S.4233) by Senator Susan Collins (R-Maine) and Senator Tina Smith (D-Minnesota), and in the House (H.R. 7690) by Representative Jared Golden (D-Maine) and Representative David Rouzer (R-North Carolina).  Specifically, the bills would direct the U.S. Department of Agriculture to make economic relief payments to logging and log trucking businesses that experienced losses of greater than 10 percent in the first two quarters of 2020 (as compared to 2019).  The program would be similar to others already enacted by Congress for agricultural producers such as CFAP. Members of Congress from 13 states have co-sponsored the Logger Relief Act.
To date, loggers and timber haulers have received no direct federal aid.
American Loggers, filmed in Maine, ran from 2009-2011 on the Discovery Channel. Swamp Loggers, filmed in North Carolina, ran from 2009-2012 on the Discovery Channel. The Discovery Channel is not affiliated with the effort to secure pandemic relief for the U.S. logging and trucking industry and has not endorsed the videos or the statements made by the Pelletiers and Goodson.
Have something to say? Share your thoughts with us in the comments below.