Two female Ashley Furniture employees awarded in Washington
May 15, 2018 | 12:06 pm CDT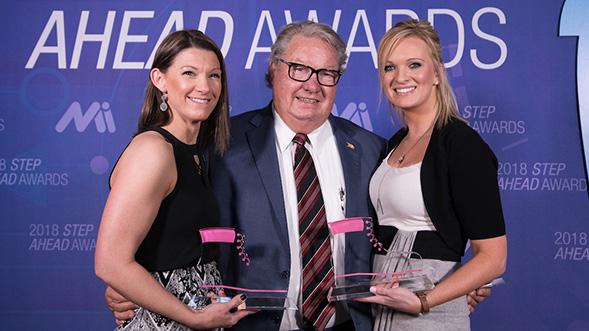 From left to right: Edna Robinson, Ashley Chairman Ron Wanek, and Angel Kraemer.
ARCADIA, Wi. – Edna Robinson and Angel Kraemer, both employees of Ashley Furniture, were honored at the STEP Ahead Awards in Washington DC in April. Robinson, corporate project manager, was named a 2018 Honoree and Kraemer, lead casegoods designer, was named an Emerging Leader. The STEP Ahead Awards honor women who have demonstrated excellence and leadership in their careers and represent all levels of the manufacturing industry, from the factory-floor to the community.  
"I am honored to be a part of the Ashley family and humbled to be named a 2018 STEP Ahead Honoree. Manufacturing gives me the opportunity to add value to our product by coaching and building our employees, managers and trainers," said Robinson. "My passion is building a cross-functional team that shares the same vision and mission, allowing us to improve our processes, equipment, and raw materials."
"Being named an Emerging Leader is a truly humbling accomplishment," said Kraemer. "I've always been passionate about manufacturing as it enables me to make high quality products for a large amount of people, at an affordable price. I am grateful to Ashley for allowing me to grow within the organization and assist in shaping the future success of the business."
"The women who we are celebrating represent the exciting career opportunities available in manufacturing," said Natalie Schilling, 2018 Chair of STEP Ahead and Vice President of Human Resources at Arconic. "The STEP Ahead Award honors successful women in this industry for their significant achievements and the positive impact they have made on their companies, their communities and the industry as a whole."
The STEP Ahead Awards are part of the larger STEP Ahead initiative, launched to examine and promote the role of women in the manufacturing industry through recognition, research, and leadership for attracting, advancing, and retaining strong female talent. In five years, STEP Ahead Award winners have impacted more than 300,000 individuals — from peers in the industry to school-aged children. Women constitute one of manufacturing's largest pools of untapped talent. Women totaled about 47 percent of the U.S. labor force in 2016, but only 29 percent of the manufacturing workforce.
Not only does the STEP Ahead initiative bolster manufacturing's attractiveness to women, it also plays an important role in improving the perception of careers in the industry among younger generations.
"Manufacturing plays an important role in the global economy and it is essential that we grow and sustain changemakers in our industry. Edna and Angel truly exemplify the excellence and leadership it takes to be a STEP Ahead recipient," stated Ron Wanek, Founder and Chairman, Ashley Furniture Industries, Inc. "I am proud of the accomplishments each of these women have achieved throughout their careers and look forward to the impact they will continue to have on the future success of manufacturing."
Have something to say? Share your thoughts with us in the comments below.