Social studies teacher turned tech-ed instructor wins $50,000 Harbor Freight prize
October 29, 2021 | 3:59 pm CDT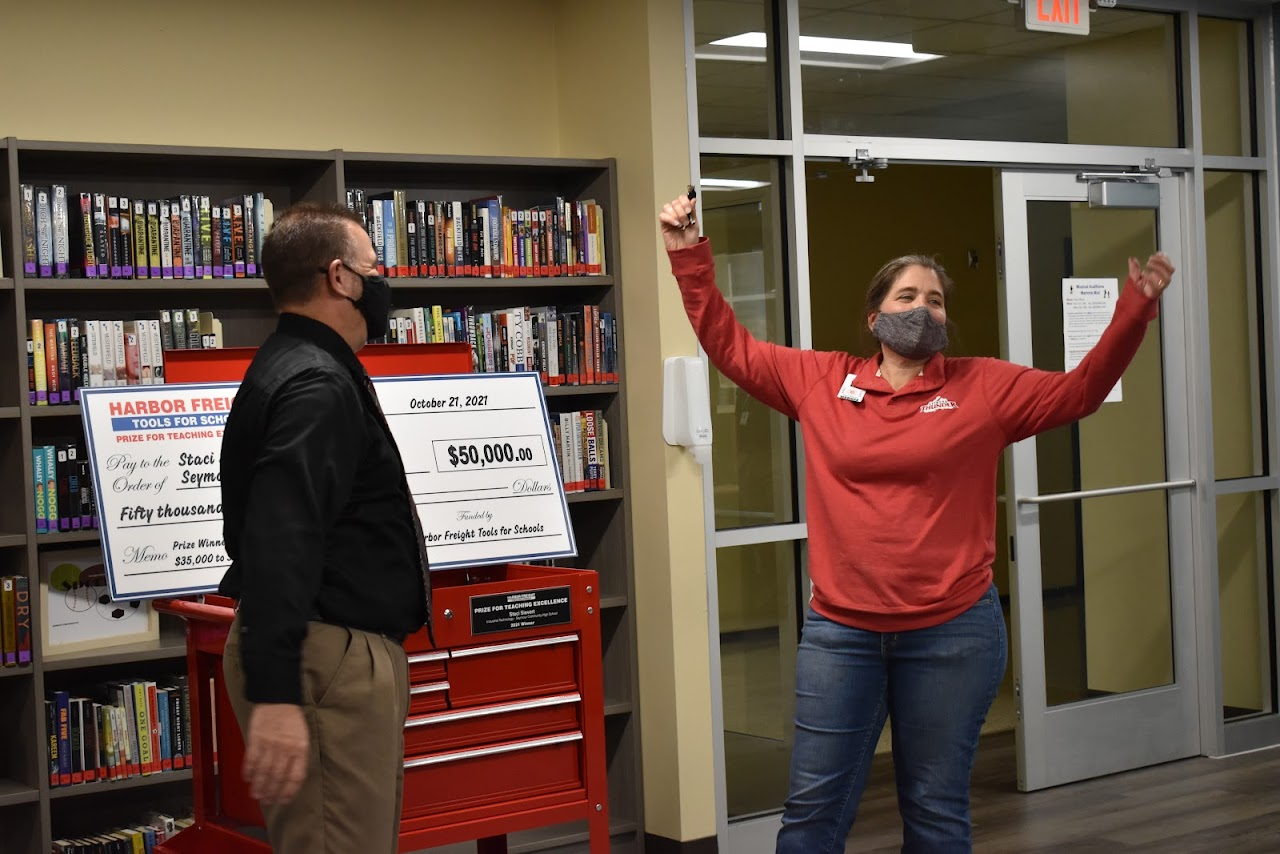 Editor's note: Staci Sievert, a technical education instructor at Seymour High School of Seymour, Wis., was recently named a winner of the 2021 Prize for Teacher Excellence Award presented by Harbor Freight Tools for Schools (HFTS).
Sievert was one of 18 winners in HTFS' fifth annual awards program that honors instructors of U.S. public high school technical education programs. This year, HFTS awarded more than $1 million to the 18 outstanding skilled trades teachers and their programs.
Read how Sievert, an accredited skill evaluator of the Woodwork Career Alliance of North America, transitioned from teaching social studies to teaching woodworking, metal machining, and welding with the invaluable assistance of Fox Valley Technical College.
Four years ago, the technical education program at Seymour High School of Seymour, Wis., was in turmoil. Unable to hire qualified full-time tech-ed instructors for several years running, the school had no recourse but to employ long-term substitutes to teach woodworking, metalworking, and welding.
Entering Fall 2017, the Seymour High tech-ed program was about to limp through another academic year relying on a temporary instructor. That's when Staci Sievert, 22 years a social studies teacher, volunteered to make the leap from the classroom to the woodshop.
"I was in principal Tom Mueller's office when he read an email from the guy he had just hired. 'I'm going to do something else instead.' That would have been the fourth year for us to have a long-term sub in the tech-ed position," she says, adding "I'm from here and I didn't like seeing the tech-ed program tanking. I knew they couldn't hire tech-ed instructors but that they could hire a social studies teacher."
Sievert decided right then and there that enough was enough. She told Mueller, "Shoot, do you think I could learn that? I would do that." He came back to me later and said, 'Are you serious because you haven't failed us yet. I think you can.'"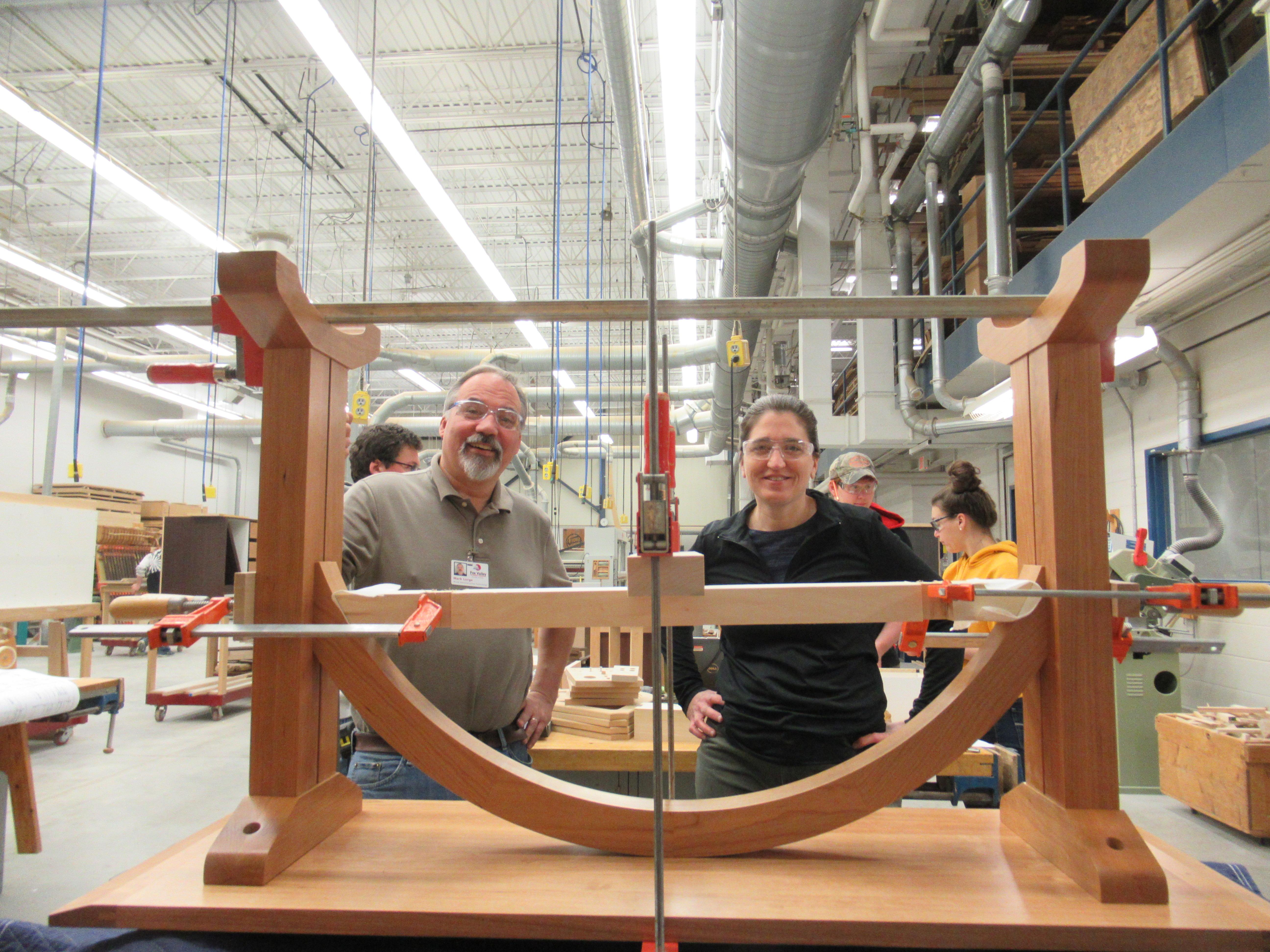 Soon after that exchange, Sievert was not only offered the tech-ed position, she was asked to start her new teaching assignment right away. She pushed back. "I made it clear that I was willing to do this, but that I would need to take classes before I could teach a topic to an acceptable standard."
Sievert elaborates. "I was totally up for the challenge and thought it would be interesting, but I was not a tech-ed person. I had never welded before. I had probably cut on a table saw like three times in my life. I once built a chicken coop using a miter saw. That was the extent of my wood manufacturing experience. Basically, zero."
From knowing zero to tech-ed Hero
Sievert struck a deal with school administrators. She would continue teaching social studies in Fall 2017 while taking one-on-one woodworking lessons with Mark Lorge, department chair of Fox Valley Technical College's wood manufacturing program. Fox Valley is an EDUcation member of the Woodwork Career Alliance (WCA).
"As a former social studies teacher, I was starting at ground level. If I was going to be successful learning new skills and furthering the Seymour High School tech-ed program, I needed training and I needed a mentor. My first move was to call Mark Lorge," Sievert says. "He was willing to create a unique schedule and curriculum for me beyond his normal course load."
"I was allowed to leave school a half-hour early on Tuesdays and Thursdays and bee-lined to the Fox Valley wood manufacturing center in Oshkosh (about 45 minutes away) for my two-hour sessions," Sievert continues. "I was a huge time suck for Mark. He wasn't paid any more for teaching me; I wasn't even part of his regular class. He was willing to do that."
Sievert began teaching her first two woodworking classes in the spring of 2018, as well as a dual-credit economics course. She also continued her woodworking education at Fox Valley Tech. "I didn't start teaching classes until 10:30 a.m. because I was being trained by Mark from 7:30 to 9:30 every morning. Then, in the summer, I was full-time with Mark in June and July learning wood manufacturing. Mark taught me wood manufacturing techniques from proper milling procedures to using the shaper to make cabinet doors."
Lorge's generous support for Sievert and her program extended beyond the extensive training he provided. Sievert says she submitted a list of equipment needs for the woods program based on recommendations made by Lorge and fellow FVTC instructor Glenn Koerner that the school board approved to the tune of $50,000. After a new shaper was delivered, Lorge donated nearly half a day of his time to set it up.
"Mark has also shared his curriculum with me, some of which I have adapted to my programs," Sievert says. "My students have gone on field trips to the Fox Valley Tech wood manufacturing center. He was also instrumental in encouraging me to join the Woodwork Career Alliance."
Sievert was among the first to become an accredited skill evaluator through the WCA's online ASE training program that debuted last fall. This past spring, she employed the WCA skill standards to train and evaluate 11 students toward earning their WCA Sawblade certificates.
"The WCA process was good for fine-tuning our curriculum and using the WCA as an industry resource is really helpful," she says.
Sievert took on tech-ed instruction full-time in the fall of 2018. That's also when she started taking welding at Fox Valley Tech followed later by metalworking classes.
Seymour's tech-ed program on the rise
In addition to winning the Harbor Freight Tools for Schools' 2021 Prize for Teaching Excellence, Sievert's dedication to going the extra mile to learn new skill sets was recognized by the Fox Cities Chamber of Commerce. She received the Excellence in Career and Technical Education Award during an April 29 virtual ceremony.
In nominating Sievert for the award, Laurie Asher, superintendent of Seymour Community School District, noted that the Seymour High tech-ed program has experienced a 52% enrollment increase in the past five years. "Staci has 'saved' our technical education program. She took a program that was struggling and made it one of the premier programs in our district."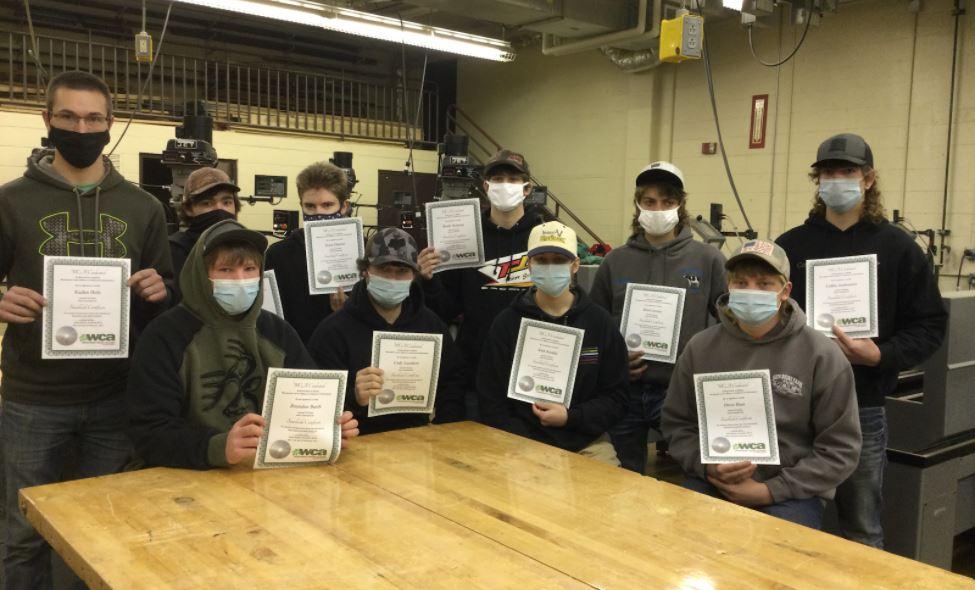 The Seymour High tech-ed program is destined to become even stronger. District voters approved a $6.5 million referendum on April 6 by a more than 2-1 margin. The funding will go toward expanding and updating the tech-ed department.
"We're going to get metals out of the woodshop," Sievert says with a laugh. "This is going to allow us to have designated spaces for the different types of manufacturing that we teach and each area will be able to expand," she says.
No regrets
Does Sievert miss teaching social studies?
"No, I don't miss it. I did it a long, long time," Sievert says. "What I like best about teaching tech-ed is the combination of teaching kids, doing projects, and the community connections that the students make with each other that are so necessary and fruitful. It's very magical for me."
Have something to say? Share your thoughts with us in the comments below.