Woodwork Career Alliance introduces two student credentials
October 27, 2021 | 10:13 am CDT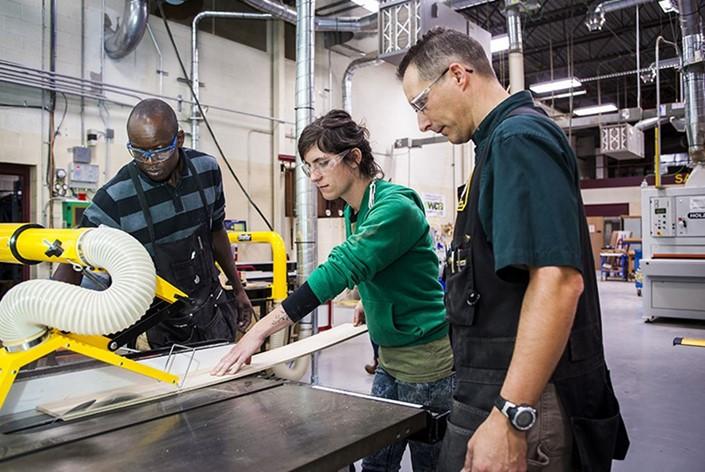 NELLYSFORD, Va. – The Woodwork Career Alliance of North America has developed a pair of EDUcation credentials, giving woodworking students new opportunities to be recognized for expanding their skills.
The EDU Core and EDU Green credentials are exclusively designed for students enrolled in WCA EDUcation member programs. Each of the new credentials builds on the Sawblade Certificate that is the cornerstone for recognizing a student's ability to safely set up and operate basic woodworking machinery in accordance with the WCA's Skill Standards.
The new credentials were developed with input from educators and industry professionals to not only reward more serious-minded woodworking students but to make them more workforce-ready.
"Up until now we have not had a way to reward students for going above and beyond the testing requirements of the Sawblade Certificate," said Greg Larson, vice president of the WCA.  "We've seen many Sawblade students earn additional tool assessments who have been unable to qualify for the WCA Green Credential because they could not accumulate enough experience hours to achieve the required 800 hours.
"By only requiring 120 hours of experience, the EDU Core and EDU Green credentials better accommodate most educational woodworking program frameworks, making them more accessible to a broader range of students," Larson added. "These credentials will also be more valuable for students who choose to pursue woodworking careers and their prospective employers because they are meatier than the Sawblade Certificate."
Whereas the WCA's Sawblade Certificate encompasses five basic machinery operations including table saw, jointer, portable sander, and drill press, EDU Core requires students to pass tests on five additional machinery operations. EDU Green requires a student to successfully demonstrate his or her proficiency in at least 15 distinct machine operations.
Learn more about the WCA's credentialing programs, their benefits, and how they work at woodworkcareer.org.
Have something to say? Share your thoughts with us in the comments below.