WCA awards woodworking industry's first Gold credential
January 15, 2021 | 4:07 pm CST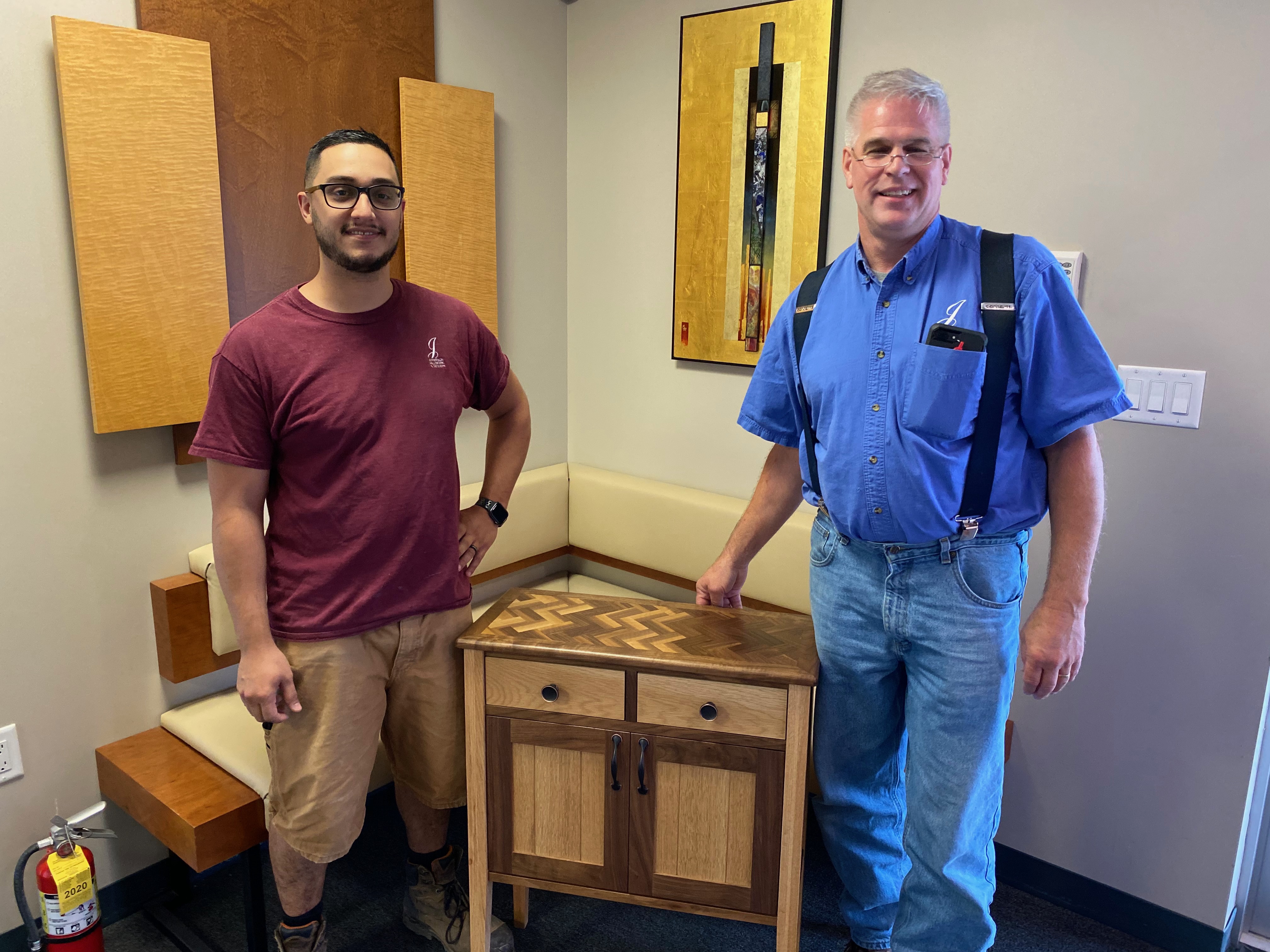 NELLYSFORD, Va. – Richard Memory has made woodworking history -- again.

The trail-blazing employee of Jefferson Millwork & Design recently became the first professional woodworker awarded the Gold credential by the Woodwork Career Alliance of North America (WCA). In fall 2019, Memory was the first woodworking pro to earn the WCA's Red credential. 

Greg Heuer, secretary of the WCA, presented Memory his Gold credential certificate, pin and patch during a ceremony held on Jefferson Millwork's shop floor attended by company managers and fellow employees. "Until 2007, woodworkers like everyone here had no nationally recognized path to demonstrate their progress and achievements," Heuer said. "The WCA gives all of you that path. We celebrate this day by presenting the world's first WCA Industry Gold credential to this gentleman."

In addition to the Gold credential award recognition, Memory received a bonus check and a pay raise tied to Jefferson Millwork's training program.


Memory's quest for the WCA Gold credential was three years in the making. It began in 2017 when Jefferson Millwork signed up as a WCA MANufacturing member and implemented the WCA's credentialing Passport system as the backbone for training apprentice woodworkers. Memory was one of the company's first hires to participate in the program. To achieve the WCA's Gold credential, Memory had to meet the following criteria:
Three years and at least 4,800 hours of professional woodworking experience.
180 total tool points attained through a series of evaluations and testing for a variety of woodworking machinery. Among the new or heightened skills documented in Memory's online registry maintained by the WCA, are spray finishing, and beam saw and edgebander operation.
Completion of a Gold Credential project. Memory successfully designed and created an occasional table made with oak and walnut veneered MDF and solid oak and walnut. The tabletop was constructed using 3/4-inch solid walnut arranged in a herring-bone pattern.
"I asked him to make something that he would be proud to have in his home," said Chuck Buck, shop foreman of Jefferson Millwork and an accredited skill evaluator of the WCA. "He painstakingly made the herring bone top out of scrap materials from the shop. He did a tremendous job. I'm especially proud of the problem-solving skills he displayed, not only showing an understanding of what works but of what works best."

Buck is in this eighth year with Jefferson Millwork of Sterling, Va. The company is a member of the Architectural Woodwork Institute's Quality Certification Program. He said the WCA's credentialing system provides a solid foundation for the 20-man shop's training program.

"It forces a higher level of training that goes beyond teaching employees on-a-need-to-know basis that is typical of what I've seen in my career. Too often I've found that an employee only gets trained to do something when you find that he doesn't know how to do it. Because the day-to-day mindset is getting the product out, time isn't devoted to teaching what's necessary for that employee to fully develop his skill sets and make decisions on his own.

"Our training program makes us make time for that interaction," Buck added. "It makes me feel good to be able to pass along the information I have gained in my career and to see Richard become a better, more-rounded woodworker."


Memory, who had no previous woodworking experience before joining Jefferson Millwork, said he is humbled by his latest achievement.  

"I never expected to be the first one to earn the Gold credential," Memory said. "It's very exciting. The WCA's credentialing program helped me master tools and develop confidence to take on creative projects that I never thought I would be able to do before both here at work and at home."

Having successfully fulfilled the requirements for WCA's Green, Blue, Red and Gold credentials, Memory said he has his sights firmly set on Diamond, the pinnacle of the WCA's five-tiered credentialing program.

About the Woodwork Career Alliance
The Woodwork Career Alliance of North America was founded in 2007 as a 501(c)(3) non-profit corporation and is governed by a volunteer board of directors. The WCA's mission is to develop and administer a unified set of Skill Standards for the wood products industry. Since 2011, WCA has developed observable and measurable performance standards and assessments for more than 300 woodworking machine operations. In addition, WCA has issued more than 3,000 credentials, a portable, personal permanent record documenting each holder's record of woodworking skill achievements. More than 140 high schools and post-secondary schools throughout North America are WCA EDUcation™ members and a growing number of woodworking companies have joined the WCA as MANufacturing™ members. To learn more about the WCA and how to get involved with its programs, including sponsorship opportunities, visit WoodworkCareer.org.
Have something to say? Share your thoughts with us in the comments below.