Smith Leonard: Year over year furniture orders fall 26%
December 5, 2022 | 8:08 am CST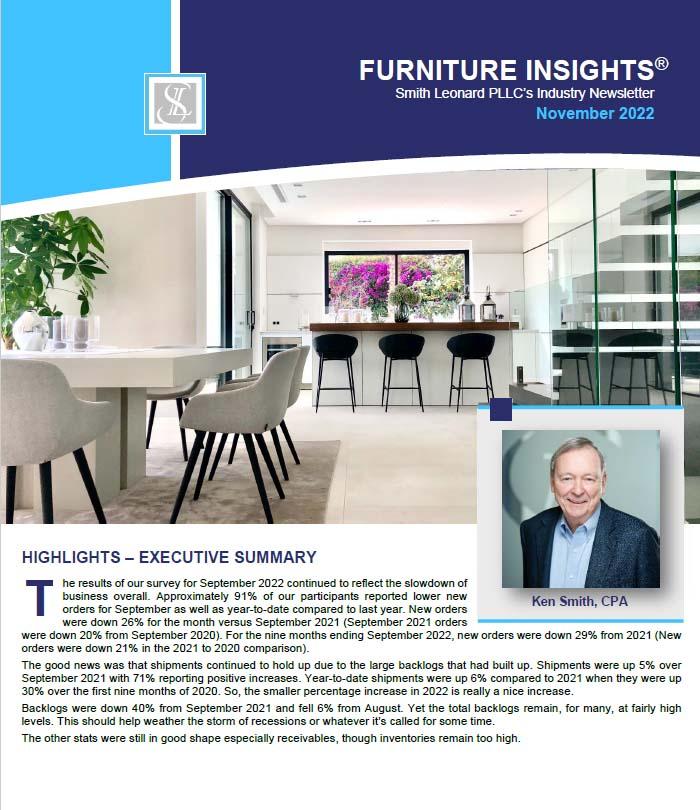 September new furniture orders fell 26% compared to September 2021, according to the new Furniture Insights report from Smith Leonard.
The report adds that September 2021 orders were down 20%
from September 2020.
"As we have noted before, even comparing to 2019 is not very realistic in a given month with all the price increases that have been instituted especially up to September 2022. In September, new orders were down for 91% of the participants," according to Ken Smith, CPA and analyst with Smith Leonard.
Year to date, new orders were down 29% from 2021 when they were down 21% from 2020. Year to date, 2022 orders were down 6% from year-to-date 2019.
"Again," the report stated, "with the price increases, that comparison is hard to really read other than probably not a good result."
Shipments and backlogs
Shipments continued to be the positive working of the big backlogs that were built. Shipments in September were up 5% over September 2021 though down a bit from August. Shipments were up in September for 71% of the participants. Last year, September shipments were up 4% over September 2020.
Year to date, shipments were up 6% over 2021. Year-to-date shipments were up for 70% of the participants. Year-to-date 2021 shipments for the nine months were up 30% over 2020. "But remember business was basically shut down for a good two months in 2020," said Smith. "Shipment dollars were up 24% year to date over the first nine months of 2019, again including effects of price increases."
Backlogs fell again in September dropping 40% from September 2021 and another 6% from August. "We hope most participants have now cleaned up their backlogs so that they know what their real situation will be over the next couple of months."
Receivables and inventories
Receivable levels continue to be in line, up 4% over September 2021 and in line with the 5% increase in shipments and 6% year to date.
Inventories continue to be an issue, up 42% from September 2021, though at least dropping 2% from August levels. It will take a while to get them back in line and rebalanced as we are concerned as to what kind of products are included in some of these inventories.
Factory and warehouse employees and payroll
The levels of employees remained fairly stable as it has for several months through September. Payrolls continued to climb up 11% from last September and up 15% year to date. Again, that year-to-date increase includes a few more employees in some earlier months and significant wage increases as well as some volume increases.
Have something to say? Share your thoughts with us in the comments below.