November 14, 2022 | 11:59 am CST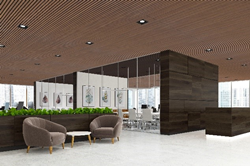 DUBLIN, Ohio -- Kinetics Noise Control Inc. has launched kWood, an absorptive ceiling and wall treatment that was designed to reduce noise.
Consisting of linear lengths of wood secured to Kinetics' black polyethylene terephthalate (PET) felt backing, kWood marries acoustic function with aesthetics, the company says.
The kWood product can be mounted horizontally or vertically. The kWood panels ship installation ready in standard sizes of 24" W x 96" L x 0.87" thick, but can be modified in the field to custom sizes, if desired.
Benjamin Hickey, Kinetics director of sales for the Room Acoustics and Home Markets division, said, "We've long seen a lot of success with our Acoustical Wood collection as well as our Kleen family of recycled PET products. "It just made sense to combine the two. When you pair stellar acoustics with an attractive and sustainable product, you get something pretty special, and we feel we have that with kWood."
kWood is available in four wood veneer colors: Light Oak, Medium Walnut, Dark Oak, and Grey Wash Oak.
Have something to say? Share your thoughts with us in the comments below.