How does your shop compare?
By Amanda Conger
September 21, 2021 | 12:02 pm CDT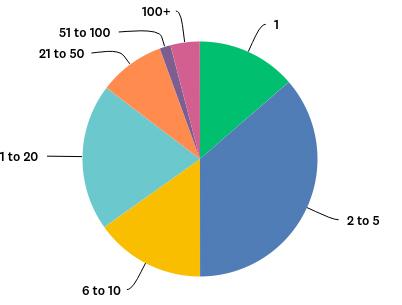 The Cabinet Makers Association (CMA) in conjunction with FDMC magazine and Woodworking Network requests that shop owners complete their 2021 Benchmark Survey. The responses will provide a clearer picture of the woodworking industry in the U.S. and Canada, while also helping other shops have a better idea of where they stand in relation to the rest of the industry.
Open until October 31, the annual survey establishes benchmarks for the industry by exploring business outlook, staffing and compensation, shop rates, CNC automation, construction methods, and marketing. On the demographic side, the survey paints a portrait of where shops are located, number of employees, and what kind of work they do.
The president of the CMA's Board of Directors, Ken Kumph, has found the survey results useful in his business operations at Premier Builders in Georgetown, Massachusetts.
"As a company, we have benefited from the up-to-date and useful information obtained through the CMA's annual survey," he says. "It has been a great resource that has helped us look deeper into our company and the way we do business. Ultimately, the information contained in the survey has enabled us to look beyond the four walls of my shop and really expand on my knowledge of being a small business owner."
The 2021 Benchmark Survey is sponsored by Lockdowel. Qualifying participants can enter a drawing for a Lockdowel FastBox or a one-year complimentary CMA membership. All who complete the survey will receive a copy of the full results. Individual survey responses are kept strictly confidential regarding the participant's name and company.
Review the 2020 results and access the 2021 survey at cabinetmakers.org/benchmark-survey.
An overview of the results will be published in the December issue of FDMC magazine.
The Cabinet Makers Association (CMA) was incorporated in 1998 by a group of custom cabinet makers who thought the smaller shops needed to network and help each other grow profitably. Currently, CMA membership is made up primarily of operations with 20 or fewer employees, with the vast majority of those being 1-5-person shops. For more information, visit cabinetmakers.org.
Have something to say? Share your thoughts with us in the comments below.