Home renovation trends unwrapped
December 22, 2021 | 8:52 am CST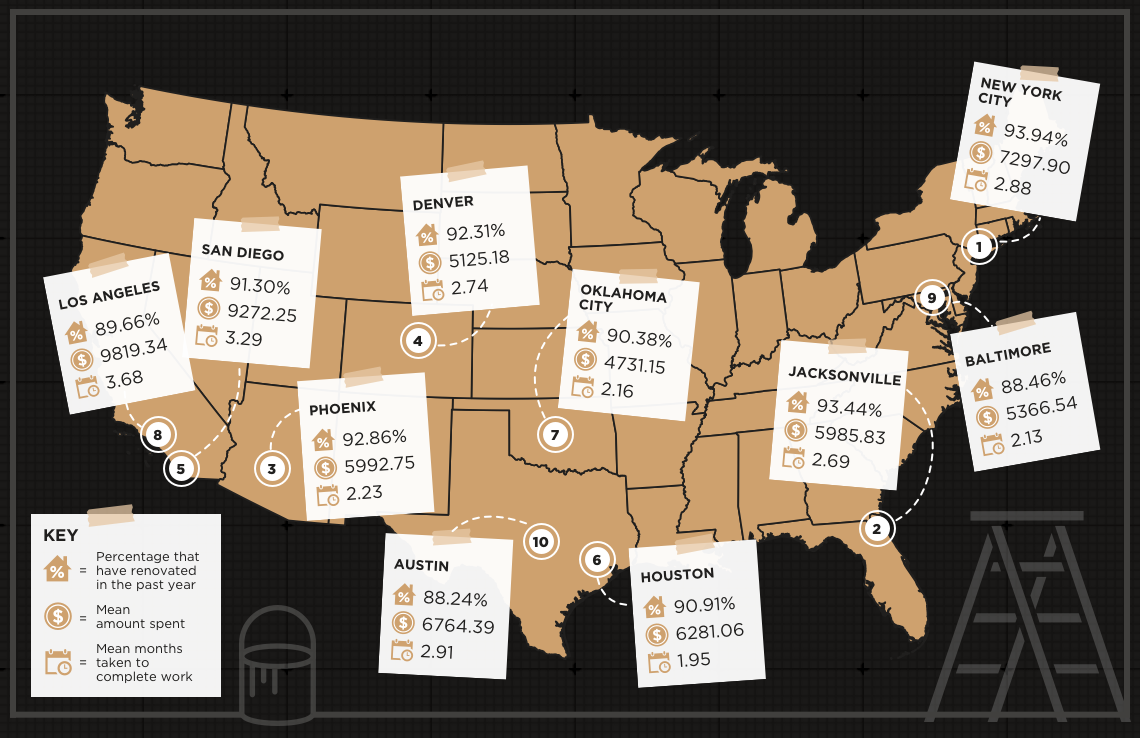 New research1 by Singulart reveals just how many people have renovated their homes in the past year, alongside the hotspots for 2022 and the interior trends set to dominate. 
When asking respondents about work carried out on their home throughout 2021, out of the 86.82% that did, the average renovation took 2.83 months and cost $6,367.04 to complete, with the bathroom, kitchen, and yard being the most popular rooms to transform. 
But how did this compare at a city level across the year? 
New York City has been crowned the renovation hotspot for 2021 with 93.94% sharing that they spruced up their home, taking 2.88 months to finalize and costing a perhaps surprising $7,297.90. Jacksonville (93.44%) and Phoenix (92.86%) came in second and third, both cities spending between $5,985.83 - $5,992.75, sitting just under the nation's average. 
Among the Top 10 hotspot cities for renovation is San Diego, which happens to be the site for the Wood Pro Expo California trade show scheduled for April 27-29, 2022. In addition to booths showcasing woodworking machinery and supplies, a conference program will deliver important information to help woodworkers drive business and improve processes. Conferences include adding cabinetry to a company's business.
With redecorating plans set to continue into 2022, the top 10 renovation hotspots for next year are as follows: 

San Antonio takes first place for the city with the most plans to renovate in 2022, with 94.12% of residents sharing their thoughts on upcoming projects. El Paso comes in second, followed by Los Angeles in third.
However, when it comes to those who can't get remodeling off their minds, New York City (93.94%), San Diego (91.30%), Houston (90.91%), Los Angeles (89.66%), and Austin (88.24%) residents all reported that they carried out modifications to their homes last year, as well as having plans to this year – talk about renovation fever.
With remodeling and interiors often going hand-in-hand, Singulart has also revealed the top interior trends set to take 2022 by storm. Modern (15.55%), modern farmhouse (13.24%), and country (11.07%) are the styles that Americans will be implementing in their homes the most – think herringbone floors, layering white on white or stone and brick walls accompanied with sturdy, wooden furniture.
Commenting on the research, Marion Sailhen, Head Curator at Singulart, said: "It's clear that renovations are at the top of most people's agenda as we get ready to go into a new year, and it's really interesting to see what interior styles those who are remodeling will be opting for.
"If a modern aesthetic is at the top of your list, we would recommend minimalistic art styles or even geometric pieces. Whereas if your plans are modern farmhouse or country, nature, animal, or landscape pieces will complement these best." 
To find out more about the research, including other popular interior styles, visit: www.singulart.com/landing/en/americas-renovation-hotspots 
Have something to say? Share your thoughts with us in the comments below.