Glideware to Distribute through Wurth Baer and Hardware Distributers Ltd.
June 8, 2016 | 1:15 pm CDT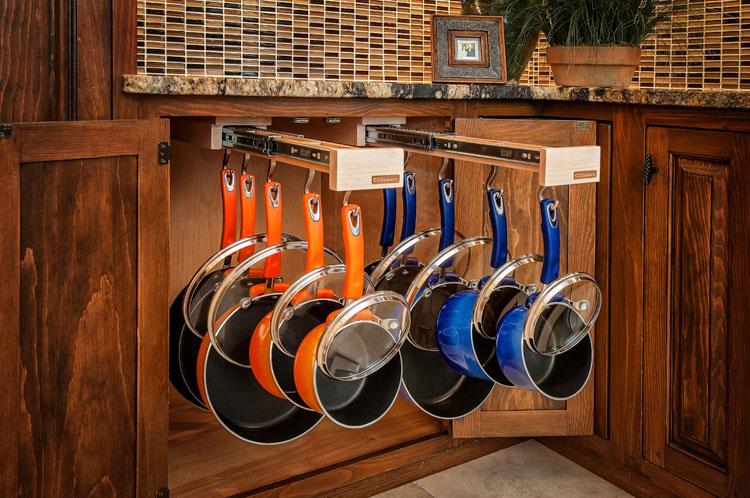 GRAND JUNCTION, Colo. - Glideware will use Wurth Baer Supply and Hardware Distributors Ltd. as distributors across a large portion of the United States.
Wurth Baer will carry Glideware in the Central Plains, Midwest, upper Midwest, New England, and the northern Mid-Atlantic states. The distributor already carries a wide variety of kitchen supplies, as well adhesives, woodworking machinery, tools, finishes, lighting, and board panels. HDL has a portfolio similar to Wurth Baer's, and will also carry Glideware in the upper Midwest and beyond. The long-established company maintains a warehouse in Sauk Rapids, Minnesota.
Glideware founders David and Jenny Hall developed their first product in 2013, when they needed to organize a set of Teflon-coated pans in a way that wouldn't damage the non-stick surface. The supply rack they developed had dividers to prevent pots and pans from banging into each other while the extension slide was being withdrawn from the cabinet. Though the couple had little experience in the kitchen cabinet industry, their idea quickly drew attention from the National Kitchen and Bath Industry (NKBI), and Glideware was displayed at the NKBI's trade show in 2015.
The young company's popularity exploded, and Glideware has since introduced pantry, garage, and outdoor organizers as well. At this year's NKBI show, they displayed the Not-So-Lazy Susan, a cabinet organizer which rotates instead of glides. That product is scheduled to be introduced to the market this fall. Glideware products are now available online and in thirty-seven states. The company had already accumulated several regional distributors in areas including the western and southern United States and throughout Canada, in addition to the Midwest, New England, and mid-Atlantic regions their new distributors are meant to reinforce Glideware's position in. Said David Hall, "We are continuing to strengthen our position as a leader in organization. By adding strong distribution partners like Würth Baer Supply and HDL, we are determined to make Glideware synonymous with organization across North America."
"Glideware's innovative line of organizational products is unique in the industry," said Keven Joseph, Product Manager at Wurth Baer Supply. "We're thrilled to have the opportunity to offer Glideware to our customers."
"Glideware creates innovative organizational products that can move the needle for our customers," said Tom Kubat, Purchasing Manager for HDL. "The versatility of their product line to move outside the kitchen and into organization for the home creates a lot of opportunity."
Have something to say? Share your thoughts with us in the comments below.