New furniture at NeoCon captures today's workplace trends
October 19, 2021 | 8:35 am CDT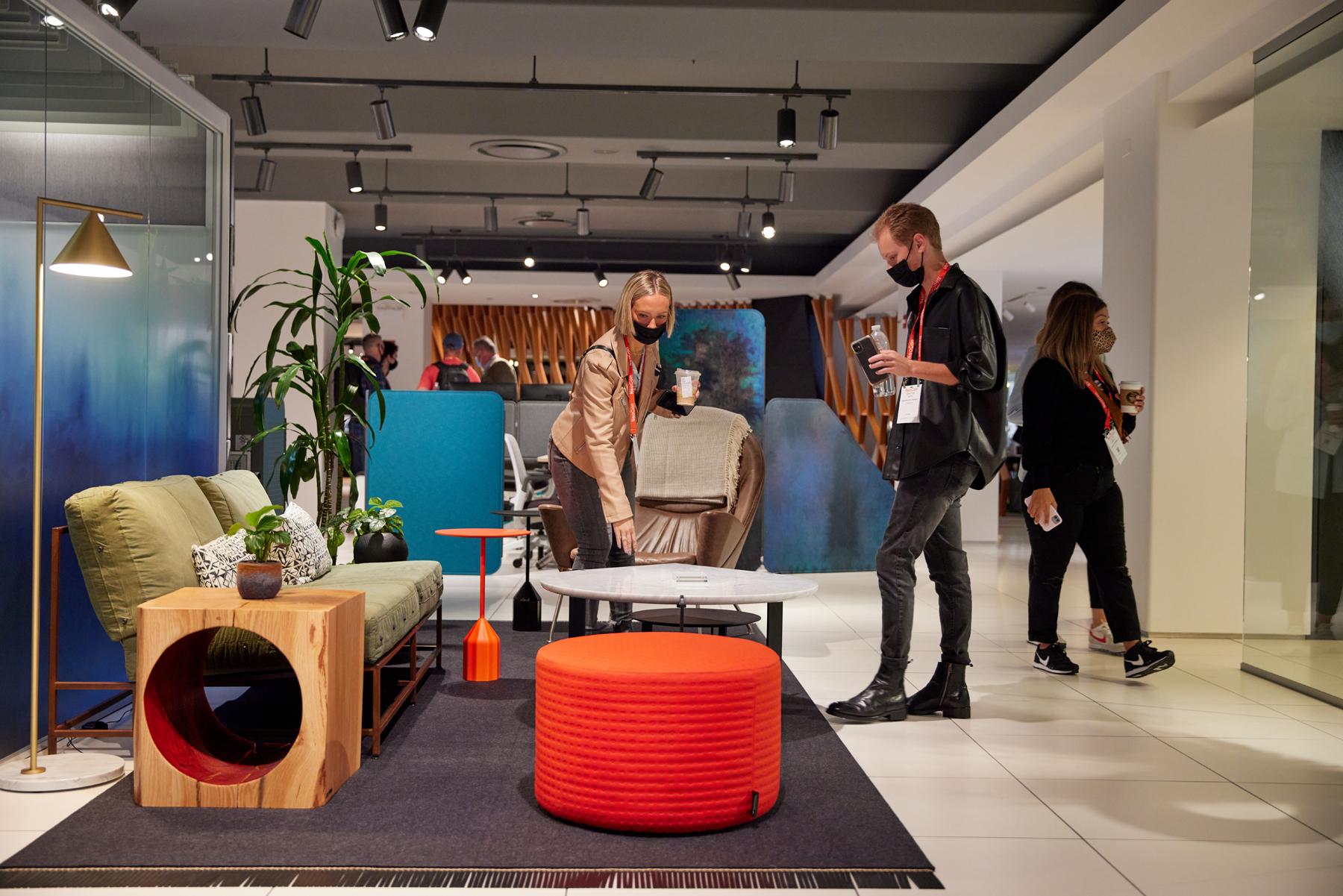 Photo By Jacob Hand
CHICAGO - Commercial office, home office or hybrid? The questions over where, how and when people are working were the trending topics at this year's NeoCon. 
NeoCon returned to the Merchandise Mart after a year's hiatus due to the pandemic. Held Oct. 4-6, the contract furnishings show played host to close to 20,000 attendees, and approximately 500 leading producers and emerging talents in the industry. The 2022 NeoCon is scheduled for June 13-15.
Comfort, color & versatility for easy transition
"After a year in which most people brought the office into their home, we're now seeing people [bringing] the comfort of home into the office," said Leslie Eichelberger, director of marketing at Hon. Upholstered seating and flexible furniture, all with easy-to-clean materials and finishes, are making the transition easier for many, particularly when it comes to seating in single offices or collaborative areas. Designed in partnership with Q Design, Hon's new West Hill collection blends commercial endurance with residential-style, including welted cushions and tuxedo tailoring.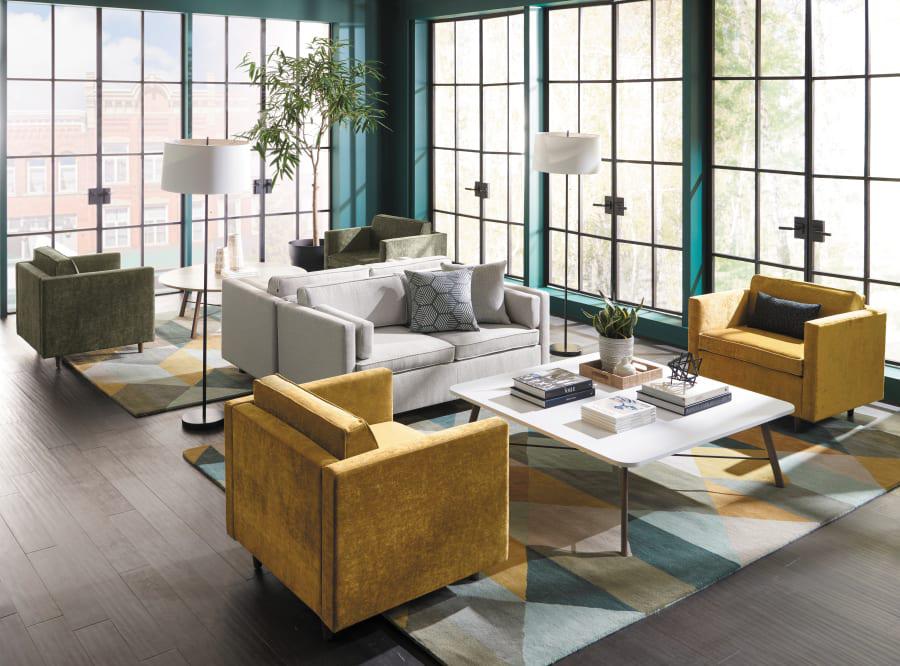 Versatility in collaborative spaces is also a key element of today's productive workspaces. With its soft lines and high back to promote privacy, Hon's Astir was one of the many collections on display specifically for collaborative work.
Along with soft lines, color choices are also reflecting the comfort and feel of home and nature. Marcus Simpao of Hon commented on the increase in wood and earth tones, as well as the growth of sustainably sourced and recycled materials in office furniture. On the latter, he noted, "it's becoming more attainable from a price point standpoint," and a good selling feature.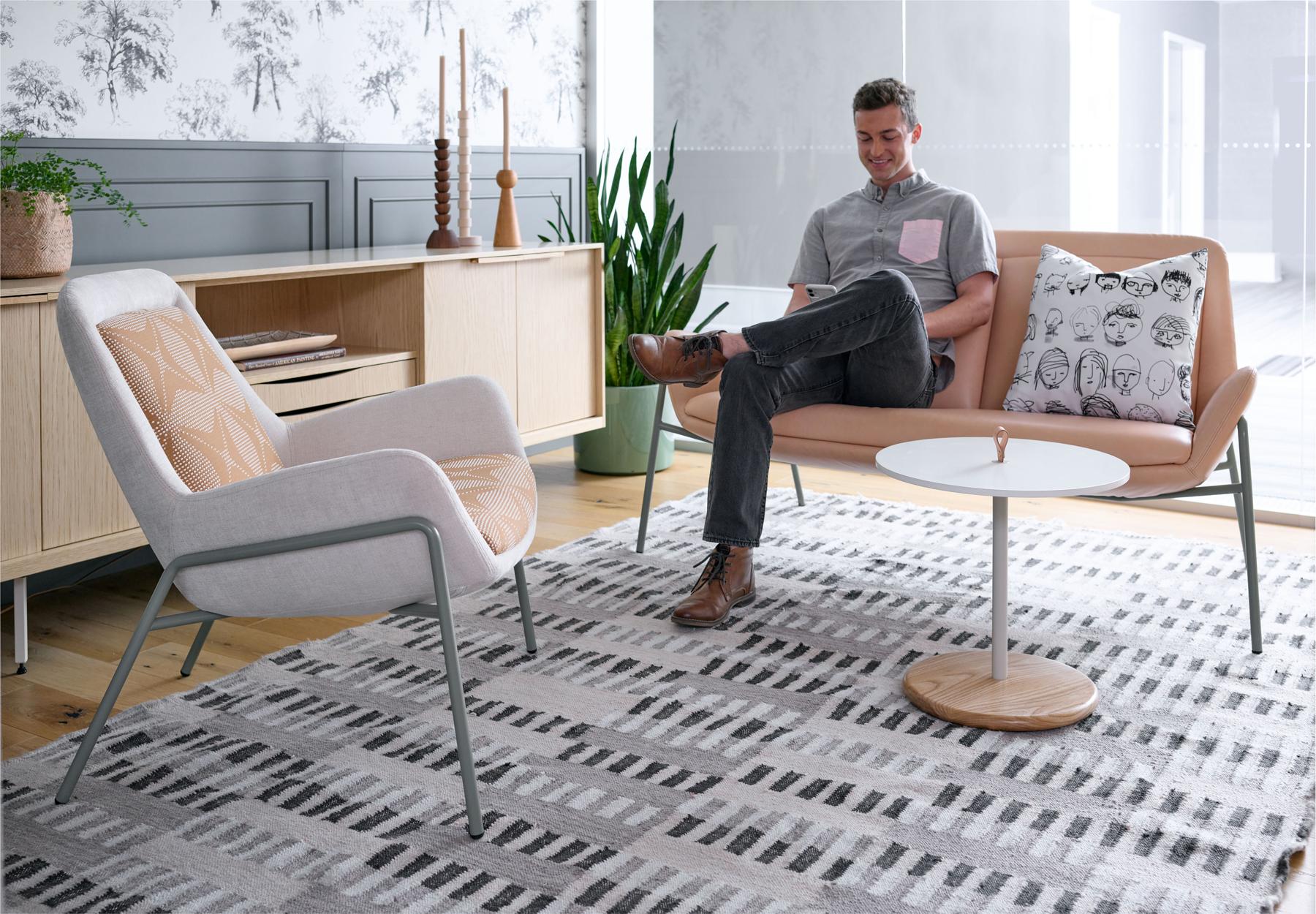 OFS also showcased a number of new products and materials for today's workspace environment. These include enhancements to its 2019 NeoCon Best of Competition award winner Obeya, as well as personalized workstations, tables, lounges, stow away baskets and refreshed surface materials, including textiles, laminates, stones, powders, and paints. According to Doug Shapiro, vice president of Research & Insights, the company's portfolio of products not only supports the organizational agility that's required today, but highlights the influence of that working from home has had on office styles and trends, and vice versa – for a "more relaxed feeling, color and vibe."
"This year, our showroom illustrates the adaptability of soft architecture, an approach that responds to the rise of hybrid work and a more flexible lifestyle. Soft architecture enables the ability to deconstruct the confines that lock us into permanent situations and provide us the freedom to make choices as we observe the actions of employees and the way they utilize space," Molly Prior, director of marketing, also noted in a statement. "The goal of our new products is to contribute to better experiences while fostering confidence, belonging, and connection at a time that's largely unpredictable."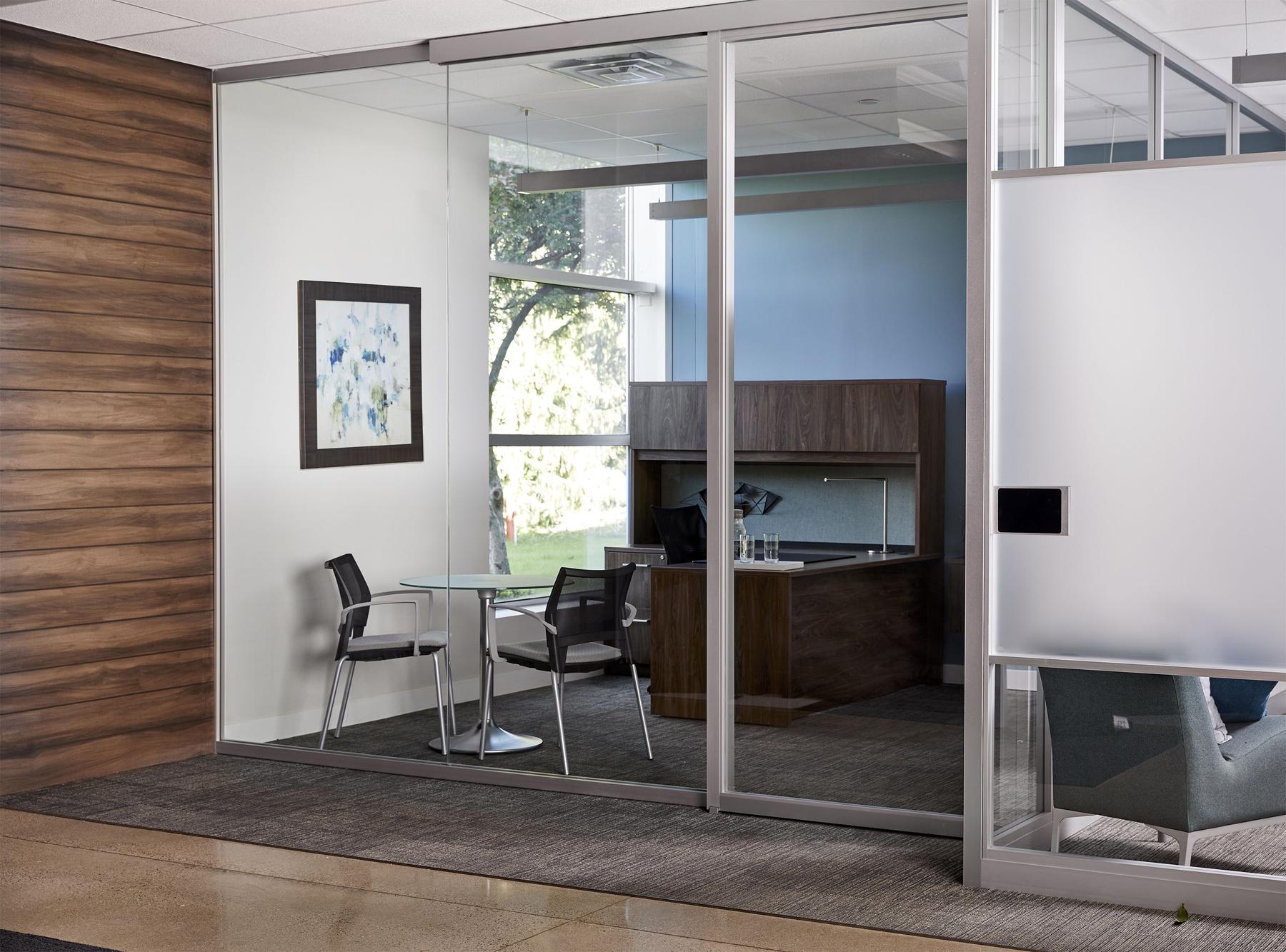 Along with connectivity, comfort, flexibility and safety are also key. "Employers are desiring their workers to come back into the office and the only way that's going to happen is if spaces are comfortable, if they're inviting, and if those spaces are safe," said Nancy Stryker, marketing director for Trendway.
Inside Trendway's showroom were products that addressed these themes, including the AeraMax Pro air purifier, "because as much as you can wash your hands, wear a mask, being able to clean the air is really impactful for office environments," she noted.
Products that offer flexibility to delineate space for privacy or collaboration are also in high demand, and Trendway delivered with updates to its Volo Movable Wall product line. Now with a full glass storefront extension, Volo Frameles features refined low-profile floor and ceiling runners comes with a universal parts kit that reduces complexity and installation time. "As more businesses continue returning to the office, designers need ways to create separation and safe spaces without sacrificing natural light and a connected, open feel," said Stryker. "Movable walls are an important design component for safety and infection control in return-to-work designs."
"If you think about the reasons that you would go back into the office, it's not necessarily to do heads-down work. One of the reasons people want to go back into the office is to be around other people and be around the energy and the inspiration that you get from your colleagues. Collaboration," Stryker added, "but in a safe way."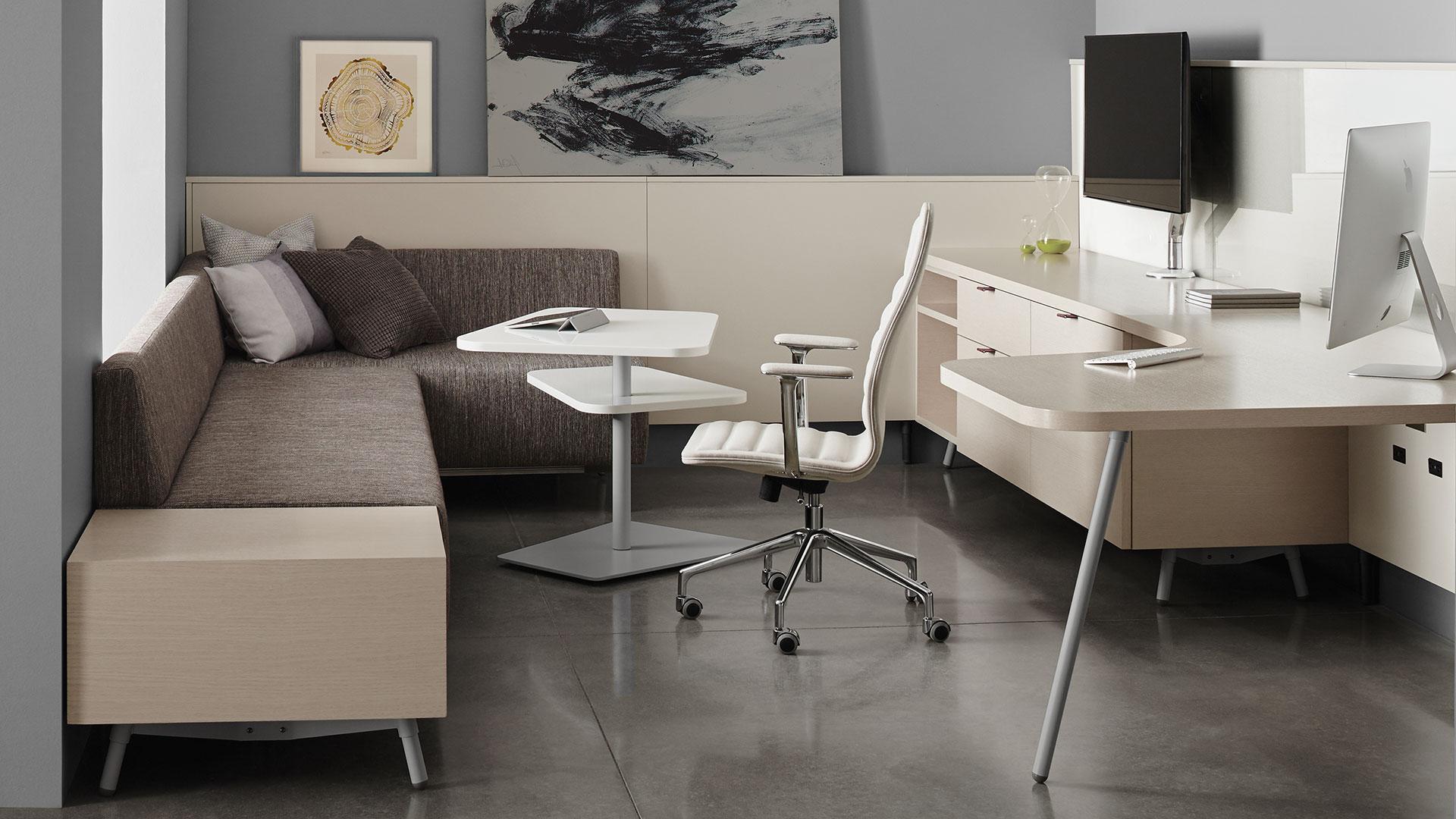 Many of the products shown by Touhy also focused on creating spaces within spaces. "People want mobility, but they also want privacy. And in the end, people want to be comfortable" said Jeremy Aug, vice president of sales. He also noted the trend toward the "resimercial" style of warm natural colors, softer upholstery and wood tones.

What could be more "resimercial" than having a pool table at the office? NeoCon marked the collaborative debut between Cabot Wrenn and custom luxury game table manufacturer 11 Ravens. The Cabot Wrenn by 11 Ravens Match line includes pool, shuffleboard, table tennis, air hockey, and convertible pool/ping pong/dining tables.
The partnership with 11 Ravens was an easy decision, said Federico Contigiani, vice president of International Contract Sales and Marketing for the RHF family of brands and president of Cabot Wrenn. "After meeting Michael Zaretsky, owner and founder of 11 Ravens, I had been thinking about how to incorporate game tables into our brand," Contigiani said. "I wanted to give our designers and clients a way to attract a younger audience to the contract, hospitality and workplace environment as well as providing a trustworthy, chic, and cutting-edge source for this product category."
He added, "If the past year and a half has taught us anything, it's that we need to not take ourselves so seriously all the time and allow for moments of fun and, why not, even team-building! What an advantage that these game tables can be converted into conference tables when it's time for the next meeting with staff or customers."
Cabot Wrenn is a member of the RHF family of brands, which also includes Century Furniture, Maitland Smith, Hickory Chair, Highland House, Pearson and Jessica Charles.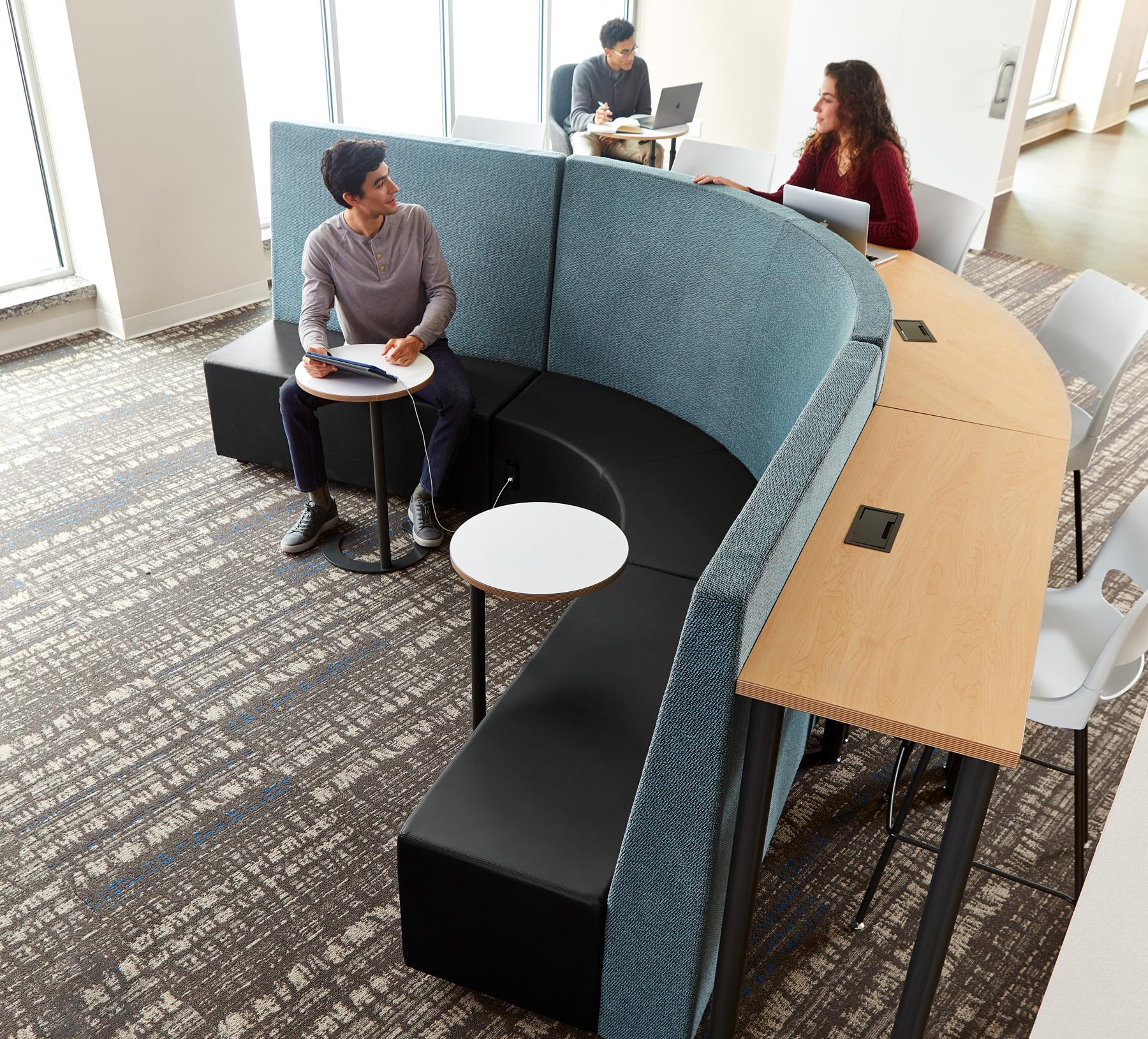 The relaxed, "transitional" furniture theme was also featured by other top contract furniture manufacturers. New from KI, the MyPlace high-back lounge furniture can be reshaped to fit the space and is available in 48-inch or 60-inch high-back models. It was shown with the C-Table Max personal and large worksurfaces in woodgrain patterns, ideal for non-traditional work or study areas.
As well as bringing the feeling of home to the office, people want to feel safe. In addition to privacy shields and wall systems, a number of manufacturers touted the use of antimicrobial and easy-to-clean laminates in their new furniture offerings.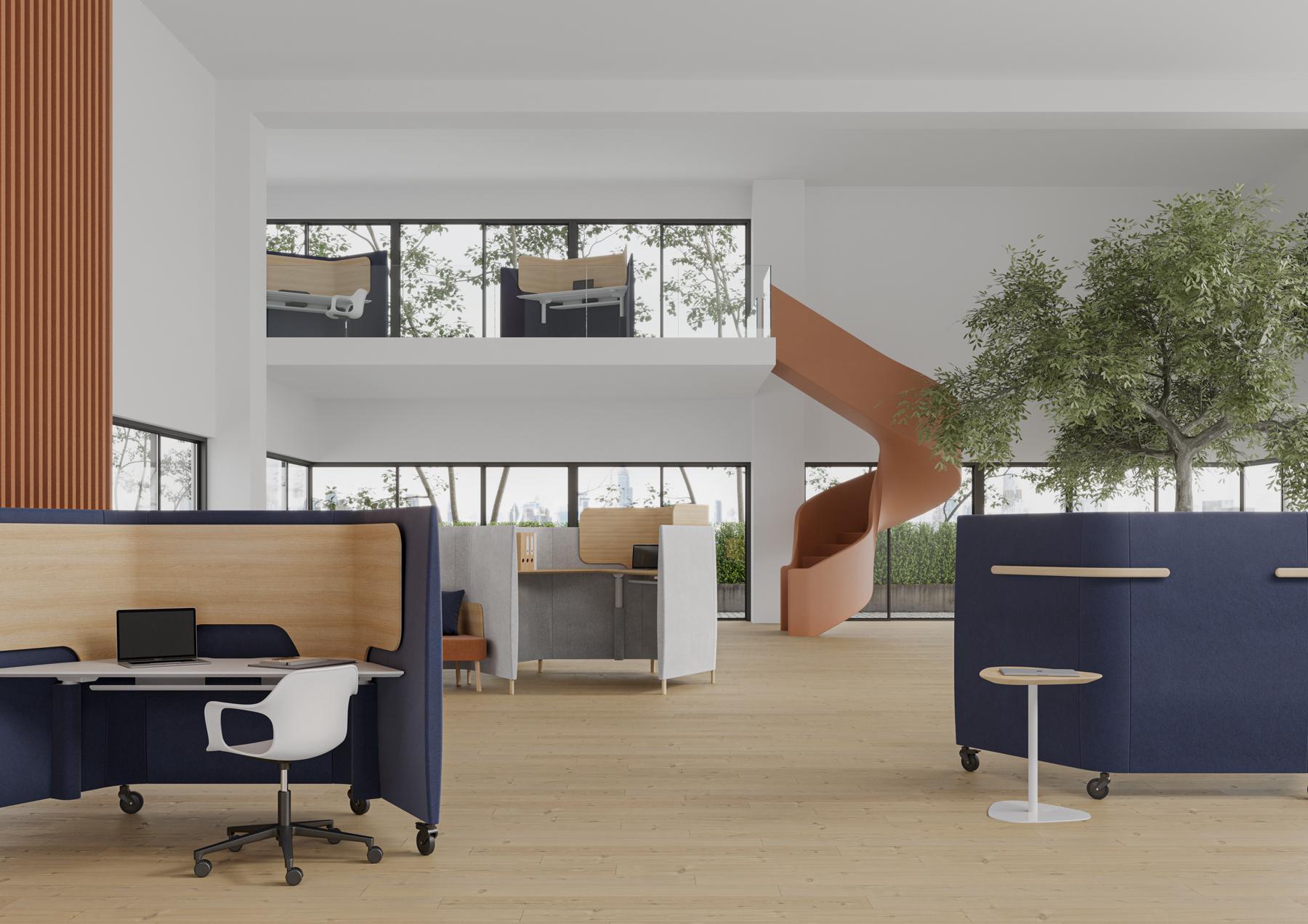 DARRAN Furniture's Honey, an adaptable workplace system earned NeoCon's 2021 Best of Competition award. Designed by Mark Müller and Christopher Wright, Honey features an eye-catching hexagonal shape that can be configured to address users' needs, their varied work styles, privacy, and well-being.
Other examples of these trends include:

Nucraft's Two4Six height-adjustable media table is another example of furniture supporting the various work styles and budgets of today's workers - in the office or at home. A Silver award winner and designed by Joey Ruiter, the collection gives nod to industrial and Scandinavian design elements, with its array of top and base combinations is versatile for use as a small huddle space table, media table, or 20-foot conference table lengths.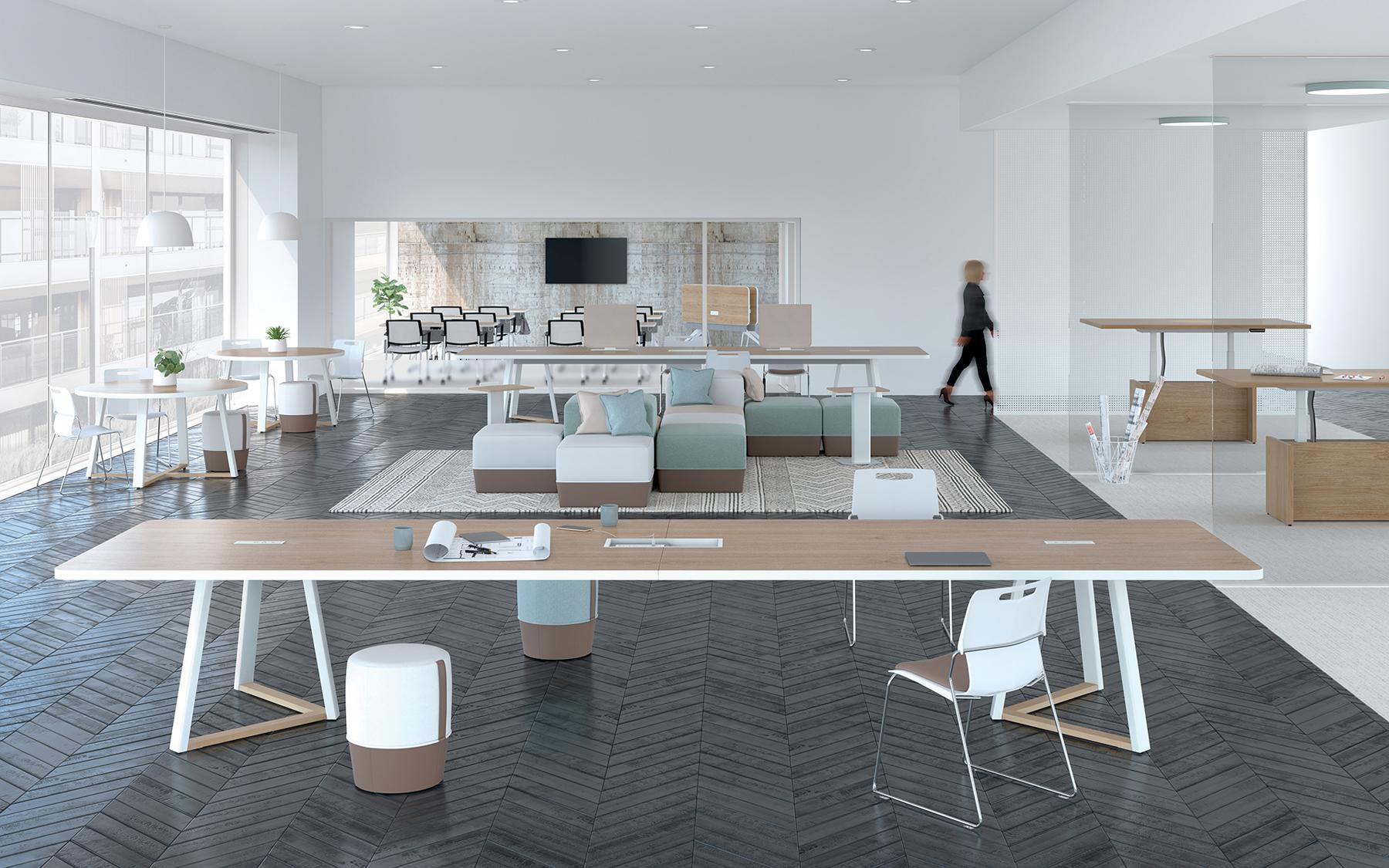 A Silver award winner in the Communal Tables category, Groupe Lacasse's Quorum Multiconference is flexible for use in formal of meetings, a spontaneous sit and chat, or a presentation, and can be found throughout the office, training area, lounge or a waiting area.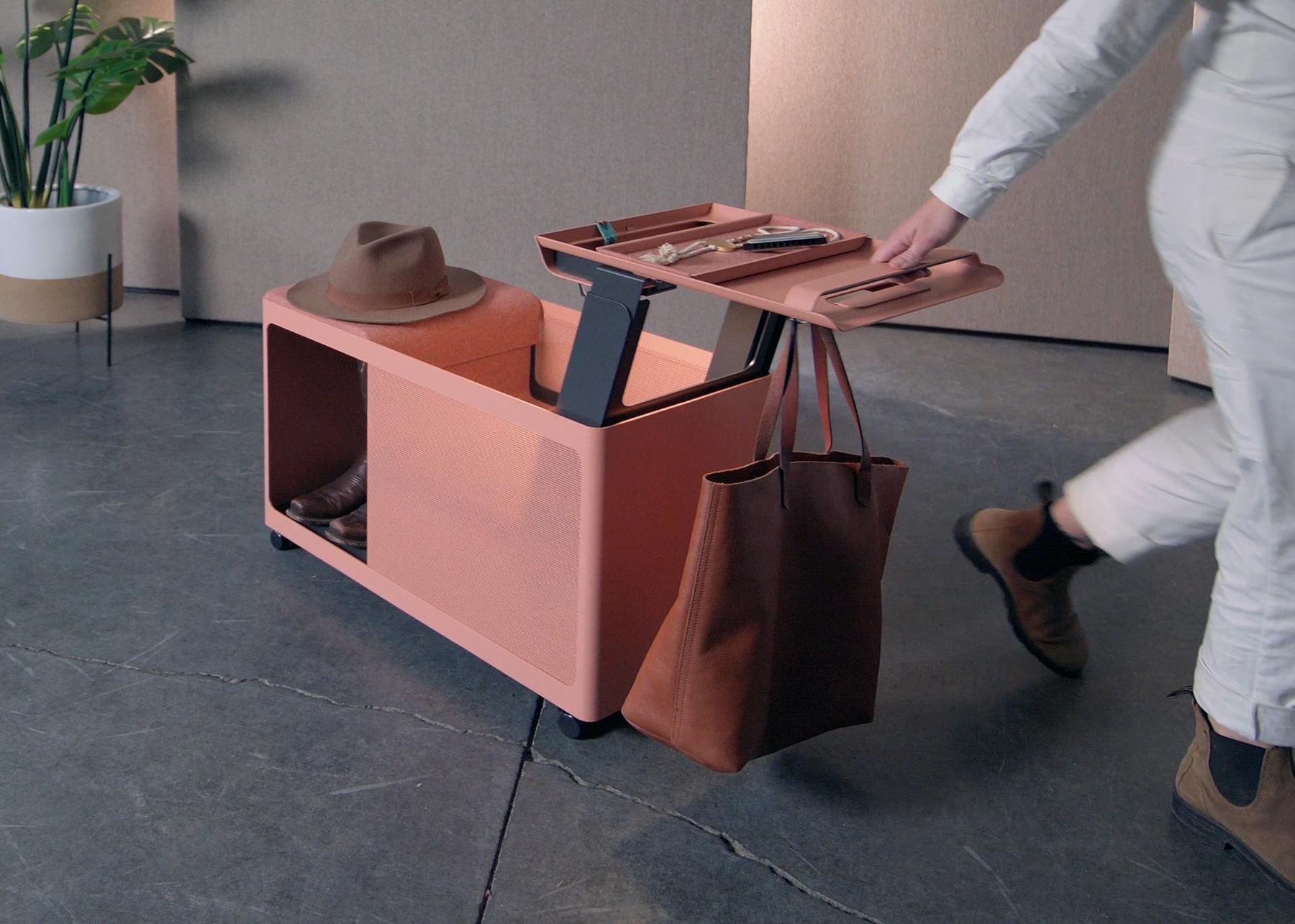 Commercial office or home, among the new items for storage was Watson Furniture Group;s C9 Trolley, a Gold award winner at NeoCon in the Furniture-Storage category.
View more Best of NeoCon award winners.
Interior colors: soothe & smooth
Several interior paint companies were also on hand at NeoCon 2021 highlighting their color trends palettes and predictions of popular colors for 2022. Many of those palettes and predictions mirrored what office furniture companies were showing: soft hues of green and natural tones with splashes of color – colors offering comfort and tranquility.
Olive Sprig is the 2022 Color of the Year for PPG Paints. It's described as soft-green and "reminiscent of the natural world; it brightens any space with an organic liveliness."
Sherwin Williams chose Evergreen Fog, a green and gray hue with hints of blue. The company says it is a "soothing, subtle and perfect shade to refresh any room."
Breezeway, a silver green shade with cool undertones, is Behr's selection. According to the company, the color is inspired by sea glass found on the shore of salty beaches and is a tranquil and soothing color.
October Mist 1495, from Benjamin Moore, is a gently shaded sage that is reminiscent of the green of a flower stem.
Hardware & lighting trends
Reflecting the hybrid workspace trend with home offices and commercial spaces influencing each other, hardware companies like Doug Mockett & Co. were showing products for residential and commercial offices including the Shadow PCS120 Electric Pop Up – a power and USB grommet with wireless charging top and DP3/AM antimicrobial Tab Drawer Pull.
Also exhibiting, Koncept, a manufacturer of contemporary LED lighting solutions, launched the new generation of its Z-Bar line at NeoCon. The Gen 4 line is a revamp of Koncept's Z-Bar design and includes Z-Bar Desk Lamp, Z-Bar Mini Desk Lamp, Z-Bar Solo Desk Lamp and Z-Bar Floor Lamp. A slimmer body and improved joint design contribute to a cleaner profile. The barely visible joints also allow for greater articulation: the lamp can be folded up into a minimalist "stick" if desired or stretched into limitless positions.
Have something to say? Share your thoughts with us in the comments below.