Furniture maker Joinery makes pop-up showroom permanent to reach customers
September 6, 2016 | 9:55 am CDT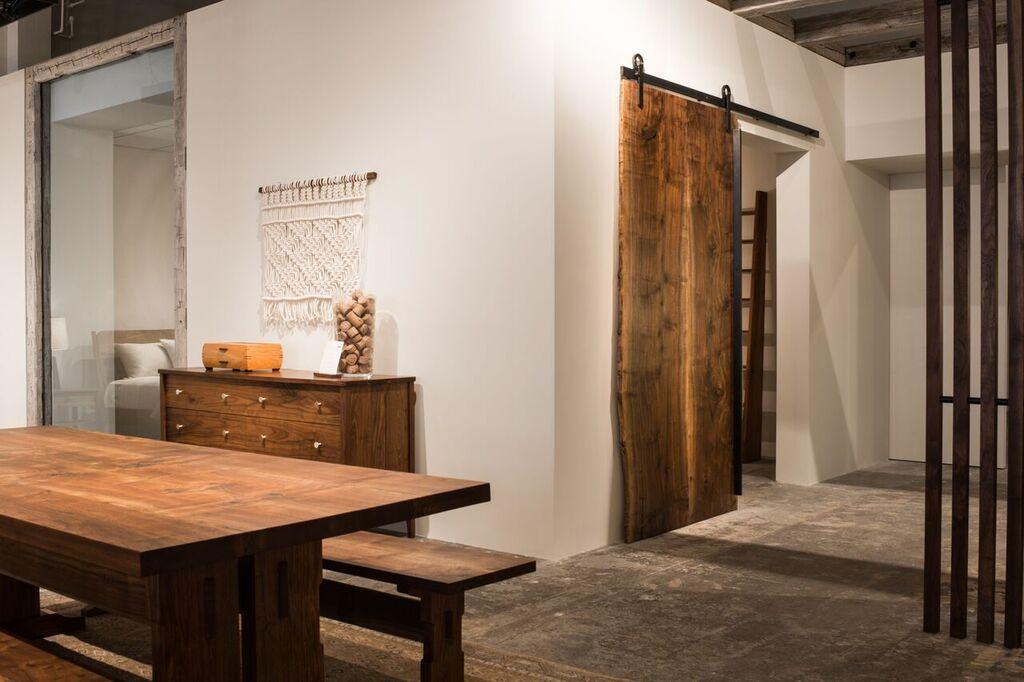 Photo By Joinery
PORTLAND, Ore. - A maker of handcrafted, solid wood furniture, the Joinery, transformed its downtown pop-up shop into a permanent showroom. Every square inch was considered.  
"We put an enormous amount of heart and planning into designing the space so that it would reflect what we do best, so that it would be a thoughtful representation of how we work," said owner Jon Blumenauer.
Every woodworker at the Joinery contributed at least one permanent design element to the 4,700-square-foot space. These pieces included a custom whitewashed reclaimed fir and western walnut reception desk, a rift-sawn white oak kitchen, and a live-edge barn door featuring Krownlab's Baldur hardware system, which handles the 150-pound slab while being ADA compliant.
"The live-edge sliding barn door is a showstopper," said Blumenauer. "Customers are drawn to its drama, its simplicity, and the beauty in which it functions with the Krownlab hardware."
The live-edge door reflects the Joinery's mission to create furniture that is as functional and durable as it is beautiful. Behind the door is a conference room that needs to be readily accessible throughout the day.
The live edge door is a statement piece in the showroom and attracts a lot of attention. Nearly every customer who comes in is drawn to the live-edge slab door — its beauty, its simplicity and the practical way it functions.
The Joinery practices environmental sustainability, from the solar panels lining its roof to its bio-fueled delivery trucks.
An integral part of its focus on sustainability is to make products that will be used for decades to come and avoid the landfill.
The Baldur sliding door hardware system has been tested through 130,000 cycles, the equivalent of 10 years of extremely high use. Krownlab is designed and manufactured only two miles from the showroom, helping reduce the carbon footprint further.
See www.thejoinery.com, and krownlab.com.
See slideshow: http://www.woodworkingnetwork.com/take-look-joinerys-new-custom-furniture-showroom
Have something to say? Share your thoughts with us in the comments below.