Expert: Politics, pandemic won't stop good economy in 2021
November 10, 2020 | 7:15 pm CST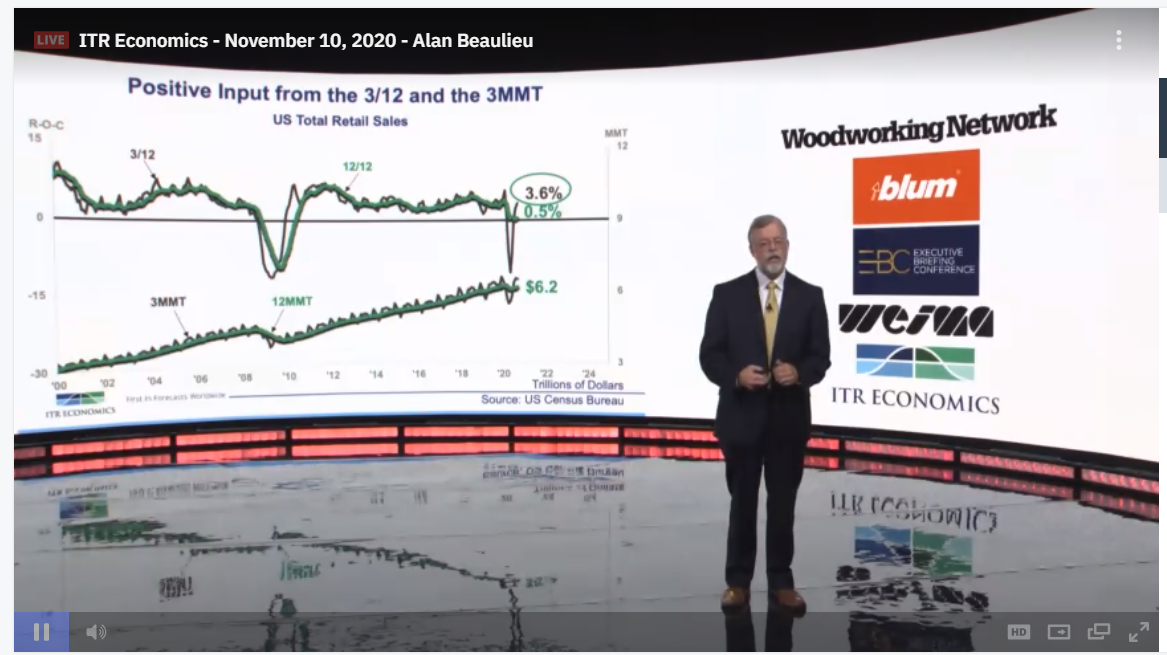 Renowned economist Alan Beaulieu forecasts a strong and growing economy especially for the woodworking sector for the next few years that likely won't be stopped by the impact of the election nor the pandemic.
Beaulieu, president of ITR Economics, announced his forecast as part of an exclusive live online presentation done in conjunction with Woodworking Network on November 10. In the 90-minute presentation, he explored the impact of the election, the course of the COVID-19 pandemic, and a host of data from economic trends that all point to positive opportunities for the woodworking industry.
He tackled the COVID-19 pandemic first, noting the recent dramatic spikes in new cases and the news that at least one new vaccine is coming soon. But he emphasized that his forecast does not rely on the success of the vaccine. Instead, he pointed out the trending data of new infections and no correlating increase in the downward trend of coronavirus death statistics. He also thinks government will be hesitant to shut down the economy again.
Political predictions
Turning to politics, he predicted there will be a second economic stimulus but emphasized that his forecast does not depend on that. He predicted the federal deficit will go to $3.1 trillion, which is 135.6 percent of the Gross Domestic Product (GDP). He said the Federal Reserve will continue to work under what has come to be called "Modern Monetary Theory," which essentially posits that the government can continue to borrow as much as it needs no matter what.
"That's hogwash," Beaulieu said bluntly, pointing to history in countries such as Germany and Venezuela. But he urged listeners not to worry "for the next few years."
Instead, he suggested this is a golden opportunity for businesses to take advantage of low interest rates to invest in their businesses, particularly in machinery, automation, and expansion. "The next decade is going to be a gift to you," he said.
He predicted the tight labor market would continue and that labor rates will rise, making it even more important to invest in machinery and automation.
Election fears
He tried to calm post-election fears and put the politics into a historic perspective. He said the current anger level related to politics is not really new, and it will not change the economic potential for profitability. He acknowledged that a new Democratic administration, with or without a Republican-controlled Senate, will likely mean higher taxes and more regulation. "But you'll find a way to deal with it," he said.
He pointed to charts showing that there is no real correlation between either party's control and the growth of the economy. "The economy is going to grow," he said. "You have to separate near-term events from fundamental economics and determine which will likely prevail in your markets."
Beaulieu, who accurately predicted the Great Recession in 2007-2008, pointed to his company's long-running prediction accuracy record of 94 percent. He explained how the company uses statistics for rates of change to predict the rising and falling of factors in the economy. He noted that leading indicators are all on the rise.
Shutdown, not breakdown
Beaulieu also used the analogy of a car breaking down to explain the current situation in the economy. He said that the economy broke down in 2007-2008, but today it was shut down. The difference, he explained, is like having a mechanical breakdown in your car as opposed to just pulling your car off the highway and turning off the key. When you turn the key back on, you can immediately get started and drive. Beaulieu said the current situation is a shutdown, not a breakdown.
He predicted that the GDP will continue to expand. He noted that unemployment is falling and predicted it will stabilize at about 6 percent, which is considered full employment.
He dismissed worries about high numbers of business bankruptcies, noting that business bankruptcies are still below the 10-year average. He said some people are concerned that business bankruptcies could fuel another recession, but he said that can't actually happen. He argued that business bankruptcies are actually "not a bad thing." He explained how the failure of one business could provide opportunities for competing businesses to prosper and create room for new businesses to start.
"One person's loss is another person's opportunity," he said. "Bankruptcy is a symptom of recession, not a cause."
For those looking for a recovery from the shutdown economy, Beaulieu said we already have a so-called V-shaped recovery, meaning a steep increase in the economy after a steep decline. He said we will see the GDP in record territory by the end of 2022.
Alan Beaulieu. Ph.D., is president of ITR Economics.
Markets
Looking at markets of particular interest to the woodworking industry, Beaulieu noted that single-unit housing starts are on the rise, and he predicted that trend would continue through 2021. Pointing out that new home sales are "soaring," he acknowledged that trend cannot continue at the current pace indefinitely, but he said those sales will continue to rise, fueled in part by rising home purchases by millennials.
Because of the rise in home sales, Beaulieu urged companies to pay attention to remodeling opportunities. "Remodeling is going to be a big deal," he said.
Regionally, all parts of the country are on the rise, although the Northeast is little slower than other regions. There are a rising number of building permits being issued in most regions, with the exception of Michigan, but he said that state would "catch up." He said there is not currently a lot of action in multi-unit housing, but that means it is a good time to buy into that market in light of the current high vacancy rate, that he predicted would turn around.
The picture for commercial construction was not as rosy, with most segments in recession except for healthcare. He said current work-at-home orders and a trend to a more distributed workforce are part of what is driving that. Similarly, he said, commercial remodeling does not look too good.
In other markets, he said kitchen cabinets would rebound after lows in early 2021 and would see prices continue to rise. Veneer and engineered wood products are a rising market, as is millwork.
Foreign investment
Beaulieu debunked reports about foreign investment in the U.S. He said the reality is the world continues to see the U.S. as a primary opportunity for investment. While some people think that China is the leader in U.S. investments, Beaulieu said that is not the case. He said the top three foreign investors in the U.S. are Germany, Japan, and Canada, in that order. China is number 13 on the list.
Similarly, complaints that U.S. business are investing too much in Asia are not supported by the facts, he said. Top two foreign targets for U.S. investment are the U.K. and Canada, he said. China shows up as number 8, and Mexico is number 11.
As to reports that the U.S. is no longer a manufacturing leader, Beaulieu said that, too, is not supported by the facts. He presented charts showing the United States as the second leading manufacturer worldwide, right behind China, but ahead of Japan, Canada, and South Korea. He said the U.S. still has a cost advantage in manufacturing over Europe.
Beaulieu has long been predicting a major worldwide depression in 2030, and he continues to hold to that view. At the same time, he emphasizes that the run-up to that depression offers huge opportunities for businesses and individuals to profit and grow their investments.
Finally, Beaulieu, did list a number of factors that could dampen his upbeat forecast for the next few years. First of those was if state governors decide to shut the economy down again. That's also true of the federal government taking action to close the economy or otherwise hinder recovery. He said it is important that five of the leading indicators on the economic "dashboard" he charts are in the "green" levels by the end of November.
A full recording of Alan Beaulieu's presentation is available to watch on demand.
Have something to say? Share your thoughts with us in the comments below.