Canfor acquires Millar's solid wood operations
March 1, 2022 | 9:26 am CST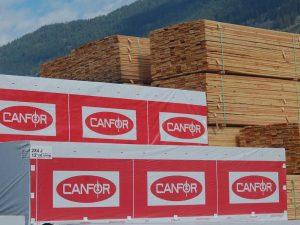 VANCOUVER, B.C.-- Canfor completed the purchase of Millar Western Forest Products' solid wood operations.
In December, Canfor entered into an agreement with Millar to acquire the company's solid wood operations for $420 million, including $56 million in working capital. The purchase price represents a multiple of 3 times 2020 and 2021 average EBITDA. Canfor said it expects to generate at least $25 million in annual synergies principally related to alignment with the company's marketing programs and operational enhancements.
Millar Western's solid wood operations, located in Alberta, Canada, will add 630 million board feet of production capacity and have access to a globally competitive, high-quality timber supply. The assets consist of three well-capitalized operations including two sawmill complexes in Whitecourt and Fox Creek and the high-value, specialty Spruceland Millworks facility in Acheson that is dedicated to serving strategic markets and generates higher, more stable returns.
Approximately 550 managers and employees of the facilities are now employed by Canfor, and the facilities are now operating as divisions of Canfor.
"This transaction provides an excellent opportunity to the people coming from our wood products operations," said David Anderson, president and CEO of Millar Western. "We thank our friends and former employees for their outstanding service in the past and wish them continued success in the future. We look forward to working with them, and the rest of the Canfor organization, as industry partners in the years ahead."
Have something to say? Share your thoughts with us in the comments below.