California codes now allow mass timber buildings up to 18 stories
August 15, 2022 | 9:51 am CDT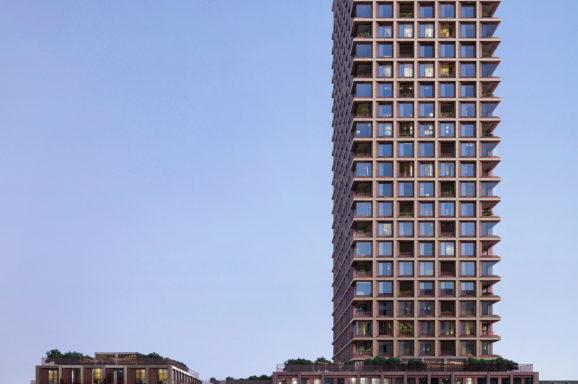 New California building codes have been enacted that would allow for high-rise mass-timber buildings to be constructed in the state. The ruling came as new construction and applications for mass-timber buildings continue to gain momentum across North America.
CBS Sacramento reported that California's adoption of the provisions enables mass timber structures of up to 18 stories and an increase in allowable square footage.
California's Tall Wood/Masss Timber codes can be viewed by clicking here.
Even at 18 stories, however, a California building would not top other recent building completions. Last month, the world's tallest mass-timber, hybrid building, the Ascent, was opened in Milwaukee. The $125 million, 25-story building features a hybrid timber and concrete frame.
Unlike light-frame wood construction, mass timber is built with engineered wood products, which are typically made of large, solid wood panels, columns, or beams often manufactured off-site and used for load-bearing wall, floor, and roof construction.
"We anticipate an increase in tall wood projects in California as a way to address housing needs with more sustainable construction, and because of mass timber's performance, esthetic, biophilic attributes, and installation speed," said Bill Parsons, chief operating officer of WoodWorks, a national non-profit that provides project support for commercial and multi-family wood buildings.
In 2021, International Building Codes for tall wood buildings were included in international codes, according to a WoodWorks.org whitepaper.
In January 2019, according to WoodWorks, the International Code Council (ICC) approved a set of proposals to allow tall wood buildings as part of the 2021 IBC. Based on these proposals, the 2021 IBC includes three new construction types—Type IV-A, IV-B, and IV-C—allowing the use of mass timber or noncombustible materials. These new types are based on the previous Heavy Timber construction type (renamed Type IV-HT) but with additional fire-resistance ratings and levels of required noncombustible protection. The code includes provisions for up to 18 stories of Type IV-A construction for Business and Residential Occupancies. 
Have something to say? Share your thoughts with us in the comments below.