AWFS Fresh Wood Trophy unveiled
July 9, 2021 | 8:26 am CDT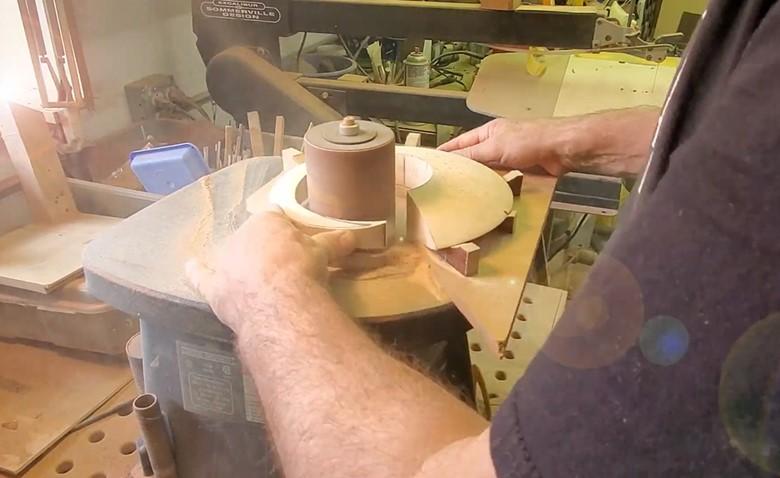 Furniture maker and artist Scott Grove has completed the 2021 Fresh Wood Best of Show Trophy to be awarded at AWFS, and a video shows how he made it.

"Scott has been a Fresh Wood judge in the past and also helped present the 2017 Fresh Wood Award on behalf of Garry Knox Bennett." says AWFS Education Manager Adam Kessler. "We gave Scott free reign with the trophy design and we plan to display the trophy at the Fresh Wood Booth, so be sure to check it out!"
"I am so honored to be in the company of those who have made them before me: Sam Maloof, Garry Knox Bennett, Paul Schürch, and Judson Beaumont," said Grove.

From 1999 to 2013, the original Fresh Wood Best of Show Trophy was made by Sam Maloof and after his passing, Sam Maloof Woodworker Inc. In 2015, AWFS invited master craftsman and marquetry expert, Paul Schürch, to design a trophy, which beautifully represented his trademark inlaid veneer style of work. In 2017, AWFS® gave Garry Knox Bennett free reign to create something symbolic of his impressive body of work. Judson Beaumont created the 2019 Best of Show trophy based off his iconic piece "The Apple Cabinet.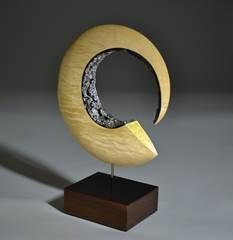 Titled "Pursuit," the trophy sculpture is made of domestic curly maple, fiber-reinforced plastic (FRP), and 24k gold leaf. "Its circular form represents the evolution of a woodworker's career: a continuous search to create something unique, reaching for one's personal gold standard of accomplishment in craftsmanship and design," said Grove. "The interior 'bark' adds whimsey and interest: bark could never be bent in such a way, and woodworkers in-the-know will be captivated by it and possibly mystified. I created it by taking a mold off real bark, casting it in FRP, applying it to the interior curve, and painting it to appear real."

The trophy crafted by Scott Grove will be presented to the Best of Show winner at the Student Awards Ceremony, 4:00 p.m. on Thursday, July 22 at the AWFS®Fair in the AWFS®Fair LIVE Stage, Booth # 4681. All registered Fair attendees are invited to attend the student awards ceremony, where winners of the Fresh Wood student competition and the American Association of Woodturners' Turning to the Future student woodturning competition will be announced. No additional registration is required but seating is limited.
See how Scott Grove made the trophy in the video below.
 
Have something to say? Share your thoughts with us in the comments below.