Superior Cabinets named first lean certified manufacturer in Saskatchewan
February 13, 2018 | 3:37 pm CST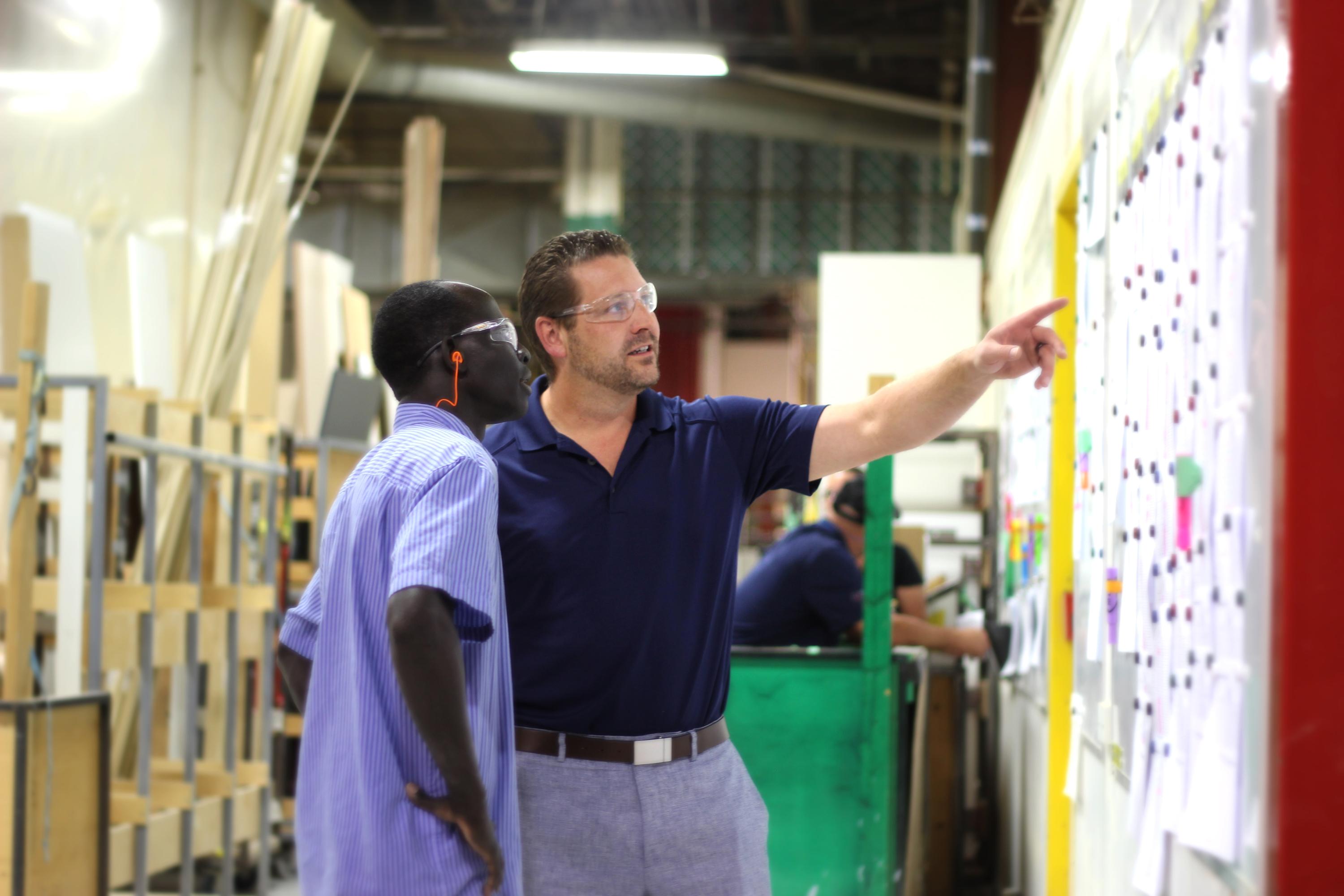 SASKATOON, SK - Superior Cabinets has been named the first manufacturer in Saskatchewan to achieve Lean Certification, as presented by the Canadian Manufacturing & Exporters (CME). The kitchen cabinet manufacturer began its Lean journey in 2012 as part of a complete business transformation focused on restructuring the company back to productivity and profitability.
The CME's Lean audit of the 55,000-square-foot production facility was conducted on Jan. 30. "The CME conducts internal audits of companies all over Saskatchewan and I would rank Superior Cabinets as a world-class facility," said Darryl Minty, CME divisional vice president. "They would easily rank in top 10 percent for 5S implementation in North America and Europe."
Pictured (L-R): Michael Kachur, Continuous Improvement manager of Superior Cabinets and Darryl Minty, divisional vice president of Canadian Manufacturing & Exporters.
"We are extremely proud of this accomplishment and this recognition is a reflection of the hard work and dedication our team members have invested into transforming our company into a Lean organization," said Michael Kachur, Continuous Improvement manager of Superior Cabinets.
As part of its Lean journey, Superior Cabinets said it has integrated a Continuous Improvement mindset throughout the company. It also conducts an average of 800 Quick Kaizens per year across the entire organization, resulting in improvements to productivity, customer experience or a financial payback. Along with 12 employees trained on Cycle Time Reduction (CTR), the company also boasts more than 230 employees with Six Sigma Belts: 210 white, 10 yellow, 10 green and 2 black.


A statement from Superior Cabinets said it will continue to empower its teams to drive Lean and 5S initiatives throughout the entire organization including its manufacturing facility, corporate headquarters and four corporate stores. The term "5S" describes the workplace organization process for reducing waste, loosely translated as: sort, set in order/straighten, shine (clean workspace), standardize and sustain.
Founded in 1980, Superior Cabinets is one of Western Canada's leading manufacturers and suppliers of frameless cabinetry. The company sells its products through its retail stores in Saskatoon, Regina, Calgary and Edmonton, as well as a network of 75 dealers.
Superior Cabinets has been recognized numerous times in recent years. In 2014 the Business Development Bank of Canada named Superior Cabinets the winner of the first BDC Entrepreneurial Resiliency Award for its comeback efforts dating back to 2008. Superior Cabinets also was named 2015 Saskatchewan Manufacturer of the Year by the CME for its contributions to innovation, leadership, export, and manufacturing practices. The cabinetry firm has also earned Consumers Choice and People's Choice awards for its products.
Superior Cabinets has been included numerous times in Woodworking Network's WOOD 100: Strategies for Success, most recently in 2017. CEO Scott Hodson was also a featured speaker at the biennial 2017 WMS Conference & Expo.  Woodworking Network also provided a closeup look at the company's manufacturing operations in a 2015 article.
Have something to say? Share your thoughts with us in the comments below.