Registration opens for SIBO 2022, Quebec's long-awaited woodworking show
June 15, 2022 | 2:34 pm CDT

DRUMMONDVILLE, Quebec – Advanced online registration is now open for the 2022 edition of Salon Industriel du Bois Ouvré (SIBO).

SIBO 2022 will bring together the largest contingent of woodworking machinery and suppliers and wood products manufacturers at a Quebec event in more than 10 years. 

The show will be held October 27-29 at the Centrexpo Cogeco in Drummondville, located in Quebec's economic center. It will feature a full range of machinery, tooling, hardware, and other key staples used to manufacture cabinets, furniture, architectural woodwork, and other wood products. (View current exhibitor list.)
Yann Poirier, product and services manager of Blum Canada, is among a chorus of SIBO 2022 exhibitors looking forward to the Fall show. "After two years of waiting, SIBO 2022 is the ideal Quebec platform to reconnect with our customers." 
"We are excited to be part of the SIBO 2022," said Ellen Moser-Harris, CEO of JJS Inc. Canada of Levis, Quebec, an exclusive Canadian importer of sia Abrasives and Lamello. 

"We are immensely pleased with the support we are receiving for SIBO 2022," said Harry Urban, show manager. "Quebec is home to one of the most robust wood products markets in North America. It's also one of the most unique marketplaces and very well deserving of a woodworking industry trade show to call its own."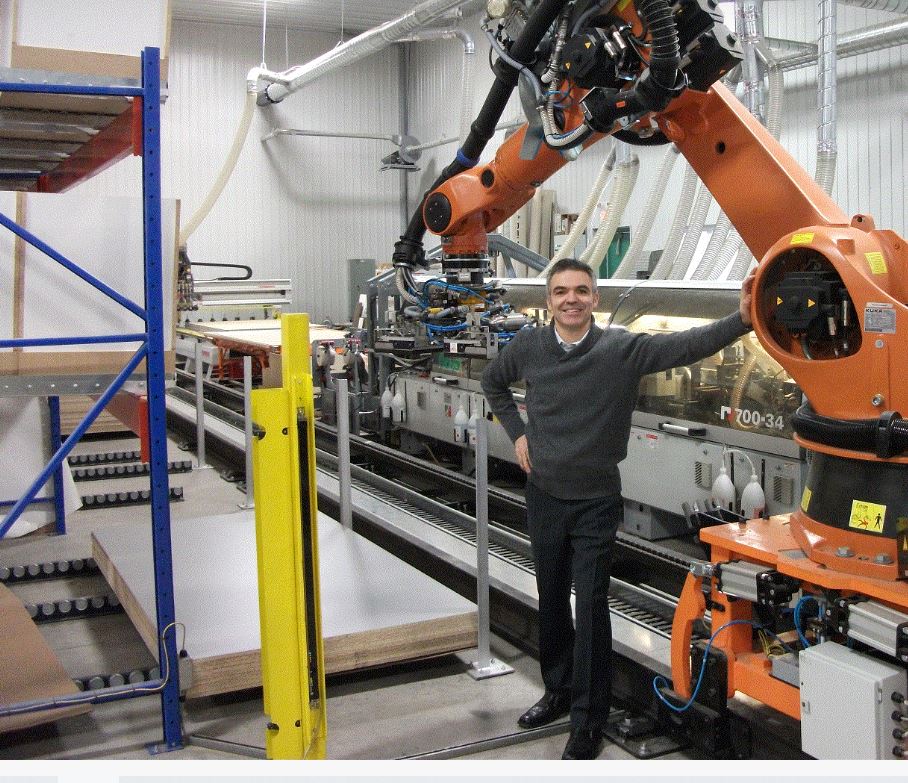 SIBO 2022 will be anchored by totally free educational conference programs on the show floor. The conference includes:
A keynote presentation by Bastien Larouche, owner of Roboistic RMC (Robot-made Cabinets). Larouche founded Roboistic in 2012 as a one-man, one-robot work cell-based operation to produce RTA cabinets. He will discuss the key challenges he has overcome, as well as some of the important benefits his enterprise has achieved via implementing robotic automation.
A timely discussion of the Quebec woodworking industry's labor market situation by Christian Galarneau, general manager of RH Solutions. His presentation will include highlights of a groundbreaking research study on the adoption of Industry 4.0 technologies by Quebec wood products manufacturers. RH Solutions represents the Sectorial Labour Committee of the Window and Door, Furniture, and Kitchen Cabinet Industries.
Highlights of NAAWS 4.0, the quality standards updated by the Architectural Woodwork Manufacturers Association of Canada in partnership with the Woodwork Institute. The standard addresses materials, assembly, installation, casework integrity testing, and much more.
A pair of presentations by Inovem, the research and technology transfer center of Victoriaville College's woodworking. One will spotlight Inovem's efforts to support Quebec wood products manufacturers to embrace Industry 4.0 and the other will focus on water-based finishing developments.
Key factors to consider when adopting advanced technology presented by Christopher Mancliere, senior software specialist of Planit Canada.
SIBO is organized by CCI Media Canada, which owns and organizes the biennial Woodworking Machinery & Supply Conference & Expo (WMS) in Mississauga, Ontario. CCI Media also owns Woodworking Network, a leading print and digital media brand serving the North American woodworking market. The show is supported by Wood Industry, the official media partner of SIBO 2022.
About Salon Industriel du Bois Ouvré (SIBO)
SIBO, historically the most important event for Quebec's secondary wood products industry, provides an exclusive opportunity for manufacturers and distributors of woodworking machinery, tooling, software, cabinet hardware, lumber and board products, and much more to connect with manufacturers representing Quebec's $8.2 billion wood products economy.
For exhibit space and sponsorship inquiries, contact Rob Roszell at [email protected] or Harry Urban at [email protected].

View SIBO 2022 exhibitor prospectus.
More upcoming Woodworking Network events
Executive Briefing Conference (EBC), Sept. 15-17, 2022, The Broadmoor, Colorado Springs, Colo.
Wood Pro Expo Lancaster (WPEL), Oct. 13-14, 2022, Spooky Nook Sports Center/Warehouse at the Nook, Manheim, Pa.
Wood Machinery & Supply Conference & Expo (WMS), Nov. 2-4, 2023, International Centre, Mississauga, Ontario.
Closets Conference & Expo (CCE) co-located with Wood Pro Expo Florida (WPEFL), April 12-14, 2023, Palm Beach County Convention Center, West Palm Beach, Fla. 
Have something to say? Share your thoughts with us in the comments below.