CNC Automation brings on the heat at WMS
November 8, 2019 | 12:22 pm CST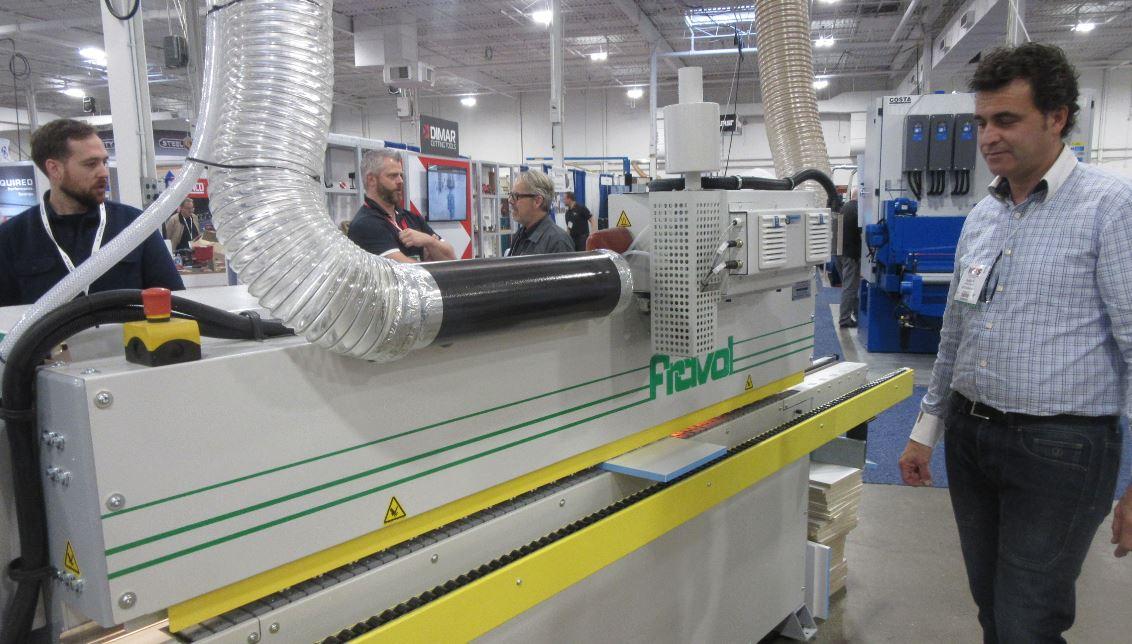 MISSISSAUGA, Ontario – CNC Automation showcased two new "hot" products at the 2019 Woodworking Machinery & Supply Conference & Expo: the Fravol M200-23 outfitted with a hot air edgebanding unit and the Sun-Spot catalytic heater for fast-cure finishing.
Andrea Volpato, president of Fravol of Vigonza, Italy, demonstrated the semi-automatic edgebander's hot air capabilities at WMS using Rehau LaserEdge to render a zero-joint edge. Volpato said users of the M200-23 have the freedom to by-pass the hot air unit to apply edgebanding with glue. This hybrid edgebanding capability is also available with the larger Fravol M400-23, he added.
The Sun-Spot catalytic drying system anchored a compact finishing line that also included a Doucet conveyor, Wandres panel cleaner and Cefla Mito oscillating spray machine.
Daniel Comeau, vice president and general manager of CNC Automation of St. Zotique, Quebec, observed that the Sun-Spot can fully cure a finish in 3 minutes and 40 seconds. He said the quick cure is made possible by the quality of the heaters that emit infrared heat without using any flame and the way the heaters are positioned.
One of CNC Automation's live demonstrations of the roughly 36-foot finishing system at WMS involved adding a white gloss finish to a passage door.
For more information about CNC Automation and its product lines, visit cncautomation.com.
Sun-Spot's catalytic heaters allow fast cures of finishes in small footprints.
Have something to say? Share your thoughts with us in the comments below.