Attendance surges at WMS; Miralis' Daniel Drapeau wows audience
November 1, 2019 | 3:53 pm CDT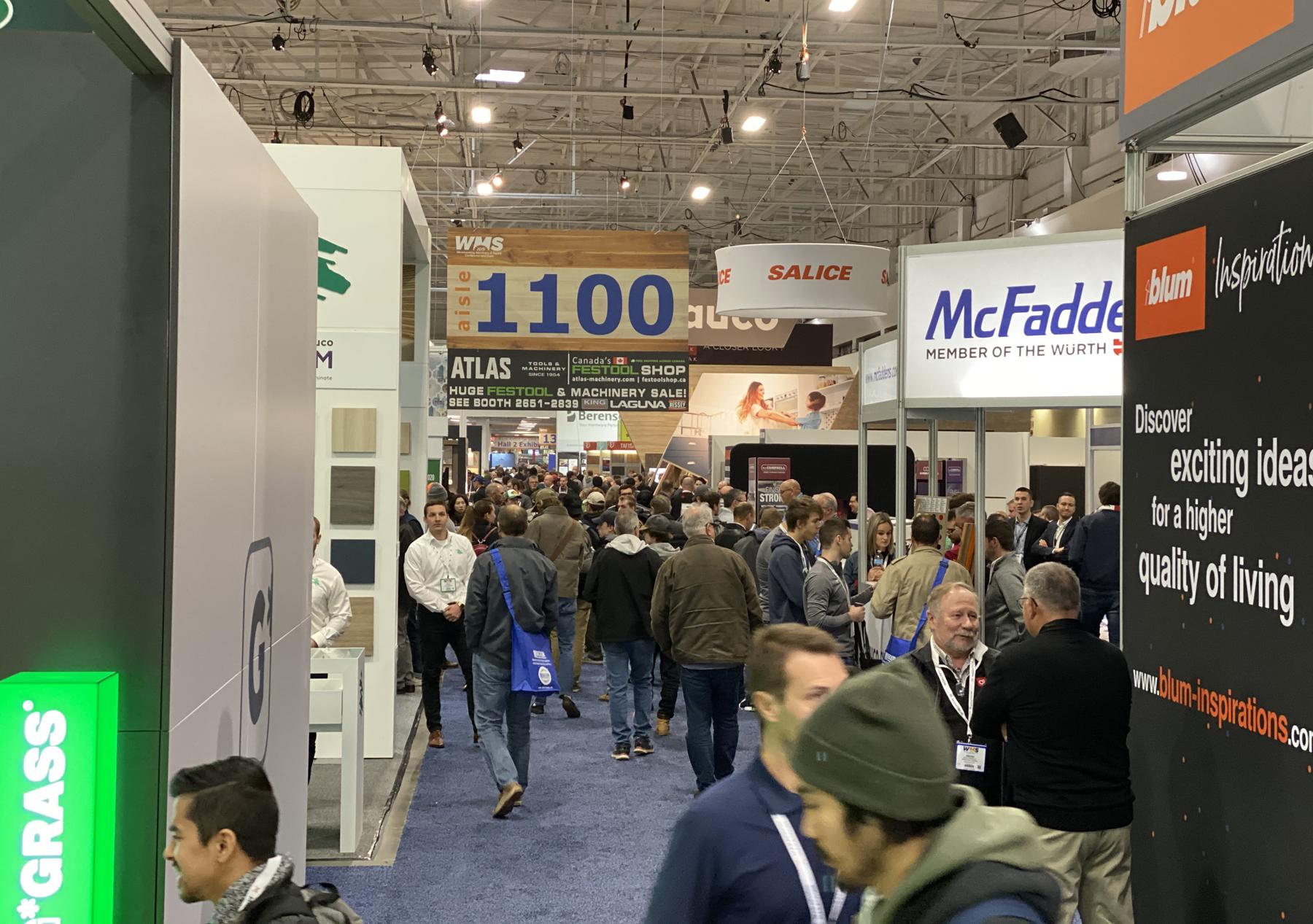 MISSISSAUGA, Ont. - Attendance continues to be strong for the Woodworking Machinery & Supply Expo, as Day 2 saw a surge of first-time and repeat visitors to Canada's largest woodworking event.
The biennial WMS runs through Nov. 2 at the International Centre in Mississauga, Ontario.
"We're very pleased with the attendance to date," said Tim Fixmer, CEO of CCI Canada, the show's organizer. CCI Canada is owned by CCI Media, owner of Woodworking Network.
"We're seeing a lot of strength in first-time attendees as well as repeat attendees," he added. 'I'm very impressed with the volume of new technology that's on the floor as well as the number of significant innovations in supply items and hardware."
The show offers a closeup look at the more than 200 machines and thousands of supplies on display by 180-plus exhibitors. Also, attendees had the opportunity to expand their knowledge through a host of education sessions. Day 2 kicked off with a free keynote by FDMC Editor Will Sampson, titled, "Solving the pricing puzzle." Drawing on lessons learned from his experience organizing FDMC's annual Pricing Survey, Sampson provided tips and best practices for putting together profitable project bids.
Daniel Drapeau, Miralis
At the luncheon keynote by Daniel Drapeau, president and CEO of Miralis, Drapeau discussed the leap of faith taken en route to his company's transformation from producing wood components to utilizing robots and other cutting-edge technologies to manufacture contemporary kitchen cabinets. Also of interest were Day 2 sessions on finishing by Jason Chiu, managing director at UBC Centre for Advanced Wood Processing, and Joseph Kim, also from UBC Centre for Advanced Wood Processing; and two presentations by Gene Wengert - the Wood Doctor, on the topic of improving profitability and reducing costs, and eliminating gluing and machining defects.
Free WMS Live presentations included optimizing your machine's tooling optimization by Royce//Ayr; and a learning and networking event by Bluewater Wood Alliance on lean for the custom shop and a presentation on Industry 4.0.
Saturday, Nov. 2, will feature a WMS Live presentation by Sampson on the "Path to professionalism."
For more than four decades, WMS has connected Canada's professional woodworking buyers with prominent machinery manufacturers and suppliers. Other events by CCI Media include SIBO, the co-located Cabinets & Closets Conference and Expo and Wood Pro Expo, Executive Briefing Conference, and Wood Pro Expo Lancaster.
CCI Media's flagship publication, FDMC magazine, circulates monthly in print and digital formats. CCI Media also publishes the bi-monthly Closets & Organized Storage magazine. Woodworking Network is the umbrella brand for the combined portfolio of wood manufacturing print, digital, and web products and industry events operated by CCI Media.
Have something to say? Share your thoughts with us in the comments below.