Latest Interior Designer Billing Index Remains Positive
September 2, 2015 | 7:29 pm CDT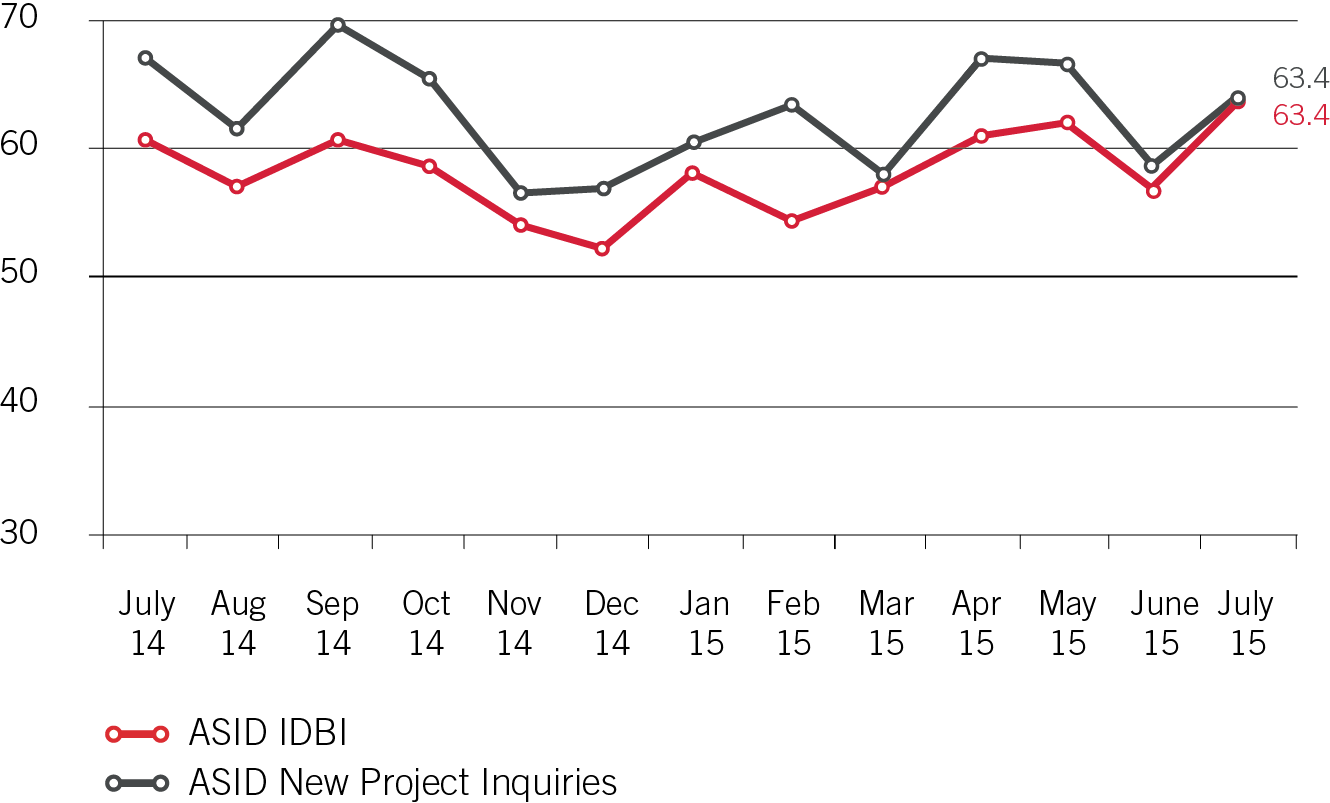 WASHINGTON, DC – The latest American Society of Interior Designers (ASID) Second Quarter Interior Design Billings Indexreached 57.1 in June - indicating that billings remain essentially unchanged from their 1st Quarter score of 57.7 in March. The June New Product Inquiry rate of 58.3 was slightly down from the March value of 58.8. While unexpected, the lower reading may reflect some payback from the strong May readings. However, the index has remained above 50 – the baseline score indicating growth – for 12 consecutive months.
Across the board, all firm sizes showed improvement and all sectors, except for education, reported increased IDBI scores, suggesting a market-wide increase in billings for the second quarter.
Business conditions vary across regions
The South and Midwest regions have reported IDBI scores greater than 55 since February, indicating a sustained growth in billings. Northeast firms rose above 50 in both May and June, while firms in the West fell from a May IDBI of 68 to a June score of 50.
Construction spending continues to surge
Construction spending rose 0.8 percent in May – a much stronger rise than the analyst's consensus for an increase of 0.4 percent. Overall, construction spending in May was the highest since October 2008.
Six month outlook – stronger business conditions expected
The six-month business conditions index score of 74 fat the end of the 2nd quarter remains essentially unchanged from the 1st quarter score of 73 and slightly better than the 2014 fourth quarter score of 69.9. The consistency of these scores suggests ongoing, continued expansion for the design industry.
"For the most part, the construction and housing sectors are reporting significant improvement in the second quarter," said Jack Kleinhenz, ASID economist. "The design industry has aptly bobbed and weaved through varied business conditions and has responded with steady improvement in payrolls and revenues. Looking forward, the design industry remains positive about the near term outlook."
The IDBI is produced by ASID Research, under the leadership of ASID Vice President of Research and Knowledge Management, David Krantz, in partnership with Jack Kleinhenz, Ph.D., and Russ Smith, Ph.D., both of Kleinhenz & AssociatesBegun in November 2010, is a diffusion index compiled from a monthly ASID survey of 300 geographically diverse firms that primarily offer interior design services or offer interior design services as part of architectural, engineering, and other related practices. Resulting perspectives on current and future business conditions for the interior design industry are helpful indicators of changes in the direction of economic activity. The ASID indices are centered on 50 percent (above 50 indicates expansion and below 50 contraction).
ASID was founded 40 years ago when two organizations became one, but its legacy dates back to the early 1930s. As we celebrate nearly 85 years of industry leadership, we are leading the future of interior design, continuing to integrate the advantages of local connections with national reach, of small firms with big, and of the places we live with the places we work, play, and heal. Learn more at asid.org.
Have something to say? Share your thoughts with us in the comments below.