Demand for wood decking predicted to increase 1.8% per year through 2020
June 10, 2016 | 1:36 pm CDT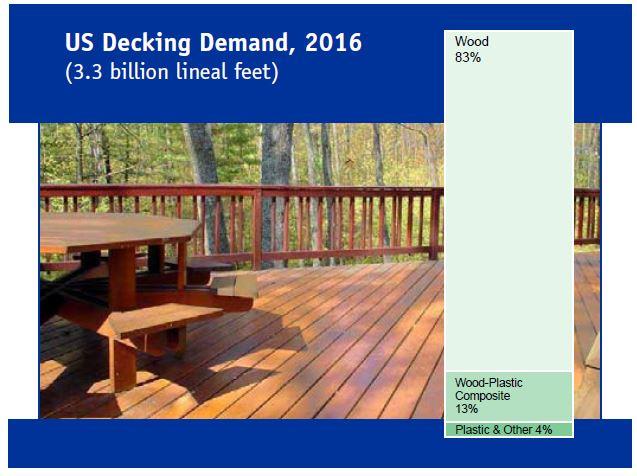 CLEVELAND - US demand for decking is forecast to increase 1.8 percent per year through 2020 to 3.6 billion lineal feet, valued at $7.1 billion.  Rising consumer confidence will promote gains in the large residential improvement and repair market, as homeowners who postponed decking projects in the aftermath of the 2007-2009 recession undertake them going forward.  Increasing market share for wood-plastic composite and plastic decking materials will boost value gains, as these products are sold at a higher price point than wood decking. The residential market accounted for the largest share of decking demand in 2015, with nearly three-fifths of the total.  These and other trends are presented in Wood & Competitive Decking, a new study from The Freedonia Group, a Cleveland-based industry research firm.
Alternatives to wood decking, particularly wood-plastic composite and plastic, are expected to experience above average annual gains in demand through 2020, as these materials generally require less maintenance than wood.  Wood-plastic composite decking is popular with consumers seeking decks that have longevity and a wood-like appearance.  The rising use of capstock-coated decking, which provides enhanced protection against mold growth and premature degradation, will further boost wood-plastic composite decking demand.  According to analyst Nick Cunningham, "Plastic decking demand will be driven by the increased adoption of cellular PVC decking, which resembles natural wood and provides strong protection against the elements."
Wood decking will continue to account for the large majority of demand in volume and value terms.  Wood's dominant market position is due to the material's low initial cost and the large installed base of wood decks, as consumers are often 
reluctant to switch materials when renovating decks.  However, demand for wood decking is forecast to grow much more slowly than that for composite and plastic lumber, rising 1.3 percent annually to 2.9 billion lineal feet in 2020.  
US DECKING DEMAND

(million lineal feet)

% Annual Growth

Item     

2010

2015

2020

2010-

2015

2015-

2020

Decking Demand

3050

3250

3550

1.3

1.8

Wood

2670

2735

2915

0.5

1.3

Wood-Plastic Composite

307

414

515

6.2

4.5

Plastic & Other

73

101

120

6.7

3.5
Wood & Competitive Decking (published 05/2016, 333 pages) is available for $5,600 from The Freedonia Group.  For further details or to arrange an interview with the analyst, please contact Corinne Gangloff by phone 440.684.9600 or email
[email protected]
. Information may also be obtained through
www.freedoniagroup.com
.
Have something to say? Share your thoughts with us in the comments below.