McDonald's new flagship store is made of cross-laminated timber
August 15, 2018 | 11:42 am CDT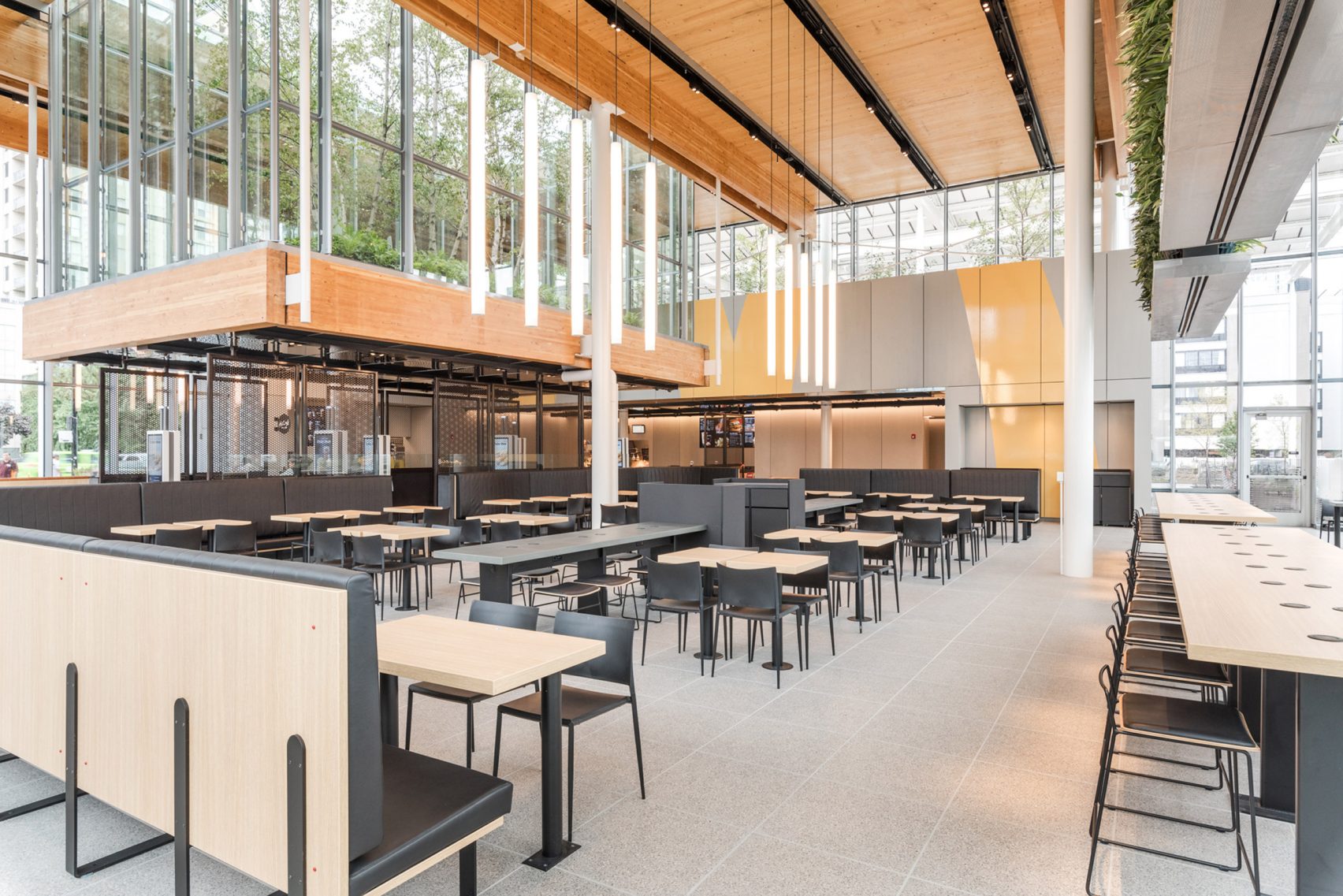 CHICAGO - McDonald's recently opened its redesigned flagship store in Chicago and it's dominated by wood and cross-laminated timber (CLT).
The new building, which opened August 9 on the site of the former Rock N Roll McDonald's in Chicago's River North District, is a steel and timber structure designed by Chicago-based Ross Barney Architects. The LEED-certified building has many sustainable elements - including CLT.
The 19,000-square-foot building is part of McDonald's "Experience the Future" revamp and features self-order kiosks, table service, mobile order & pay, and delivery. Solar panels help power LED lights, efficient kitchen & heating, and air conditioning.
McDonald's says the location will offer a look at what all locations will be like by 2020. The restaurant chain is investing $317 million in Illinois and $3 billion in modernization efforts nationwide through 2020.
Laminate or veneer panels appear to be featured in booths and tables
Around 70 trees are planted across the property, including drought-resistant species to help reduce irrigation and storm-water runoff. A double-height interior features a simple palette of pale wood, grey surfaces, and black furniture. The furniture and layout were designed by Australia's Landini Associates, who has worked with McDonald's on previous projects.
The restaurant is open 24 hours a day and seven days a week. 
Ross Barney Architects was founded in 1981 and known for completing the Chicago Riverwalk and one of the city's transit stations.
Cross-laminated timber and mass timber construction has been on the rise throughout the U.S. CLT can be used to construct buildings of equal strength and fire-resistance as those made of steel and concrete. It has fueled the passions of architects and environmentalists, who believe it to be a much greener method for housing the world's growing population. 
Proposals for new projects include a 500,000-sq-ft skyscraper in New Jersey, a 100-story tower in London, a 40-story building in Stockholm, and a residential complex in Vancouver.  An 18-story CLT wood structure, a student residence at the University of British Columbia, is nearing completion.
Have something to say? Share your thoughts with us in the comments below.