Largest FDMC 300 contract furniture companies post sales gains
May 4, 2020 | 4:33 pm CDT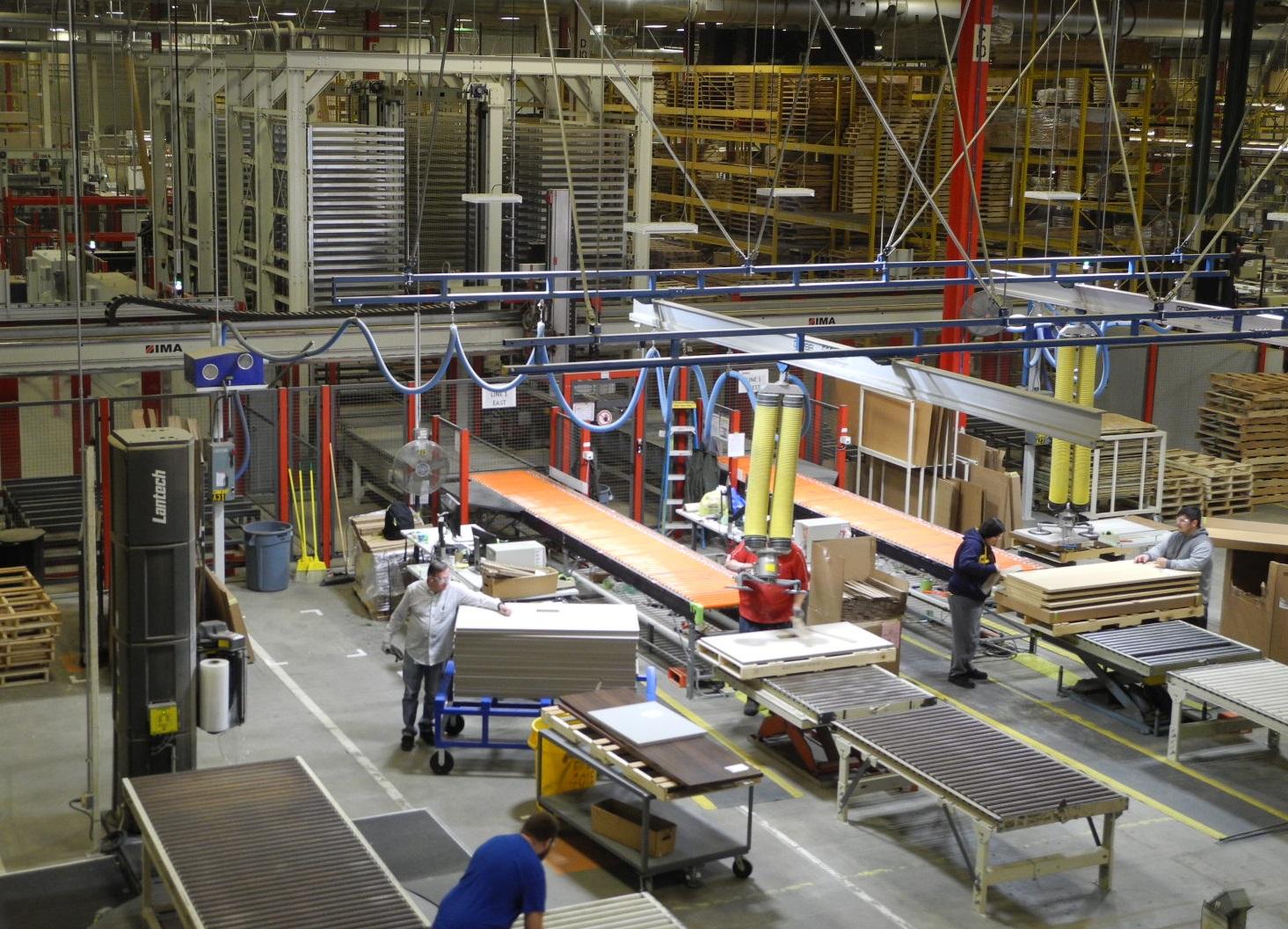 The office and contract furniture manufacturers had another strong year, with most posting solid gains in sales.
Overall in 2019, sales for the FDMC 300 group of companies grew 4.5 percent, to reach $57.171 billion.
This group of cabinet, millwork, furniture and store fixture manufacturers recorded an eighth consecutive year of sales expansion in 2019, the year just completed. Among the largest office and contract manufacturers, there were no changes in the order of the 10 largest companies in this market sector.
The FDMC 300 is a group of the 300 largest cabinet, furniture, millwork, store fixture, office/contract and component producers in North America. This annual summary of wood manufacturing firms' sales performance is published annually by FDMC magazine.
The preliminary estimate developed by IHS Markit of the North American office, education, and healthcare furniture market for 2019 was estimated to be $16.99 billion by the Business and Institutional Furniture Manufacturers Association. That is a gain of 4.3 percent over the actual 2018 market size figure.
Largest contract companies
The largest manufacturers, listed here and ranked by sales, comprise a large share of the overall market.
1. Steelcase Inc. Overall sales for company's fiscal 2019 increased more than 12 percent from the previous year to $3.443 billion. Divisions include Coalesse, Turnstone, Steelcase Health, Details and Vectra. Company makes seating, lighting, storage, furniture systems, interior architectural products, and related products.
2. Herman Miller Inc. The company makes contract/office furniture and related services, and residential furniture, including desks, office systems, office chairs, healthcare systems, manufacturing and laboratory systems, home office, occasional and education furniture. Sales increased 8 percent to $2.567 billion for the publicly traded office and contract furniture company.
3. Haworth Inc. Revenue reported in February 2019 for the most recent fiscal year. Sales increased 5 percent over the previous year. Based in Holland, Michigan, the company employs 7,500 and makes contract and office furniture; including systems furniture, office chairs and seating, desks, filing/storage, casegoods, tables and upholstered guest chairs.
4. HNI Corp. Contract and office furniture manufacturer makes desks, credenzas, filing/storage, office systems, office chairs, bookcases, conference tables, home office furniture and glass walls. The company has 8,500 employees and reported sales of $1.697 billion in 2018. We had earlier estimated sales of $1.66 billion based on third quarter office furniture segment figure. Ten manufacturing locations include Cedartown, Georgia; Mt. Pleasant and Muscatine, Iowa; and Wayland, New York.
5. Knoll Inc. Final sales were reported in February 2020 to be $1.428 billion, a 10 percent gain. Our earlier estimate was based on third quarter of fiscal 2019 for the entire business. Company employs 4,000 and makes contract/office furniture, including office systems, office seating, desks, casegoods, file and storage cabinets, executive office furnishings, tables, lounge chairs, sofas, contract textiles, and leathers.
6. Global Furniture Group. Canadian company is a large manufacturer of contract/office furniture, RTA furniture, office chairs, office seating, filing/storage, desks, office systems, conference tables, bookcases, sofas, upholstered chairs, swivels, meeting/training room furniture for hospitality, healthcare and education. Sales of $1 billion is a general estimate. There are many Canadian and U.S. locations. Toronto and Marlton, New Jersey, are large operations.
7. Kimball International Inc. Company reported 2019 sales were $768.1 million, a large increase over 2018. The company's 3,075 employees make office and hospitality furniture and cabinet products in Borden, Jasper, Salem and Santa Claus, Indiana; Danville and Fordsville, Kentucky; and Martinsville, Virginia.
8. KI. Wisconsin-based contract and institutional furniture company makes chairs, ergonomic seating, conference tables, filing/storage, classroom furniture, auditorium seating, wall systems, adjustable work surfaces and healthcare furniture. Sales of $650 million is our estimate. Divisions include KI Canada, KI Europe Middle East Africa, Pallas Textiles, and Spacesaver. KI has 3,000 employees.
9. Teknion Corp. Canadian contract and office furniture manufacturer employs 3,400 and operates plants in Calgary, Alberta; Concord, Markham and Toronto, Ontario; Montmagny, St. Vallier and St. Romuald, Quebec; Clayton, North Carolina; and Malaysia. Teknion produces office seating, storage, desks, office systems, conference tables, bookcases, sofas, upholstered chairs and architectural wall systems. Annual sales of $500 million is our estimate.
10. OFS Brands Inc. Sales were up sharply again last year to $450 billion last year. Indiana company makes desks, filing/storage, conference tables, office chairs, office seating; healthcare, education and hospitality furniture. Company has manufacturing plants in Huntingburg, Indiana; Huntington Beach, California; Leitchfield, Kentucky; and Archdale, North Carolina.
Residential furniture orders down 2 percent
Year-end figures for residential furniture orders in 2019 showed a 2 percent decline and a very slight increase in shipments, according to the Furniture Insights survey of residential furniture manufacturers and distributors from Smith Leonard. An estimated 71 percent of survey respondents reported lower orders for all of 2019.
A year earlier, in 2018, a 6 percent gain in new orders was reported. New furniture orders rose 4 percent in December 2019 compared to the same period a year earlier.
Here are the largest residential furniture manufacturers in the FDMC 300:
1. Ashley Furniture Industries Inc.
2. La-Z-Boy Inc.
3. Dorel Industries, Inc.
4. Hooker Furniture Corp.
5. Flexsteel Industries Inc.
6. Ethan Allen Interiors Inc.
7. Brown Jordan International
8. Klaussner Furniture Industries
9. Bassett Furniture Industries
10. Rock House Farm -- Century Furniture
For more information on the FDMC 300, see
https://www.woodworkingnetwork.com/fdmc-300
Office Furniture Market Size
(in U.S. dollars)
| | | | | |
| --- | --- | --- | --- | --- |
| Country |  Actual 2016 |  Actual 2017 |  Actual 2018 |  Prelim Est. 2019 |
| U.S. | $13.56 billion | $13.78 billion | $14.18 billion | $14.96 billion |
|   |   | +1.6% | +3.0% | +5.5% |
|   |   |   |   |   |
| Canada | $    .92 billion | $  1.08 billion | $  1.04 billion | $  .98 billion |
|   |   | +17.2% | -4.2% | -5.1% |
|   |   |   |   |   |
|   |   |   |   |   |
| Mexico | $    .98 billion | $    .96 billion | $  1.06 billion | $1.04  billion |
|   |   | -2.2% |  10.0% | -2.0% |
|   |   |   |   |   |
| Total NA | $15.47 billion | $15.82 billion | $16.28 billion | $16.99 billion |
|   |   | +2.3% | +2.9% | +4.3% |
Have something to say? Share your thoughts with us in the comments below.