Who was that woman in the veneer dress at IWF?
August 30, 2016 | 4:44 pm CDT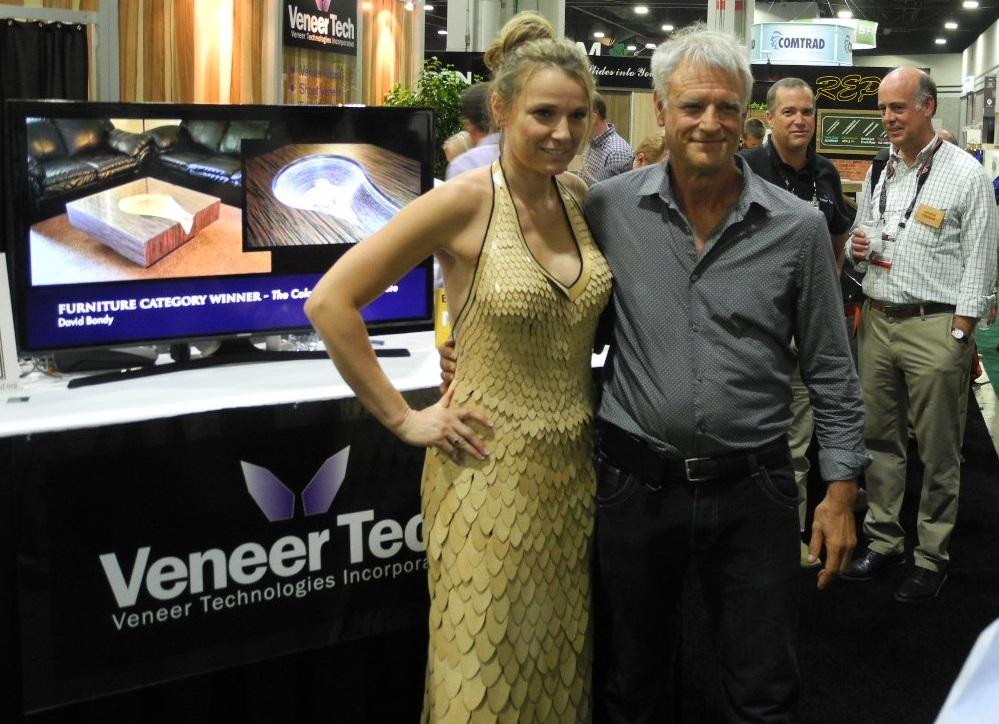 ATLANTA -- This formal dress was created by veneer craftsman Paul Schurch with natural quilted maple veneer and bamboo fabric, and has a mermaid type appearance and movement.
Schurch attended the Veneer Tech Craftsman's Challenge award ceremony at IWF. Eva Randell modeled the dress.
---
The veneer harness is sewn onto the bamboo fabric and supports more than 1,300 lacquered wood scales allowing it a free flow for a full range of motion, flexible enough to sit in. It is reported to be comfortable to wear, and shows off the brilliant reflective figuring of this type of wood grain. The veneer neck to back harness joint is hinged to accommodate a variety of sizes, and the dress weighs less than 4 lb. Material is quilted maple, with bamboo/rayon fabric. Finish is catalyzed water-base lacquer.
"Automaton Table," an art deco table by Craig Thibodeau, CT Fine Furniture, San Diego, California, captured the grand prize in the 12th Annual Veneer Tech Craftsman's Challenge. Impressing judges with highly complex mechanical functionality and exceptional craftsmanship, the table featured pau ferro, maple and maple burl, ebony, and various marquetry woods.
As announced in a ceremony at IWF Atlanta, Thibodeau was awarded the $3,000 top prize in this design competition recognizing excellence in veneer woodworking, plus $1,000 for early deadline entry. To read more about the story, see Veneer Tech Craftsman's Challenge.
Have something to say? Share your thoughts with us in the comments below.