Herman Miller Plans Bigger Stores as Geiger Brand Takes Off
September 17, 2015 | 10:15 am CDT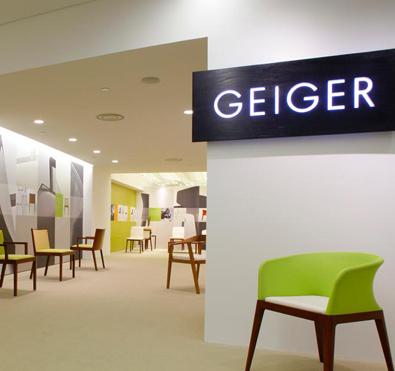 Zeeland, MI - Herman Miller CEO Brian Walker said this morning at an earnings briefing that the company is rethinking design with the involvement of their customers. The furniture maker is planning to close some small format stores as leases expire and replace them with larger format stores. The change will translate into a net increase of about 55,000 sq. ft. for fiscal year 2016. Herman Miller plans to open six new larger format studios by the end of 2016, the first two planned for next month in Scottsdale, AZ and Berkeley, CA. 
Walker cautioned that as the company closes underperforming stores,  it can cost up to $1.5 million to open a new store. Moreover, as leases end and smaller stores are replaced with the newer, more wide open studios, stores will gain more square footage, but those customers don't automatically move over.
The Geiger offering, which includes high-end wood office and conference room furniture, helped drive a nearly 7% North American sales increase in the first quarter.
Walker noted that the Herman Miller and Geiger brands primarily drove the 6.8% improvement in fiscal first quarter North American sales announced yesterday. Several company strategic actions, including price increases and a shifting product mix, helped drive sales. "Herman Miller is better aligned with customers' needs in the evolving sales place. We've put together a strong North American sales team," said Walker. The improvements have a price: they will be largely accounted for in the latter half of the year, rather than in the first quarter. CFO Jeff Stutz noted that the company expects incremental expenses in showroom improvements, opening of the new studios and some hiring costs will lead to incremental operating expenses $2-3 million higher. 
Furnished with Geiger Scissor Chairs and Loophole coffee table, this lobby sends a clear message to clients that they are in good hands.
The company held a Product Bootcamp for its salesforce with comprehensive training that it believes is already paying dividends.  "We were very deliberate," remarked CEO Walker. "We got people in and out quickly; it was done in one night over the weekend to minimize loss of selling time. Most salesfolks said it gave them very specific help in very specific projects, where they could go back home and make improvements right away. Feedback has been very positive. We've been asked if there will be another round so that those who couldn't participate in this round would get an opportunity in the future, because participation was very targeted this time.
North American Market Has "Legs"
Walker noted that North American market looks robust. "It's more of a mixed picture globally, but the North American market looks like it's got legs. We've had some competititve wins that have brought us new customers. But what's most encouraging is the team has done a really good job of getting new solutions out to help us, changing some processes of how we're interfacing with our dealers and our sales team. I think our sales team is really energized now." 
The sheer breadth of the company's product portfolio can be daunting, Walker admits. "One advantage of our Bootcamp is we could showcase everything in our offerings, not only Herman Miller, but also Geiger, Design Within Reach... and more. Participants saw everything in one place. They could see that the product offering is greater than they realized." Walker believes this realization gave the sales team a spark and contributed to some of their recent competitive successes.           
Have something to say? Share your thoughts with us in the comments below.