Furniture designer John Strauss and Itinerant Studio partner on printed wood at High Point Market
April 18, 2016 | 1:51 pm CDT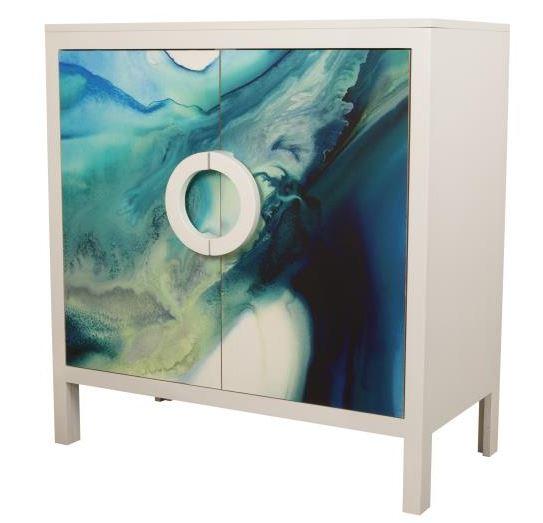 HIGH POINT, N.C. - Furniture designer John Strauss has received much publicity recently for his "Watercolor" cabinets designed with Black Crow Studios and his
design partner Carisa Marie. At the April 2016 High Point Market he will again show a new version of this series.
However, Strauss has also formed a partnership with fellow High Point Market exhibitor Itinerant Studio and will debut a photographic design on a completely new collection called Maple Hill. The new design will be on a mid-Century inspired bar that Strauss created in Ohio and will accompany a new dresser, night stands and buffet - all in the Maple Hill Collection to be seen in his Salon showroom (M-7033).
In addition, the dresser and the buffet in this new solid maple collection have hardware pulls in leather that Strauss and Carisa Marie designed with renowned Jewelry designer Annie Hammer. The results are striking and continue the relationship that Strauss and Hammer have in creating gemstone and leather handles and pulls.
Strauss Watercolor cabinet
Strauss has been creating designs that work with interior designers' needs for customization for years, and in this Spring Market, he will unveil his first upholstery
collection strengthening the "lifestyle" brand. Lake Shore lounge chairs and a 84-inches Lake Shore sofa will be debuted at Market. This collection all features
steel legs that Strauss designed for the Lake Shore casegoods series.  
The new Maple Hill collection is inspired by Mid-Century designs, and all originated with Strauss being intrigued by a bench he saw in the Antique and Design Center in High Point, that inspired the new base which features spindles and turned legs. Strauss commented, "The small bench had something special going on and was in
the showroom of one of the more contemporary vendors. I could not stop thinking about it. I am excited not only about the design but also about working with my
Ohio factory that has come up with some very attractive pricing for this collection. Everything is in solid wood and made in the USA."
Recently, the Watercolor cabinets and the new Lake Shore sofa and other Strauss designs have been featured in publications around the country including Interior
Design Magazine, the Pittsburgh Post-Gazette, Midwest Living, Gulf Shore Life, About Stark, Miami Design and Ft. Lauderdale Design. Strauss'
[email protected]
collection and CMJSCreativ are represented in stores across the country and have become a popular resource as a domestic, customizable, sustainable and solid wood line. The new designs are all featured in John Strauss' new showroom, M-7033 in Salon, Suites at Market Square.
[email protected]
is also a member of the Sustainable Furniture Council and all
[email protected]
and CMJSCreativ work is 100% made in the USA.
John Strauss has over twenty five years of experience creating and manufacturing furniture for designers and architects. He has worked with top designers from around the country to fabricate their custom designs, has created works for sacred spaces, and has launched a new line of his own designs
[email protected]
for the retail market. He takes his inspiration from the Mid-Century and Art Deco masters.
Born in Chicago, John grew up in the "furniture world". His Great-Aunt was Mabel Schamberg, the interior designer of the "House of Tomorrow" at the 1933 Chicago Worlds' Fair. She was a memorable character who lends her name to Strauss's first design line. His father owned a high-end furniture showroom in downtown Chicago that is still remembered as a pioneering establishment and his mother is an interior designer.
John Strauss trained as a sculptor with an undergraduate degree from Brown University and a Masters of Fine Arts Degree from City University of New York. John moved to New York City for a fellowship with the Whitney Museum Independent Study Program. John resides and works in Ohio, where all of his furniture is made. He has three daughters and two step daughters. 
Have something to say? Share your thoughts with us in the comments below.