Ethan's WoodShop Review - Milwaukee Packout - Modular Storage System
November 7, 2017 | 12:59 pm CST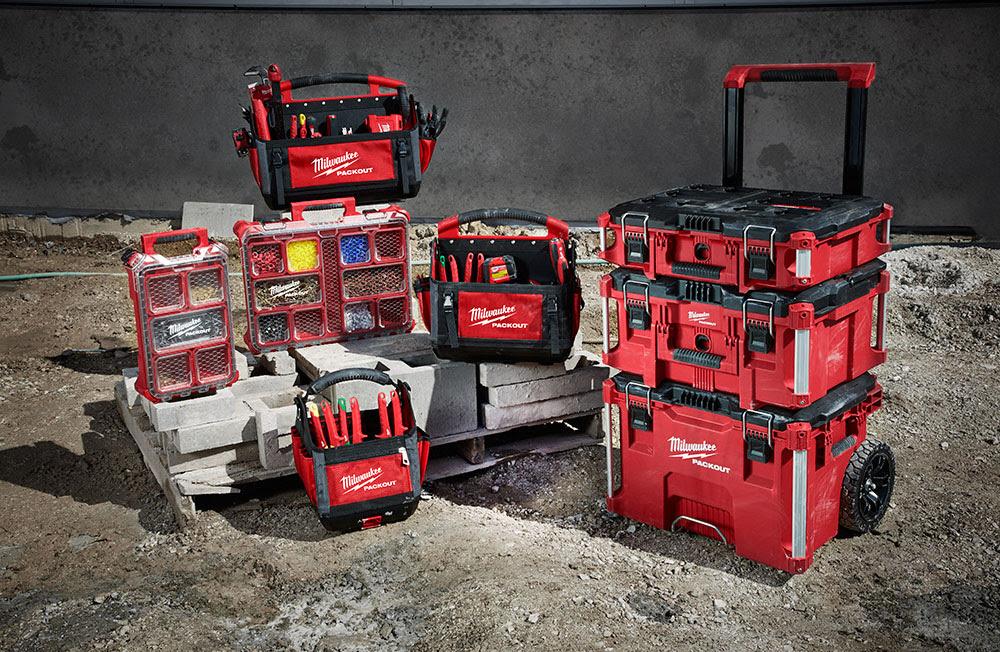 I like to think of storage as my thing. I get excited about figuring out the best place to keep everything in my shop to maximize work flow efficiency. I get a special feeling walking through the door each morning and seeing everything in its place. And I get an equal feeling of dread when I have to take my carefully organized shop and stick it in a few boxes, cart it out the door, and bring it to a jobsite.
Milwaukee is trying to help calm my fears of the mobile shop with its newest modular storage system - PACKOUT. 
I've had my share of storage systems, some carried and some rolled, so whats special about Packout?
The biggest difference between Packout and other systems is the way everything locks together. For the most part these systems have always been a big box that locks into a big box that locks into a big box and then you balance or bungee smaller bags on top. With Packout, Milwaukee is introducing a brand new attachment system that lets all the pieces in the collection - boxes, organizers, and totes - stack and lock in place. I'm not big into soft bags but I know there are a lot of people who love them, so this innovation is sure to make their day.
The soft bad is nicely made, with a hard bottom, easy view storage, and an aggressively sturdy handle, but for my day to day I'm more into the boxes. 
Made with impact resistant polymer and metal reinforced corners, these boxes are tough enough to bang around in the back of my truck, but also stay clean and look good enough to bring into residential projects. 
Unlike some systems, the base box is the 'cart' and has wheels and a handle attached to it. I'm not always a fan of this kind of set up but for the Packout it doesn't really bother me like it has in the past. The wheel box is light enough to carry and the handle drops low enough that it isn't always in the way. 
Most of the excitement is on the outside of these boxes. While the inside of each has an organization tray, that is pretty much both the bell and the whistle. Milwaukee gives you the space, you decide how to fill it. 
Overall its a well designed system, gets your tools from here to there safely, securely, and in style. But my favorite part (if we continue with the S alliteration) is Stupid proof. The winner here is the Packout box handle, the handle you may ask, yep.
It's the end of the day, I'm rushing to finish up and get all packed away. I just spent all my mental energy installing 12' of built-ins, I don't have enough left to remember to lock up the box. Pick it up, and there goes all my tools. But with the Packout, even if you don't lock the box, when you pick up the handle (which you have to do to lift it) the box automatically locks for you. Its a little thing, but has and will continue to be a very appreciated helping hand. 
Now even though I can't organize my go box as cleanly as my shop, at least I know I won't be spilling all my tool on the client's floor.
Have something to say? Share your thoughts with us in the comments below.